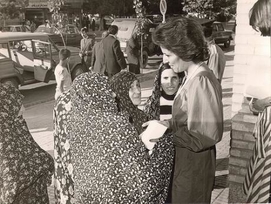 Mahnaz Afkhami has been a leader in women's and human rights for over three decades. Afkhami was born in 1941 in Kerman, Iran. Afkhami spent most of her childhood in Iran. However, when she was eleven, Afkhami's parents separated, and Afkhami, her sister, and her mother all moved to the United States. When she moved to the United States, she decided to attend San Francisco State University. After completing her undergraduate degree, she went on to get her master's degree from the University of Colorado.
After finishing her education, she moved back to Iran in 1967, where she became a professor and the chair of the English department at the National University of Iran at Tehran, where she oversaw the education of the English language. In 1969, Afkhami founded the Association of Iranian University Women, which sought to elevate women who were seeking an education, and attempted to provide support.
In 1970, she served as the secretary-general of the Women's Organization of Iran. From 1976 to 1978, she also served as Minister of Women's Affairs; she was one of the few women to hold a prominent political position before the Islamic Revolution of 1979. This post also had not previously existed, and the only other person to hold this position in the world was Françoise Giroud of France. In this position she fought for women's rights, and legislation under her term helped many women achieve greater autonomy. As Minister of Women's Affairs, Afkhami played a key role in the passage of the progressive 1975 Family Law in Iran, which aided minorities and families seeking legal assistance, and the establishment of the United Nations Asian and Pacific Centre for Women and the International Research and Training Institute For the Advancement of Women. The Centre invested in research about women's rights.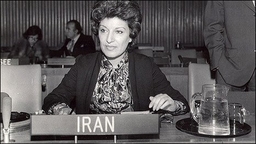 Concurrently, during her time as Minister, Iran's legislative body granted women equal rights to divorce, raised the minimum age of marriage for girls, supported female employment with maternity leave and childcare provisions, and built upon the family laws of 1967. Afkhami was key in the passing of this progressive legislation. Afkhami also served as a member of Iran's High Council of Family Planning and Welfare, the board of trustees of Kerman University, and the board of trustees of Farah University for Women, and in each of these positions she fought for the advancement of women. She has led numerous task forces and lectured on democratization, leadership, civil-society building, and women's human rights, including multinational delegations to the 1993 UN Human Rights Conference in Vienna and the Fourth World Conference on Women in Beijing.
Afkhami was in New York negotiating with the United Nations to establish the International Research and Training Institute for the Advancement of Women in Iran when the Islamic Revolution broke out in Iran. She was charged in absentia with "Corruption on Earth and warring with God" essentially meaning that she was in direct conflict with the Quran, and religious government for her work. She never returned to Iran and has lived in exile since. However, she continues to advocate for women's rights. She helped found and continues to serve as president of the Women's Learning Partnership for Rights, Development, and Peace. The Women's Learning Partnership is a network of organizations in the Global South, primarily in Muslim majority countries, that help to protect human rights, facilitate development, and promote peace. Additionally, Afkhami used to serve as president of the Sisterhood Is Global Institute. This NGO is a feminist think tank, spreading lots of feminists themes and ideas.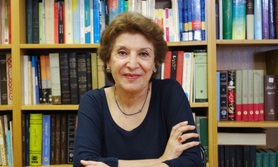 Afkhami has also written extensively and lectured on the topic of the international women's rights movement as well as the role of women in civil society-building and democratization. Some of her titles include Toward a Compassionate Society (2002), Muslim Women and the Politics of Participation (1997), and Claiming Our Rights: A Manual For Women's Human Rights Education in Muslim Societies (1996). One of her books in particular gained a lot of traction. In 1994, Afkhami published Women in Exile, a collection of portraits of activist women in exile.
Afkhami also serves on the boards and steering committees of the Freer/Sackler Galleries of the Smithsonian Institution, the Advisory Committee on Women, the Women's Rights Division of Human Rights Watch, and the Foundation for Iranian Studies. From 2000-2014, she served as Chair of the Global Council at the International Museum of Women. She also serves on the advisory board for the Ethical Globalization Initiative.
Mahnaz Afkhami has paved the way for women and human rights for decades. She has continued her work of spreading feministic ideas, and helping women continue to elevate themselves whether it be through education, or other means.
Why Did I Choose to Research Mahnaz Afkhami?
I chose Afkhami because she is an incredibly influential person within my culture. She worked tirelessly to elevate women, and other minorities, and I think that's very admirable. I'm incredibly proud to have members of my community do such amazing work in bettering the world.
Works Cited
‌"Mahnaz Afkhami." American Academy, www.americanacademy.de/person/mahnaz-afkhami/.
‌"Mahnaz Afkhami." Penn Law, www.law.upenn.edu/live/profiles/1006-mahnaz-afkhami.
‌"Mahnaz Afkhami." WISE Muslim Women, 8 Mar. 2018, www.wisemuslimwomen.org/muslim-woman/mahnaz-afkhami/.
‌Obaid, Thoraya. "Home Page: Women's Learning Partnership." Home Page | Women's Learning Partnership, learningpartnership.org/.
‌Virtual Embassy Tehran | 1 January, 2015 | Topics: Featured Event. "Mahnaz Afkhami." U.S. Virtual Embassy Iran, 3 Apr. 2017, ir.usembassy.gov/mahnaz-afkhami/.
‌
This article was published on 11/6/20