Clara Barton was born on December 25, 1821 in Oxford, Massachusetts to Sara and Stephen Barton. Her father was captain of the local militia and politician, while her mother was a "hot-tempered", stay-at-home mom. When Barton turned four years old, her parents decided to send her to Colonel Richard Stone's school. Although she was a good student who learned quickly and performed well in her studies, Barton had few friends due to her shyness. Her parents sent her to a boarding school at age eight, but she did not make any friends there either and felt overwhelmed. Her parents then decided to pull her out from school.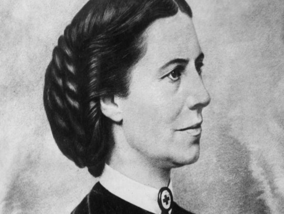 After caring for her brother, who fell off a roof and was bedridden for two years, Barton went back to school and earned her teaching degree at 17 years old. She then started holistically teaching at multiple schools within her community. In 1845, she established her own school and was an educator for 12 years. She then decided to further her education at the Clinton Liberal Institute, a college in New York where she studied writing and language. In 1852, she was hired to open a public school in Bordertown, New Jersey. There, she served as the principal until she was replaced by a man elected from the school board, who thought it was unfitting for a woman to lead. She left the school and moved to Washington D.C., where she worked as a clerk in the U.S. Patent Office, issuing patents to worthy businesses, until the outbreak of the Civil War. She became the first female to receive the same salary as a man at a high ranking federal position. Unfortunately this didn't last long and she was reduced to a copyist under James Buchannan's presidency, and was later fired for supporting the opposite political party. When Abraham Lincoln returned to office, Barton returned to the Patent Office in Washington, D.C., but was never given her job as a clerk back.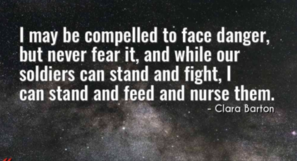 Barton was interested in medicine as a young girl ever since she cared for her brother for two years after his serious head injury. This interest, combined with her patriotism from a young age, drove Barton to leave the Patent Office and help out in the war. She started off by bringing soldiers food, clothing, and other necessities. However, as the war got worse, she felt that she had to get more involved. She spearheaded a campaign to gather more relief items and helped care for wounded soldiers. She would wrap their wounds, read them stories, and help them write letters to their families. Barton eventually received permission to travel with the Union Army and to help soldiers on the battlefield, including at the Battle of Cedar Mountain, Antietam, Petersburg, Fredericksburg, Fort Wagoner, and South Carolina. Even when she fell ill in South Carolina, she quickly recovered and returned to the battlefield. She formed the Bureau of Records of Missing Men in an effort to reconnect soldiers with their families. She helped identify at least 22,000 missing soldiers by the time she left her post in 1869.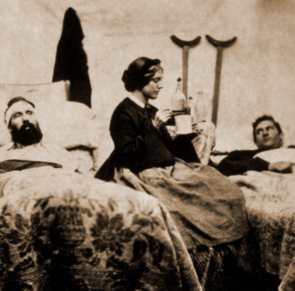 After the war, Barton traveled to Geneva, Switzerland, where she learned about the International Red Cross Organization. When she returned to America, she garnered political support by lobbying for America's participation in the Geneva Treaty. Although she gained the attention of President Rutherford B. Hayes, Hayes was not convinced by the idea because he thought another civil war was unlikely. Finally, in 1882, after convincing President Chester A. Arthur that the Red Cross would effectively respond to disasters other than wars, he signed the treaty, and Barton founded a Red Cross branch in America where she served as President. The organization focused on providing humanitarian relief and medical assistance after natural disasters and in times of war . She resigned in 1904 and established the National First Aid Association in 1905. This organization made first aid kits and helped create ambulance brigades, partnering with local fire and police departments. Clara Barton worked tirelessly until her death on April 12, 1912, in Glen Echo, Maryland, at 91 years old. A monument was made in her honor located on the Antietam Battlefield.
Clara Barton dedicated her life to helping those who needed it. From being a school teacher at the age of 17 to running into battlefields to help the wounded; she is a woman that deserves recognition. She overcame her shyness by becoming a teacher, as well as refusing to be demoralized by her demotions. In particular, her dedication to helping soldiers gained her respect and altered women's roles on the battlefield. Clara Barton paved the way in creating roles for women in wars, while staying true to herself and founding countless institutions such as the American Red Cross and the National First Aid Society.
Why Did I Choose to Research Clara Barton?
I chose to research Clara Barton because of how much she helped women advance in the medical field. She was a passionate woman who dedicated her life to a cause and did not need a man by her side. In addition, she is a name that comes up in U.S. History a lot, yet people do not go more in depth about and she is simply known for founding the Red Cross. I wanted to highlight other important contributions that she made to society and talk more about her as a person.
Works Cited
"Clara Barton." About Clara Barton | Red Cross Founder | American Red Cross, www.redcross.org/about-us/who-we-are/history/clara-barton.html.
"Clara Barton." Biography.com, A&E Networks Television, 2 Mar. 2020, www.biography.com/activist/clara-barton.
"Clara Barton Broke Barriers for Nineteenth Century Women." Clara Barton Museum, 12 June 2018, www.clarabartonmuseum.org/broke-barriers/.
"Clara Barton Chronology 1821-1860." National Parks Service, U.S. Department of the Interior, www.nps.gov/clba/learn/kidsyouth/chron1.htm.
"Explore Clara Barton Quotes. QuoteCites.com." QuoteCites, quotecites.com/quote/Clara_Barton_5416.
History.com Editors. "Clara Barton." History.com, A&E Television Networks, 9 Nov. 2009, www.history.com/topics/womens-history/clara-barton.
Michals, Debra. "Clara Barton." National Women's History Museum, www.womenshistory.org/education-resources/biographies/clara-barton.
This article was published on 8/22/20