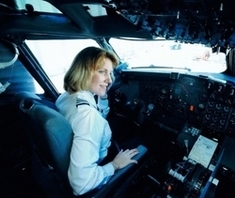 Beverley Bass was born in 1952 in Fort Myers, Florida. Bass grew up showing horses with her parents, Bob and Marge Bass. Showing horses entails competitions that judge endurance, dressage, and jumping skills of multiple horses until a winner is selected. She often went hunting on horseback with her father and attended fashion shows with her mother. Yet, from a young age, she was always drawn to flying. Bass would climb onto the washing machine and jump off, just to feel like she was flying. At 9 years old, she saw a handwritten sign that offered plane rides, with only a penny per pound, but her aunt refused to let her go. After a few years, her aunt was bringing Bass to watch National Airlines 727 land multiple times a week. At the age of 16, Bass asked her parents to sign her up for flying lessons, but they refused because they were afraid she would lose interest in showing horses. Her father believed the horses were keeping her away from drugs and boys, portraying the gender bias prevalent during that time.
After high school, Bass wanted to go to Texas Christian University (TCU) which showed that she was not one to follow the crowd. TCU was not a state school that girls often attended, yet once she went, she felt comfortable with all of the people there. When Bass returned home after her freshman year, she insisted that she still wanted to pursue a career flying. Thus, she began taking flying lessons at Page Field in Fort Worth, Texas. Going back to college her sophomore year, Bass decided she would major in Spanish because she found it easy in high school and interior design because that was also something she enjoyed. She knew it did not matter what type of degree she got—she just needed one to be a pilot. She scheduled all of her classes in the morning and had flying lessons from 3-9 pm.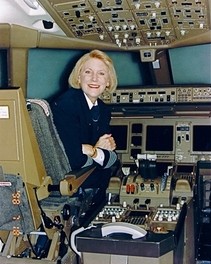 Bass's first job entailed flying a corpse to Atlanta for a mortician. Although horrifying to most people, Bass still loved to fly, so she accepted the job. After she graduated college, Bass worked as the chief of the airport's charter department at Meacham, until she was eventually told that Meacham could not have a female pilot flying executives to different places "because [of] what [their] wives [would] think." In the summer of 1976, Bass moved to Dallas's Love Field and worked there, flying canceled checks for banks, Fotomat film, and airplane parts overnight. In order to build up her resume, Bass also flew different kinds of planes through "Thunderstorm Alley", which is a path that goes through Texas, Oklahoma, and Kansas, and is known for its violent storms and dangerous weather.
After going through an intense medical examination and interview, Bass finally got hired at American Airlines on October 24th, 1976, becoming the third female pilot for American Airlines at age 24. One of the female pilots at American Airlines was let go due to financial constraints, but by the time Bass was hired, most airline companies were opening up to the idea of female pilots. Bass eventually became a flight engineer and then the first ever female captain in 1986. Once she became a captain, Bass started to note that the men started to treat her "beautifully." Bass also co-founded the International Society of Women Airline Pilots in 1978, an organization that mentors female pilots and led the first all-female flight crew on December 30th, 1986—an accomplishment that was recognized all over the world. Bass had no idea the group would receive so much positive attention for their dedication and hard work.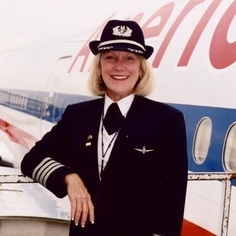 In 1989, Bass married Tom Stawicki and had a son with him in May of 1991 named Taylor. They later had a daughter named Paige in October, 1992. They lived in Colleyville, Texas, until 2005, when they moved to Argyle, Texas. Bass was one of 21 instructor pilots chosen to introduce Boeing 777 to the American Airlines fleet. One day, on September 11th, 2001, Bass was flying a 777 jet and was suddenly told to land in Gander in Newfoundland, Canada. The Twin Towers had been hit and the Federal Aviation Administration closed the airspace. 38 planes full of people had to spend the night on the plane due to bus strikes in the town. However, the strike later took a pause to help out who they called "the plane people." Everyone was able to go back Saturday morning, and even when she came home, she still wanted to fly.
Beverley Bass's ambition, determination, and upbringing led her to never give up on her dream. Part of her story was included in the musical "Come From Away," which tells the story of what happened in the town of Gander on 9/11. Bass still flies occasionally, and her daughter even became a pilot. She also wrote a children's book, "Me and the Sky," about reaching for the stars and achieving your dreams. Bass was, and continues to be, a pioneer for women in aviation.
Why Did I Choose to Research Beverley Bass?
I am an avid fan of musical theater, so in my freshman year of high school, I went to see the musical "Come From Away." It was breathtaking. It was filled with a number of characters, enough so that nearly all of the actors are playing more than one character throughout the show. But Bass's character stuck out to me because she was someone who had to push through gender stereotypes to get where she was because she loved flying so much. As I was researching, I realized that the musical seemed to have gotten her personality and character spot on. So, I wanted to learn more about her because I look up to her.
Works Cited
‌Fan, Katherine (The Points Guy). (2019, Dec. 14) Capt. Beverley Bass: American aviation heroine. Retrieved July 31, 2020, from https://thepointsguy.com/news/beverley-bass-pilot-profile/
‌Martin, Lisa (TCU Magazine). (2017, Summer) 'Come From Away' Inspiration Beverley Bass Tells Her Story. Retrieved July 31, 2020, from https://magazine.tcu.edu/summer-2017/come-away-inspiration-beverley-bass-tells-story/
‌Stetson, Andrea (Grandeur Magazine). (2020, Feb. 21) Fort Myers native reminisces about pioneering in aviation, making her mark on Broadway. Retrieved July 31, 2020, from https://www.news-press.com/story/news/2020/02/21/beverley-bass-reminisces-pioneering-aviation-making-mark-broadway/4787186002/
‌Thornhill, Ted (Daily Mail). (2019, Sept. 1) American Airlines' first female captain talks about the secret to managing a flight crew, job interview sexism and how 9/11 led her to becoming a character in a musical. Retrieved July 31, 2020, from https://www.dailymail.co.uk/travel/travel_news/article-7379531/American-Airlines-female-captain-Beverley-Bass-talks-sexism-management-techniques-9-11.html
‌
This article was published on 3/3/21