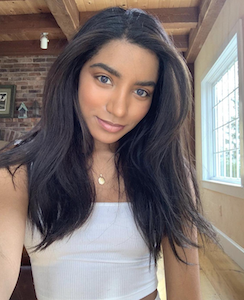 Keiana Cavé was born in April 1998 in New Orleans, Louisiana. She attended Lusher Charter High School, where she became interested in nanotechnology and chemical research. As to what inspired her career path, Cavé stated, "I have always been a curious person, and during my sophomore year of high school, I learned that I also love chemistry and scientific research. I started working in a lab at Tulane University, and loved the process of solving big problems with tools I had right in front of me."
After the BP oil spill in 2010, Cavé wanted to prove that the oil on the ocean's surface was more dangerous than scientists had previously believed. She discovered that UV rays combined with the oil on the ocean created chemicals that cause cancer.
She entered her research in a hometown science fair and won first place, and later won second place at the 2015 Intel International Science and Engineering Fair. After her latter award, NASA and MIT Lincoln Laboratory named the asteroid "2000 GD136" after her.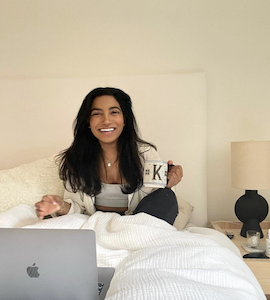 She was offered a full scholarship at the University of Michigan, where she majored in chemical engineering. In 2017, she was named in Forbes 30 under 30 in the energy category. During her attendance at the University of Michigan, she founded her first company, Mare. She had previously published two research papers and obtained two patents for her research, but still needed more help to run her business. She attended the Global Entrepreneurship Bootcamp at MIT, where she gained access to the resources necessary to market Mare.
Cavé invented a molecule that neutralizes cancer-causing chemicals, and used that research to form Mare. In an interview with Michigan Daily, Cavé stated that, "It (Mare) started off as just the molecule, just the oil spill, but now I think the company is more based off of the neutralization of toxins." She emphasized the importance of her cause by exclaiming that,"I'm sure you read articles all the time, if you're ever scrolling through Facebook, and you see something that says: 'Warning! Don't use your deodorant anymore because it will give you cancer!' It can get pretty serious. … We want those companies to come to us so that we can neutralize whatever carcinogen is in the product without compromising the integrity of the product."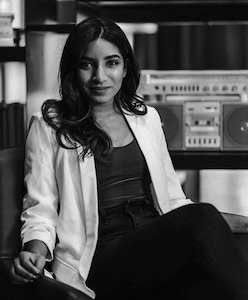 Mare was later acquired by another company, and so Cavé sold Mare for over $1 million. In 2019, Cavé began her second company, Sublima, which aims to create the first non-hormonal birth control. On her company's website, Keiana Cavé stated, "I started the pill when I was 16. Three years later, I found myself in the hospital getting my blood tested because I thought I was dying. As it turns out, I had the hormone levels of someone in menopause (and all of the side effects to match). Why has that been acceptable for the past 60 years? That was the last straw for me, and with Sublima, I'm going to provide access to safer and healthier women's health products."
Currently, Cavé continues to focus on her company Sublima, is a member of the Entrepreneurs Leadership Program, and is a STEM activist. When asked what she believes are the biggest challenges facing women in STEM, she said, "One of the biggest challenges faced by women in STEM is the lack of role models and enthusiasm around mentorship. A big reason that the number of women in STEM fields is so low is because they end up being discouraged that there aren't many people in the field that look like them."
Keiana Cavé's contributions have helped scientists understand the dangerous effects of oil spills in oceans, and the success of her current goal of creating accessible non-normal birth control would revolutionize the pharmaceutical industry.
Why Did I Choose to Research Keiana Cavé?
I came upon a newsletter that featured an interview with Cavé, and was fascinated with her accomplishments at such a young age. As someone who began birth control at 12 years old for menstrual issues, I was amazed and happy to see Cavé aiming to make a non-hormonal birth control. I've faced the negative effects of birth control and had to stop taking it, so Sublima would help other women like me.
Works Cited
Georgiadis, C. (2022, February 10). Inspirational women in STEM and tech: Keiana cave of sublima pharmaceuticals on the 5 leadership... Medium. Retrieved June 19, 2022, from https://medium.com/authority-magazine/inspirational-women-in-stem-and-tech-keiana-cave-of-sublima-pharmaceuticals-on-the-5-leadership8c794c5cc1db.
Good Morning America. (n.d.). Teen paves the way for women of color in STEM. Good Morning America. Retrieved June 19, 2022, from https://www.goodmorningamerica.com/living/story/teen-created-toxin-detecting-molecule-inspire-stem-53461050.
Kolcon, M. (2021, April 20). Student of the year: Keiana Cavé. The Michigan Daily. Retrieved June 19, 2022, from https://www.michigandaily.com/statement/student-of-the-year-keiana-cave/.‌
‌Rethinking birth control. Sublima. (n.d.). Retrieved June 19, 2022, from https://www.wearesublima.com/.
‌
This article was published on 1/9/23