Grazia Deledda was born in Nuoro, Sardinia—an island off the coast of Italy—on September 27, 1871. Her parents, Giovanni Antonio Deledda and Francesca Cambosu Pereleddu, were of respectable bourgeoisie status and were believed to have had seven children. Deledda had four sisters and two brothers —older brothers Giovanni and Andrea, older sister Vincenza, and younger sisters Giovanna, Giuseppa, and Nicolina. During Grazia's childhood, Vincenza and Giovanna passed away due to a miscarriage and a high fever, respectively. Growing up in a small Italian town, life in Sardinia proved difficult for a woman who aspired to become a writer, since many women were not properly educated at the time.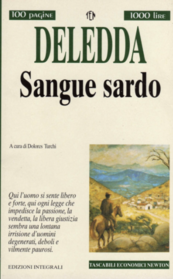 Grazia first discovered her love for writing while attending elementary school in Nuoro until she was eleven years old. As customary, Grazia was not supposed to further her education, but she loved to write so much that she convinced her parents to hire a private tutor for her. She did not attend college, however, she did read and analyze different works of Italian, Russian, French, and English literature of the time period. When Grazia was thirteen years old, she published her first short story, "Sangue Sardo", in a local newspaper that caused her to become an outcast in her community. "Sangue Sardo", along with her other works, were often writings about women who dated and had love affairs, which caused her family members to scold her for writing about feminist topics that would result in her never being able to be married off. In her novel Cosima, she states that "They were all imbued with the prejudice that she could not become a good wife with that passion of her books." But much to her family's surprise, Deledda met a young man named Palmiro Madesani in 1899, a civil servant for the Ministero delle Finanze (Now the Ministry of Economy and Finance) in Italy, and married him two months later in the year of 1900. After moving to Rome with him, Deledda became the mother of two children: Franz Madesani and Sardus Madesani.
As for her accolades, Grazia Deledda's first novel, Stella d'Oriente, was published in 1890 under the pseudonym of Ilia di Sant'Ismael followed by Amore regale in 1891, Amori fatali in 1892, and Fior di Sardegna in 1892 . These novels were typically focused on small town women in forbidden loves, alluding to the restrictions on women present within her own life. After becoming relatively popular for her work Elias Portolu, now considered a European classic, Deledda continued to write many more poems, short stories, and novels for which she slowly gained fame. Finally, in the wake of Deledda's novel La Madre written in 1920, Grazia won the Nobel Prize in Literature in 1926. Her works were strongly known for their verismo, or Italian realism, which revealed to readers what life was like in the small town of Sardinia during the eighteenth century in terms of tradition, poverty, and tragedy, along with the moral struggles of right and wrong within an individual person.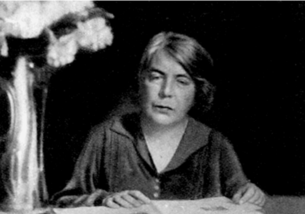 Despite being classified as fiction, most of her works, most considerably her last novel Cosima, are based on Deledda's real life experiences in Sardinia, due to the struggles of most of the working class struggles there and the outdated traditions prevalent within society. For instance, many critics who analyze her work claim that her siblings' emotions, such as Vincenza's depression during her miscariage, can be seen throughout Grazia's writings, as well as Deledda's own sadness towards Giovanna's early death. Furthermore, in Cosima, Grazia's account of her favorite bookstore in her hometown Nuoro raised suspicion amongst the world that Cosima is an autobiography of Grazia's own life experiences. Within Cosima, she even stated that "for thousands of pages I have recounted so much of my characters's anguish; I have caused you to have so much sympathy for their pain; now you know: it was my pain and tears, of me Cosima, of me Grazia." Nonetheless, Deledda's literature continues to live on, even after she died of breast cancer in Rome in 1936. After her death, Deledda's home was purchased in 1968 by the Municipality of Nuoro and declared as a national heritage building, only to be purchased again in 1979 by the Regional Ethnographic Institute (ISRE) in order to transform the house into the Museum Deleddiano and honor Grazia.
Grazia Maria Cosima Damiana Deledda was a very important feminine figure in Italy throughout the nineteenth century as the first Italian woman to receive a Nobel Prize in Literature. Although she contributed great classics and volumes of work to the world, she remains underrepresented in history due to her origins in small town Nuoro, Italy and her harsh depictions of a typical woman's life during the time period. Yet, the ultimate beauty and harshness of her words has moved Italian society closer to the truth of gender equality, and paved the way for all female Italian writers today.
Why Did I Choose to Research Grazia Deledda?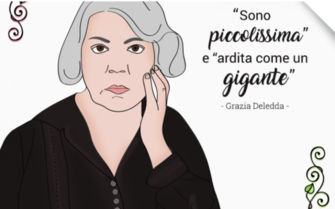 Along with my other written article of Matilde Hidalgo on iFeminist, I had chosen to study Grazia Deledda because of my ethnic heritage. My mother is from Ecuador, while my father comes from southern Italy. My Spanish-Italian identity has made me curious as to the accomplishments of women from both of those countries. Whereas Matilde Hidalgo was a well renowned physician, Grazia is an avid reader and writer much like myself. During her childhood, Deledda's discovery of her local bookstore was a catalyst for her love of words, and as she put best in her novel Cosima, "all those magical things with which one can translate words into signs and more than words, the thoughts of people" (Cosima, 719) was something to treasure in her life. Similarly, I love to read fiction books and analyze literature, adding my own imagination and observations to the things that I write, even if it is scientific. Therefore, by researching someone close to me in both creativity and cultural background, I have really gotten a wonderful chance to experience a taste of my own history through my research on Grazia Deledda.
Works Cited
Arsenovich, C. (1978). "Cosima" By Grazia Deledda: Nobel Prize Winner, 1926. Italian Americana,4(1), 53-64. Retrieved from: www.jstor.org/stable/2977593.
Briziarelli, S. (1995). Woman as Outlaw: Grazia Deledda and the Politics of Gender. MLN, 110(1), 20-31. Retrieved April 18, 2020, from www.jstor.org/stable/3251129
Deledda, G. (1932). Il Paese del vento: romanzo. In Books Abroad (Vol. 6, Issue 2, p. 172). https://doi.org/10.2307/40070553
Kern, M. E. (2002) Biography: Deledda, Grazia. The University of Chicago Library, Retrieved from https://www.lib.uchicago.edu/efts/IWW/BIOS/A0014.html
Kozma, J. M. (2002). Grazia Deledda's Eternal Adolescents: The Pathology of Arrested Maturation. Fairleigh Dickinson Univ Press.
The Nobel Prize in Literature 1926. (n.d.). Grazia Deledda, Nobel Prize Winner. NobelPrize.org. Retrieved from https://www.nobelprize.org/prizes/literature/1926/deledda/facts/
Wood, S. (2007). The Challenge of the Modern: Essays on Grazia Deledda. Troubador Publishing Ltd.
This article was published on 7/18/20