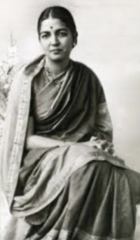 Rukmini Devi was born on February 29th, 1904, a unique day that only occurs once every four years. She was part of a Brahmin (upper-caste) family in Madurai, India. Her father was an engineer and very interested in Theosophy, a school of thought regarding God or a divine being through an analysis of various philosophies, including thoughts from different religions. As a result, Rukmini was exposed to the Theosophical society from a young age, allowing her to explore new faiths and liberal ways of thinking. At the age of sixteen, she married Dr. George Arundale of her own accord, a family friend and popular Theosophist. Though she had the approval from her parents, the conservative society around her was shocked and disapproving of the marriage because of the age difference and caste difference between the couple. As a teenager, she was already following her heart and breaking societal norms.
Dr. Arundale encouraged Rukmini's involvement in the Theosophist society, and she eventually became President of the All-India Federation of Young Theosophists and the World Federation of Theosophists. The couple, both high-standing and trusted members of the society, would tour the world on Theosophist missions, lecturing others about various issues, like education disparity. On one trip, she had the opportunity to meet the Russian ballerina Anna Pavlova. After seeing the ballerina dance, Rukmini was captivated by her movements and sought to learn the classical art form. Pavlova paired Rukmini with her student, Cleo Nordi, and encouraged her to learn the classical dances India had to offer. This suggestion was the reason Rukmini explored Bharatanatyam, an ancient Indian dance. Though she had grown up in a family interested in Carnatic music and the arts (an art form associated with Southern India), it was not until this encounter that Rukmini felt a pull towards Bharatanatyam. On this topic, she reflects, "Many people have said many things. I can only say I did not consciously go after dance. It found me."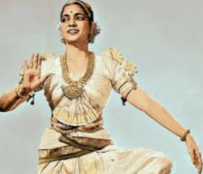 Bharatanatyam is one of India's most ancient dances. Once a highly regarded art, the traditional dance was originally called Sadir or Dasiattam, performed in Hindu temples as an offering to God. The dancers, Devadasis, were at the top of the social system. However, under British rule, the dance was banned and the dancers' statuses were reduced to nothing; giving way to nasty stereotypes and beliefs about them. It was difficult for Rukmini to fully explore the dance because, at that time, people from her caste were forbidden from learning the dance, which was regarded as a vulgar and a lower class activity, let alone befriend the dancers.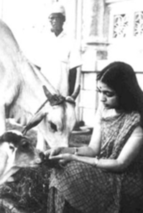 Nevertheless, she persevered and set her mind to not only learn the dance but also remove the stigma surrounding it. At the age of 30, she began learning the dance officially from Pandanallur Meenakshi Sundaram Pillai, a venerated teacher and founder of the Pandanallur style of Bharatanatyam. Through passion and hard work, Rukmini debuted her first performance at the Theosophical Society's Diamond Jubilee in 1935. Despite living during a time period when simply going to watch a performance was deemed wrong, because of the stigma and fear instilled towards dance, Rukmini, a respected individual, was the one dancing. This was also the first time a non-devadasi was performing, especially outside of a temple. Rukmini had brought a dance shunned by society to the main stage and encouraged people of the higher caste to learn as well. Many people arrived to see this dance and left with a new understanding. C.V. Raman, an Indian physicist and Nobel Prize winner, after witnessing her performance, said: "Some of you, I hope – for your sakes all of you – must have been thrilled by what you just witnessed… grace brought down from the heights of the Himalayas and put on the earth of this platform."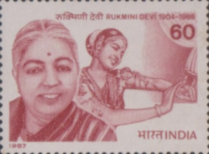 A year after the performance, Devi and her husband opened a dance academy called Kalakshetra, dedicated to preserving Bharatanatyam and proliferating dancers. Devi decided that in order to make Bharathanatyam respected and gain the public's love, she had to change a few aspects of the dance. To remove Bharathanatyam's reputation of vulgarity, Devi started by removing the elements of lust in the dance and centering it around devotion. The tacky costumes and gaudy jewelry were replaced with aesthetically pleasing items, reminiscent of temple architecture, and beautiful set designs and various instruments, like the violin, were added. She choreographed new dances and created a new curriculum with the art formatted into a dance-drama genre. In the end, she made sure everyone knew the beauty and grace of Bharatanatyam.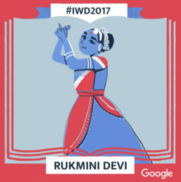 Devi was also the first woman in India to be nominated as a part of the Rajya Sabha, the Upper House of Parliament. She served in that position from 1952 to 1962 where she worked on legislation to protect animals, such as passing the Prevention of Cruelty to Animals Act of 1960. Devi's efforts resulted in the establishment of The Animal Welfare Board of India, which enforces animal welfare laws and seeks to solve animal welfare issues, for which she served as Chairperson. Devi was also passionate about promoting vegetarianism and served as the Vice President of the International Vegetarian Union. She was so admired that in 1977, the Prime Minister Morarji Desai offered to nominate her for the position of President of India, which Devi rejected so that she could continue leading Kalakshetra. Her interest in working to do what she loved was evident, as she did not just stop at transforming dance but in promoting the issues she was passionate about. Devi continued doing what she loved—working in her school— until she passed away in 1986, days before her 82nd birthday.
Devi received many prestigious awards for her talent. In 1956, she received the Padma Bhushan, India's civilian award, and in 1957 she received the Sangeet Natak Akademi Award, the highest form of recognition given to artists . Kalakshetra, the dance academy, is still regarded as a prestigious school and produces many talented dancers. Devi was also featured on a 60 paise stamp in 1987. In 1993, Parliament officially declared Kalakshetra "an Institute of National Importance."
Her legacy still lives on today, where so many dancers today can connect to their roots and learn the art of Bharatanatyam. Rukmini Devi revived an almost forgotten art form and made it into something the public loved. She broke a myriad of stereotypes and shook the world with her innovation and courage.
Why Did I Choose to Research Rukmini Devi Arundale?
I was first introduced to Rukmini Devi through my Bharatanatyam practice. My teacher had us research the history of the dance and I had discovered Devi along with all of the feats she had achieved. Bharatanatyam is very special to me as it connects me to my roots in a way that nothing ever has before; therefore, when reading about Devi, I felt a special connection to her. She not only inspired me but became a part of me. I especially related to how she found Bharatanatyam, as I had started out learning ballet for many years before switching to learn Bharatanatyam. I knew that for my first article I wanted to write about Rukmini Devi because she is so important to me and her work needs to be shared.
Works Cited
Deol, T. (2020, February 29). Rukmini Devi: Legendary Bharatanatyam Dancer Who Could have Been President. The Print. Retrieved from https://theprint.in/theprint-profile/rukmini-devi-legendary-bharatanatyam-dancer-who-could-have-been-president/372134/
Ghosh, R. (2018, December 5). Rukmini Devi Arundale: The Dancer Who Refused Presidency. Feminism In India. Retrieved from https://feminisminindia.com/2018/12/05/rukmini-devi-arundale-the-dancer-who-refused-presidency-indianwomeninhistory/
Pal. S. (n.d). Rukmini Devi Arundale, the Legend Who Chose Dance Over Becoming the President of India. The Better India. Retrieved from https://www.thebetterindia.com/90623/rukmini-devi-arundale-bharatnatyam-kalakshetra-president/
The Editors of Encyclopaedia Britannica. (2020, Feb 25). Rukmini Devi Arundale. Britannica. Retrieved from https://www.britannica.com/biography/Rukmini-Devi-Arundale
(2013, December 1). Libquotes, Retrieved from https://libquotes.com/rukmini-devi-arundale/quote/lbr4w7h
(2018, October 24).Wikipedia.Retrieved from https://theosophy.wiki/en/Rukmini_Devi_Arundale
(2020, March 14). Wikipedia. Retrieved from https://en.wikipedia.org/wiki/Rukmini_Devi_Arundale
(n.d.). Rukmini Devi Arundale. Cultural India. Retrieved from https://www.culturalindia.net/indian-dance/dancers/rukmini-devi.html
This article was published on 9/19/20