Born in 1882 into an extremely religious family, Sedigheh Dolatabadi was an extremely well-educated woman. Although she was born in Isfahan, Iran, Dolatabadi began her education in Tehran to learn Farsi and Arabic. Later, she attended Sorbonne University in 1923. Dolatabadi was educated at a time when it was unprecedented for Iranian women to obtain a university education.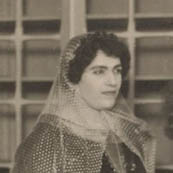 Before attending Sorbonne University, Dolatabadi was married to a much older doctor. They divorced in 1921. It is believed among Persian historians that she married this elderly man against her will.
Due to her background in education, Dolatabadi founded the first all-girls school in Iran in 1917. Subsequently, Dolatabadi opened another school for underprivileged girls. The opening of girl schools in Iran, where the combination of fanatic religious ideas and male dominant culture prevented women from education, sprouted the accessibility of education for women.
Dolatabadi's claim to fame in Iran was her magazine "Zaban-e-Zanan." Meaning, the voice of women. Dolatabadi expressed her criticisms of the veil, as well as advocacy for women's education, and exposed the oppression imposed on the women by religious circles in the magazine. Dolatabadi's statements resulted in an angry mob of men gathering in protest of her speeches. Dolatabadi was fighting for women's rights and equality when everyone in her environment was fighting against it.
The magazine only accepted submissions from women and the majority of readers were women. On January 5, 1921, the Prime Minister at the time banned the magazine due to its critical stance against the Anglo-Persian Agreement. Twenty-six months after the ban, Dolatabadi reopened the magazine. Dolatabadi's magazine is credited as one of the outlets that prepared future Iranian women to take important positions and make them ready to step forward into a male dominant society.
Additionally, Dolatabadi was well-known for her stance against the law mandating women to wear a headscarf. Not only did Dolatabadi speak out against the wearing of the veil in her magazine, but she was also the first woman to publically abandon the veil even before the legal ban of the veil in 1936. Dolatabadi famously said, "I will never forgive women who visit my grave veiled."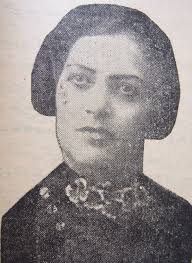 Dolatabadi's fame was not solely in Iran, she spoke at many international conferences including the International Alliance of Women Conference in 1926. Dolatabadi's speech caught the attention of western feminists including Mary Winsor. In her speech, Dolatabadi informed the audience that the Iranian government was going to make Dolatabadi the inspector of girls' schools in Tehran. Dolatabadi created a committee to keep international feminists informed of the progress of Iranian women.
After dying of cancer in 1961, Dolatabadi and her brother's gravestone was ruined under the edict of extremist clergymen and islamic vigilantes. The edict was due to Dolatabadi's legacy of progressive stances and inspirational speeches.
Today, Dolatabadi's legacy lives on. Activists, such as Mansoureh Shojaee, established the Sedigheh Dolatabadi Women's Library in Iran in 2003. The library was the first professional non-governmental library in Iran. Of course, the library was closed and Ms. Shojaee was arrested by the Islamic republic of Iran. Additionally, many art galleries highlight Sedigheh Dolatabadi's bravery and Iranian Feminism, including the International Institute of Social History and the Framer Framed Gallery in Amsterdam.
Dolatabadi inspired a new generation of Iranian women who are fighting daily for their rights under the toughest anti-women policies of an authoritarian fanatic government. Many outstanding Iranian women such as Simin Behbahani, Simin Daneshvar, Mehrangiz Kar, Forough Farrokhzad, Nasrin Sotoudeh, Maryam Mirzakhani, Sharmin Mossavar-Rahmani, Shirin Neshat, Marzieh, Anousheh Ansari and many more are carrying the torch which was struck by women such as Parvin E'tesami, Qamar-ol-Moluk Vaziri, Najm al-Saltaneh and Sedigheh Dolatabadi.
Works Cited
Haghani, Fakhri. "The 'New Woman' on the Stage: The Making of a Gendered Public Sphere in Interwar Iran and Egypt." ScholarWorks @ Georgia State University, 14 Nov. 2008, https://scholarworks.gsu.edu/cgi/viewcontent.cgi?article=1019&context =history_diss.
Jacobsen, Scott. "The Mother of Iranian Feminism – Sediqeh Dowlatabadi." CONATUS NEWS, CONATUS NEWS, 5 Apr. 2017, https://conatusnews.com/mother-iranian-feminism-sediqeh-dowlatabadi/.
Marek, Kiersten. "Why Feminist Philanthropy? For All the Relationship Reasons." Philanthropy Women, 24 Oct. 2017, https://philanthropywomen.org/womens-funds/feminist-philanthropy-r elationship-reasons/.
Najmabadi, Afsaneh. "Sadiqah Dawlatabadi." Women's Worlds in Qajar Iran, http://www.qajarwomen.org/en/people/107.html.
Najmabadi, Afsaneh. "Women with Mustaches and Men without Beards."University of California Press, Apr. 2005, https://www.ucpress.edu/book/9780520242630/women-with-mustaches-and-men-without-beards.
"Pre-Revolution." Pre-Revolution | Foundation for Iranian Studies,https://fis-iran.org/en/women/milestones/pre-revolution.
"Sediqeh Dowlatabadi." Iranian Personalities: Sediqeh Dowlatabadi, Iran Chamber Society, http://www.iranchamber.com/personalities/sdowlatabadi/sediqeh_dowlatabadi.php.
Tohidi, Nayereh. "The Women's Movement and Feminism in Iran: A Glocal Perspective." Academia.edu, https://www.academia.edu/22239547/The_Womens_Movement_and_Feminism_in_Iran_A_Glocal_Perspective.
This article was published on 3/28/20