Kadambini Ganguly, a mother of eight children and the first practicing female doctor in South East Asia, was known as the most liberated Brahmo woman of her time.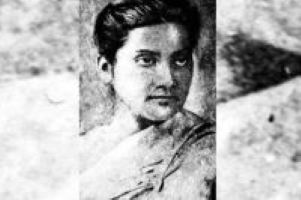 Kadambini Bose was born on July 18th, 1861, in Chandsi of Bhagalpur, India (modern-day Barisal, Bangladesh). She was born during the Bengali Renaissance, which was a period of religious, social, and educational advancements in the Bengal region from the 19th century to the early 20th century. She was deeply impacted by her father, Braja Kishore Basu, who was an influential member of the Hindu reformation movement of Brahmo Samaj. He was also the headmaster of Bhagalpur School as well as the co-founder of India's first women's rights organization, Bhagalpur Mahila Samiti. He knew the importance of education and played the first and most important role in Kadambini's own educational life by permitting her to attend school, even though Indian women had few educational opportunities at that time.
Ganguly started her education first at Brahmo Eden Female School, Dacca, and then transferred to Banga Mahila Vidyalaya, Calcutta. She was one of the first female students to study and graduate from Bethune College. In recognition of her efforts, Bethune College introduced FA(fine arts) courses, and then later, graduation courses, in 1883.
In Bethune College, Ganguly came across Dwarakanath, a professor who was an avid supporter of Brahmo Samaj and women's educational liberation, and soon became her mentor. Dwarakanath played the biggest role in helping Ganguly realize and grow to her full potential. They later married in 1883.
After graduating from Bethune College in 1880, achieving her dream, Ganguly was admitted to Medical College in Bengal - now known as Calcutta Medical College. Calcutta Medical College did not admit female students at the time. However, Dwarakanath fought for Ganguly to study at Calcutta Medical College by procuring the permit required for her to sit for the entrance exam. Finally, in 1884, she became the first woman to get admitted to Calcutta Medical College.
Her admission into a medical college stirred controversy within society and resulted in heaps of criticism from conservative Hindu society. Back then, Brahmo Samaj (Hindu society) limited women's roles to being a homekeeper only. Any woman daring to choose anything otherwise was labeled as characterless and treated with great contempt. However, Kadambini was offered a government scholarship worth Rs 20 per month for her medical college education, defying the social standards of the time. Some professors at her college did not like her studying there; so much so that one of the professors even failed her in a paper, which led to her losing out on her MB degree in 1888. Yet, she was awarded a GBMC (Graduate of Bengal Medical College) by then Principal Dr. JM Coates when she graduated in 1886, a diploma that enabled her to start a private practice as a doctor.
With a BA degree from Calcutta University (Bethune College was affiliated with Calcutta University) and a GBMC from Calcutta Medical College, Ganguly completed her triple diploma in four months since she only had to appear in the last exam. She was the only female and the first Indian woman to achieve a triple diploma that year. Moreover, she also specialized in pediatrics and gynecology. She received three diplomas after finishing her training from Edinburgh, Glasgow, and Dublin.
After returning from England, the editor of "Bangabashi" magazine Maheshchandra Pal humiliated Ganguly by depicting her as a vixen who was controlling her husband, signifying her dominance over her husband. This led to a lawsuit filed by Ganguly against Maheshchandra Pal, which put him in jail for six months with a fine of Rs100. Sending a powerful man holding an important position to jail is difficult for a millennial woman, and this was beyond imaginable for a woman in early 19th century India, yet it was made possible by the determined and passionate physician Dr. Ganguly.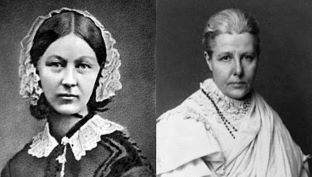 Being intrigued by Ganguly's unyielding passion for medicine, Florence Nightingale wanted to know more about her. She even wrote a recommendation letter to her friend to appoint Ganguly to Lady Dufferin Women's Hospital.
Annie Besant also lauded Kadambini as a "symbol that India's freedom would uplift India's womanhood" in her book, How India Wrought For Freedom.
Moreover, American historian and professor, David Kopf, noted that Ganguly's ability to rise above circumstances and realize her human potential made her unusual even among liberated women of contemporary Bengali society.
Upon returning from England, Ganguly accepted her position as a senior doctor at Lady Dufferin Hospital, even though she later left her job as her private practice boomed. Apart from being one of the most highly qualified doctors, being the only female doctor of that time was also the main reason for the booming of her private practice. She was also called upon by many royal families for treatment after she helped Nepal's Queen Mother.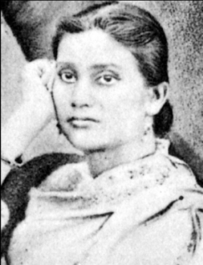 Along with being a doctor, Ganguly was a powerhouse that symbolized the voice of women. In 1889, Ganguly and five other women were the first six women to participate in India's National Congress, opening the door for women in Congress. In the next session of the Indian National Conference in 1890 in Calcutta, she gave a lecture in English - becoming the first woman to do so at the Indian National Conference.
In 1915, Kadambini spoke at a major medical conference against Calcutta Medical College, calling out their practice of still not admitting female students. Her words were so provoking that Calcutta Medical College changed its policy and started to admit female students. It was mainly through her efforts that Calcutta Medical College opened its doors to female medical students.
She also worked to help better the lives of Satyagraha workers in Transvaal, South Africa, female tea garden workers in Assam, and female coal mine workers in Bihar and Odisha. Apart from these efforts, she also organized the Women's Conference and presided over several conferences.
On October 3rd, 1923, Kadambini came home; after having conducted a critical operation on a patient, she died due to chronic hypertension.
Why Did I Choose to Research Kadambini Ganguly?
Kadambini Ganguly reminded me of my mom, who is also one of the first graduates in her family. She was the first person to graduate from a university with a bachelor's degree and then with a master's degree compared to her other siblings who just graduated high school. Ganguly's passion, perseverance, and confidence reminded me of my mom's childhood stories: how girls back then did not get the scope of education but my grandfather, being a teacher, fought for my mom's education. Kadambini Ganguly inspires me to dream and move forward irrespective of the obstacles that come my way. And I believe if I also have the support of all the right people in my life like Ganguly had (which I do), I can also achieve anything and everything; no matter how late. Apart from all of these, I want to be a doctor and I believe I owe it to her to research her and write an article about her because people need to know the history and contribution of these amazing women who dared to do something that society has never seen before. They have paved a path for girls like me who don't face as many challenges as they faced during those days. I want to inspire and give back to the community as much as humanly possible and would like to start by making people aware of female contributions to society.
Works Cited
Aditi S (2018, December 19) Kadambini Ganguly: Pioneer for Women's Rights Retrieved from https://www.livehistoryindia.com/story/herstory/a-pioneer-of-womens-rights/
Himani C (2018, October 3) Kadambini Ganguly; The first Indian woman to become a practicing doctor Retrieved from https://theprint.in/theprint-essential/kadambini-ganguly-the-first-indian-woman-to-become-a-practising-doctor/128383/?amp
‌Raihana S.K (2020, March 12) Kadambini: A woman of many firsts and feats Retrieved from https://www.tbsnews.net/feature/dr-kadambini-woman-many-firsts-and-feats-55492
The extraordinary story of Dr. Kdambini Ganguly, a woman with many firsts Retrieved from https://www.dailyrounds.org/blog/the-extraordinary-story-of-kadambini-ganguly-one-of-indias-first-women-doctors
Vidhipsa M Kadambini Ganguly Retrieved from http://uncover-ed.org/kadambini-ganguly/
‌
This article was published on 9/24/21