Zhang Haidi was born on September 16, 1955 in Jinan in the Shandong province of China. Due to Zhang's condition called spinal angioma, a pathological condition in her blood vessels near the dura mater of her spine, she underwent six major operations to have six of her spinal plates removed between 1960 and 1976. Multiple surgical complications rendered her lower body paralyzed when Zhang was only five years old.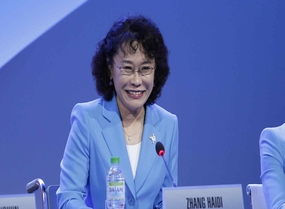 Although primary schools rejected her for her disability, Haidi taught herself up to the university level. She learned multiple foreign languages, including English, Japanese, German, and Esperanto, and quickly became a translator for many.
Zhang Haidi later worked at Chengguan Hospital in Shen County, Shandong and as a radio repairwoman for the local broadcast station, all while in a wheelchair. In the early 1980s, she toured China giving inspirational speeches and became famous throughout by encouraging other individuals to dream big despite their struggles. The Communist Party of China believed she was a new model for the Chinese youth and waged a national campaign to publicize her life story. She joined the party in December 1982 and received a master's degree in philosophy from Jilin University in 1993.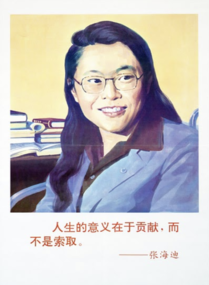 Since 2008, Zhang has been the Chairperson of China's Disabled Persons' Federation (CDPF) Chairperson and has made numerous efforts to push for the wellbeing of the 85 million people with disabilities in China by leading the CDPF in its provision of "representation, service and management." In 2014, Haidi was elected as the President of Rehabilitation International for 2016 to 2020. In addition, Zhang Haidi used her role as member of the Ninth, Tenth and Eleventh Chinese People's Political Consultative Conference National Committee to call for improving the livelihoods of disabled individuals and protecting their basic human rights.
Zhang Haidi uses her platform with the National Committee of Chinese People's Political Consultative conferences to ask for the improvement of disabled individuals' access to buildings and also campaigns for the ability to allow disabled people to drive. Zhang has been an active role model for China's citizens in demonstrating that disabled people, or "cripples" in society, could still function normally and contribute to the modernization of China.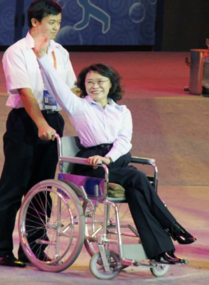 Zhang Haidi is also a prolific writer. She has published full-length novels, including Dreams in the Wheelchair, The Topmost, and Enduring as the Universe, as well as short essays, including "Window to the Sky, Inquiry about Lives". Her writings mostly consisted of her childhood as a passionate disabled individual and inspired readers to be persistent and inflexible to accomplish tasks from their wildest dreams.
From 2007 to 2008, she was invited to be a visiting scholar at Das Internationale Künstlerhaus Villa Concordia in Bamberg, Germany. She was awarded honorary doctorates by the University of York in the United Kingdom and the University of Massachusetts Boston in 2013 and 2015, respectively. In addition, Haidi has been awarded many titles both domestically and internationally, including "Outstanding Woman" by the All-China Women's Federation in 1983, "Model of Self Improvement" by China Disabled Persons' Federation in 1997, "World's Five Outstanding Persons with Disabilities" by NHK in 1997, "Model Worker" by the State Council in 2000, and "One of the Most Influential Twenty Women in the World" by Global Magazine.
Today, she remains a strong advocate for disabled rights and inspires other disabled people in China to pursue their dreams.
Why Did I Choose to Research Zhang Haidi?
As a first-generation Chinese-American, Amy was excited to research Zhang Haidi because she shares a similar heritage and was inspired by how she has paved the way for the future of the Paralympic Movement. While other strong Chinese females were equally as inspiring, Haidi stood out in particular because of her strength and true empathy for other disabled individuals.
Works Cited
Leadership. (n.d.). Retrieved from http://www.cdpf.org.cn/english/About/Leadership/
Ms. Zhang Haidi, Vice-Chairperson, State Council Working Committee on Disability, and Chairperson, China Disabled Persons' Federation, Beijing, China. (n.d.). Retrieved from https://www.maketherightreal.net/champions/zhang-haidi
Role Models >> Zhang Haidi. (n.d.). Retrieved from http://www.china.org.cn/china/60th_anniversary_people/2009-09/17/content_18547268.htm
Zhang Haidi. (2020, March 18). Retrieved from https://en.wikipedia.org/wiki/Zhang_Haidi
This article was published on 5/7/20