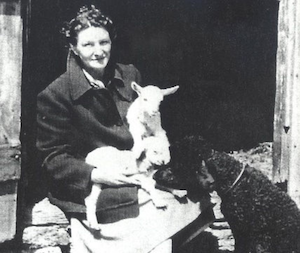 Virginia Hall was born on April 6, 1906 in Baltimore, Maryland, to her parents, Barbara and Edwin Hall. She was fortunate enough to be raised in a rich family, and was expected to marry within her family's circle. As a child, Virginia liked adventures and going hunting, and described herself as, "capricious and cantankerous." It is even believed that she once went to school with a bracelet that was made up of live snakes. Hall attended Roland Park Country School, an all girls preparatory school. Considered to be an original and engaged student, she was an outstanding student who was also editor-in-chief of the school's newspaper, class president, and captain of the hockey team. She then went on to further her education at Radcliffe College, and then studied foreign languages (including French, German, and Italian) at Barnard, a prestigious women's college.
At the time, Hall wanted to become a diplomat or an ambassador. For this position, she was rejected several times by the Department of State. Therefore, she decided to go to Europe to finish her studies. With her parents' support, she was able to study all over the continent in Austria, France, and Germany. Yet, she still sustained her dream of working in diplomacy.
In 1931, Hall began working at an American embassy in Warsaw, Poland as a clerk for the Consular Service, which was intended as a first step to having a career in Foreign Service. A few months later, in 1932, she was moved to the Izmir office in Turkey, where a hunting accident resulted in the partial amputation of her leg. She would have to live the rest of her life with a wooden leg, whom she fondly nicknamed, "Cuthbert." Unfortunately, she was unable to maintain a normal diplomatic career as a consequence of this leg injury.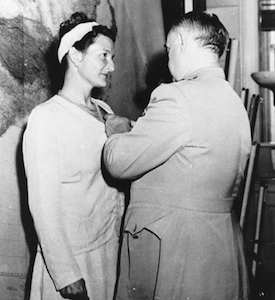 In 1940, in the midst of World War II, Virginia joined the Ambulance Service to help the war effort in Paris. She then ended up in Vichy territory, where France was losing against the invading Nazis. Evidently, she had to leave France to go to London, where she called a phone number given to her by a work friend. To her astonishment, the person she had called was an SOE agent working for a secret British World War II spy organization. An SOE agent was mainly charged with performing operations that would create sabotage and destruction behind enemy lines. The SOE was so impressed by Hall's intelligence and bravery that she was immediately recruited for training. Virginia returned to Vichy, France, and spent over one year working as a coordinator of French Resistance activities under the cover of a New York Post reporter. In 1942, she worked alongside Peter Churchill, a prominent SOE agent, for several missions that included money and agent deliveries to French spy networks. For the majority of her missions, she worked around Toulouse and Lyon.
However, she would not be able to evade the Nazis' attention forever. Soon, Hall became one of the most wanted agents by the Germans and was nicknamed the "limping lady." One of the Gestapo's most notorious leaders, Klaus Barbie, also known as the "Butcher of Lyon" for killing and torturing thousands in France, ordered "wanted" posters of Hall. In 1942, when Germany had invaded most of France, Hall had to flee immediately. She barely escaped Lyon by train, and hiked 50 miles through the heavy snow in the Pyrenees for 3 days to reach Spain. Upon her arrival, she was momentarily arrested for 6 weeks, but was released with the American embassy's help.
For the following year, she worked with SOE agents that were based out of Madrid and was subsequently acknowledged as the honorary Member of the Order of the British Empire. Although she had already done much for the Allies, she was not yet finished with her career as spy. She joined the equivalent American organization, the OSS (Office of Strategic Services) Special Operations Branch. There, she was asked to return to France, even though it would be harder to carry out missions as she was already being hunted by the Germans. The OSS sent her to Brittany, France with a new disguise. In preparation, Hall learned how to draw wrinkles on her face from a makeup artist and got her teeth grinded to look like a French milkmaid. Over the duration of 1 year, Hall plotted safe zones for supply drops and safe houses, aided Operation Jedburgh, helped train Resistance fighters for guerilla warfare and gave intelligence to Allied forces, until the end of the war.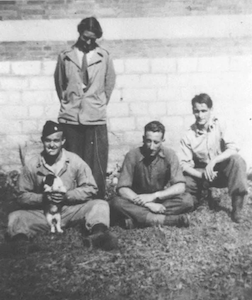 One of the OSS operatives that Hall worked with was Paul Goillot, whom she married in 1950 once she returned to the US. After being OSS operatives in World War II, they worked at the CIA (Central Intelligence Agency) where they were both allocated at the Special Activities Division focusing on covert operations. Virginia worked as an intelligence analyst and specialized in French parliamentary affairs, yet she was overlooked by her managers. She and Paul worked there for 15 years before retiring in 1966 to live on a farm at Barnesville, Maryland. On July 8, 1982, at the age of 76, Virginia Hall died at Rockville, Maryland, and was buried near where she had died.
Virginia's hard work has been recognized even after her death. After her service, she received the Distinguished Service Cross, which was the only award given to a woman in World War II from the American government, and is the second highest military decoration. The French also gave her the Croix de Guerre to praise all the work she did there. In 2006, her 100th birthday was celebrated by French and British ambassadors to the US. In 2019, she was inaugurated in the Maryland Women's Hall of Fame. Virginia also has a place in the CIA museum in Langley, Virginia within the spy agency headquarters that is off-limits to the public. In addition, three books and a movie called "A Call to Spy" (2019) have been published and released about her life.
Why Did I Choose to Research Virginia Hall?
I chose to research Virginia Hall because she managed to have a career that was, at the time, unconventional for women. Her story is encouraging to me because she had become an accomplished spy, even as a woman with a wooden leg. Additionally, I chose to research her because she is still largely unknown, even though she broke the barriers that women faced in spy organizations and was one of the best spies during WW2.
Works Cited
"A Woman Of No Importance" Finally Gets Her Due. (2019, April 18). NPR.org. https://www.npr.org/2019/04/18/711356336/a-woman-of-no-importance-finally-gets-her-due?t=1657466358194.
‌All That's Interesting. (2021, September 27). Virginia Hall, The One-Legged Spy Who Terrified The Nazis. All That's Interesting; All That's Interesting. https://allthatsinteresting.com/virginia-hall.
‌Balestrieri, S. (2020, February 28). Virginia Hall, The Famous "Limping Lady" of the OSS. SOFREP. https://sofrep.com/specialoperations/virginia-hall-famous-limping-lady-oss/.
https://www.facebook.com/thoughtcodotcom. (2019). Biography of Virginia Hall, WWII's Most Wanted Spy. ThoughtCo. https://www.thoughtco.com/virginia-hall-4690641.
This article was published on 2/14/23