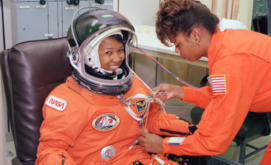 Mae Jemison was born on October 17, 1965, in Decatur, Alabama to Charlie and Dorothy Jemison. At the age of three, Jemison and her family moved to Chicago in search of better educational opportunities. Jemison's parents were very supportive of her academic interests at an early age. In elementary school, Jemison was interested in anthropology, archaeology, and astronomy. She would often stay after school to read about the sciences in the library. Jemison attended Morgan Park High School in Chicago, where she was fascinated by her STEM classes and discovered that she would like to pursue biomedical engineering. Jemison graduated in 1973 as an honor student at 16 years old and enrolled at the prestigious Stanford University, where she immersed herself in extracurricular activities including dance, theater, and the Black Student Union. Jemison enjoyed her engineering studies but also wished to explore as many different activities as possible—she believed in drawing knowledge from many different reservoirs. She graduated from Stanford University in 1977 with a bachelor's degree in chemical engineering and a bachelor of arts in African-American studies. Jemison then attended Cornell University in the hope of obtaining a doctorate, where she was able to study in Cuba, Kenya, and Thailand. In 1981, she received her medical degree from Cornell University.
After many years of education, Jemison interned at the University of Southern California's Medical Center and later worked as a general practitioner. She then utilized her medical knowledge as a member of the Peace Corps. For two and a half years, she volunteered for the Peace Corps and was sent to work in the West African countries of Sierra Leone and Liberia. When Jemison returned to the United States in 1985, she decided to follow her dream of reaching the stars. She applied to NASA's astronaut training program, and on June 4, 1987, Jemison became the first African-American woman to be admitted to the NASA astronaut training program. After a year of training, she also became the first African-American female astronaut.
Jemison's impressive resume and high rankings at astronaut training allowed her to obtain positions, including her role as an astronaut office representative with the Kennedy Space Center, where she worked on processing space shuttles and verifying shuttle software. In September of 1992, Mae and six other astronauts entered space aboard the Endeavour on mission STS47. This was a joint mission with NASA and the National Space Development Agency of Japan to test how organic materials function in microgravity. From September 12th to September 20th, Jemison was the co-investigator of two bone cell research experiments that focused on discovering the reasons for bone loss. Her research uncovered a correlation between bone mass and body mass.
After mission STS47, Jemison retired from NASA and became a Professor of Environmental Studies at Dartmouth College. Mae's background studying natural and synthetic materials in microgravity gave her students a valuable perspective on environmental studies. Beyond teaching at Dartmouth, she is a strong advocate for science to be accessible and taught around the world, and so she founded the Jemison Group, which teaches STEM to schools around the world.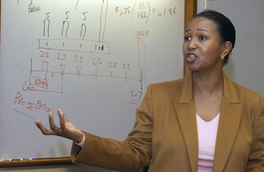 Jemison has won several honors for her studies. She won the Essence Science and Technology Award in 1988, was named Gamma Sigma Gamma Woman of the Year in 1990, received the Ebony Black Achievement Award in 1992, and has an alternative public school named after her in Detroit. She is also a member of many organizations including the American Medical Association, the American Association for the Advancement of Science, the American Chemical Society, the Center for the Prevention of Childhood Malnutrition, and she was on the board of directors for the World Sickle Cell Foundation. Jemison has been inducted to the National Women's Hall of Fame and the International Space Hall of Fame.
Jemison made history as the first African-American woman in space, and her advancements in the medical field through her bone cell research have helped medical professionals understand bone loss. She is currently working on improving healthcare and technologies such as indoor plumbing, wifi, computers, and more in developing countries. She has spent her time following her NASA career working on becoming fluent in Russian, Japanese, and Swahili. Mae Jemison currently resides alone in Houston, Texas where she continues to advance the world in the sciences.
Why Did I Choose to Research Mae Jemison?
I wrote about Mae Jemison because I believe her accomplishments and intellect is underappreciated. She not only has had an amazing career but her commitment to creating the world a better place for all is quite inspirational. I saw a photograph of her with a blurb of her accomplishments on social media, and I felt that she would be a great woman to research.
Works Cited
‌"Dr. Mae Jemison." NASA, NASA, starchild.gsfc.nasa.gov/docs/StarChild/whos_who_level2/jemison.html.
‌"Mae C. Jemison." Biography.com, A&E Networks Television, 27 Feb. 2020, www.biography.com/astronaut/mae-c-jemison.
‌Redd, Nola Taylor. "Mae Jemison: Astronaut Biography." Space.com, Space, 4 Oct. 2018, www.space.com/17169-mae-jemison-biography.html.
‌The Editors of Encyclopaedia Britannica. "Mae Jemison." Encyclopædia Britannica, Encyclopædia Britannica, Inc., 4 Mar. 2020, www.britannica.com/biography/Mae-Jemison.
‌
This article was published on 11/10/20