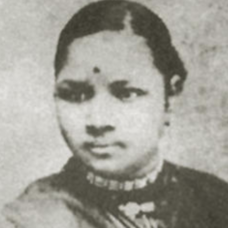 Anandibai Gopalrao Joshi, name Yamuna Joshi at birth, was born on March 31st, 1865 in Maharashtra, India. Joshi was raised in the city of Kalyan in Maharashtra. Her family consisted of landlords who were going through a financial crisis resulting from the excessive taxes imposed by the British on Indian housing. Like most Indian women during her time period, Yamuna was married off at a young age to a man named Gopalrao Joshi when she was nine. During their marriage, Gopalrao Joshi changed Yamuna's name to Anandibai Gopalrao Joshi. Her husband was a postal clerk, and unlike other men at the time, he was highly progressive. He supported a woman's right to education, which helped Anandibai get a medical degree. He helped Anandibai by paying for her tuition, getting her admission to a college in the U.S, got her a visa, and motivating her.
Anandibai only decided to become a physician after her tragic experience with her baby. She was 14 when she became a mother, but her baby died within ten days of being born due to poor healthcare facilities. This was Anandibai's catalyst where she decided to change the healthcare system in India. When Joshi told her husband that she was determined to study medicine, he supported her decision by writing a letter to an American missionary requesting permission for Joshi to immigrate to the United States to study. Although Gopalrao wanted to accompany his wife in her travels and studies, he was transferred to Bengal due to better job offerings. However, he still arranged everything for Anandibai to study in the U.S. by herself and set an example for the women in India by being the one of the first to go abroad and get an education.
In ancient times, India held many stereotypes of women doing nothing but cooking and taking care of her kids. Due to this, women getting an education in India was hard and going abroad to pursue a degree was harder because society made them believe that their only duties were to be a homemaker.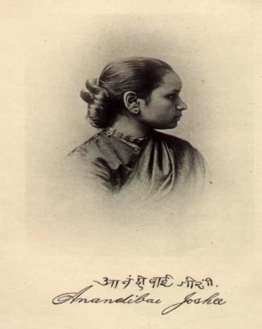 Anandibai was accepted to the Women's Medical College of Pennsylvania. She moved to the U.S. and began her medical training when she was 19. She had a lot of inspiration and support from India, which gave her motivation to persevere and earn her degree. On the day of her graduation, Queen Victoria - Empress of India and Queen of England - sent her a congratulatory message because she was the first Indian woman to graduate with a degree in medicine. When she returned to India in 1886, Joshi received a grand welcome and already had a job offer as a physician at the Albert Edward Hospital in Maharashtra, India. Joshi was very surprised that people from her country were so supportive of her career, even after all of the harsh criticism she previously received in America due to her ethnicity, skin color, and food preferences. Her accomplishments of pursuing an education in the U.S. became an inspiration for women around the world to pursue an education in a time unprecedented. Due to her educational journey, about 120,000 Indian women got their education in the next 20 years and the literacy rate has continued to increase in India.
Anandibai was a very successful woman, but when she was studying in America, she had trouble adapting to the cold weather and affording food. On her mission to save others, her own health worsened as well due to traveling across the seas in long cruises. After her return to India, her health deteriorated even more, and on February 26th 1886, Anandibai Gopalrao Joshi died of tuberculosis. She wanted to build a medical college in India, but her goal was never accomplished. However, as a sign of respect after she was cremated, her ashes were kept in Poughkeepsie, New York. Many researchers continued to write about her, such as the American feminist Caroline Healey, demonstrating her widespread impact after death.
Anandibai Joshi gained much fame because she empowered women to pursue an education. Her biography was published in 1888 by an American writer, Caroline Wells, and had a television series about her life journey broadcasted by the Indian channel Doordarshan. In Lucknow's Institute for Research and Documentation in Social Sciences, they awarded "Anandibai Joshi Award for Medicine" for her contributions to STEM's gender equity and India. Likewise, the government of Maharashtra established a fellowship in her name. The most modern and recent legacy of hers was created on March 31st, 2018 when Google honored her with a Google Doodle for her 153rd birthday anniversary. Anandibai Gopalrao Joshi has set an example for millions of women to pursue what they are interested in and make a career for themselves. She inspired and normalized higher education for women of color.
Why Did I Choose to Research Anandibai Gopalrao Joshi?
I chose Anandibai Joshi to research mostly because of her Indian heritage. Both of my parents are from India, and I really value and respect my culture. I also realize that a lot of Indian women are underrepresented in society, and it is important to honor them for all of the accomplishments they have done. I also decided that I wanted to be able to research someone connected to the medical field because I want to study medicine and be successful. I really was able to look up to her because she faced a lot of criticism when she was leaving her husband for her education to help the people in her society.
Works Cited
Baynes, C. (2018, March 31). Five things you should know about Anandi Gopal Joshi, India's first female doctor. Retrieved from https://www.independent.co.uk/news/world/asia/anandi-gopal-joshi-153rd-birthday-google-five-facts-who-is-india-first-female-doctor-a8282631.html
Chakraborty, A. (2018, March 31). Anandi Gopal Joshi: The Inspiring Story Of India's First Female Doctor. Retrieved from https://www.ndtv.com/people/who-is-anandi-gopal-joshi-all-you-need-to-know-about-indias-first-female-doctor-1831136
Desk, I. T. W. (2020, March 11). Anandibai Joshi: All about the first Indian female doctor with a degree in western medicine. Retrieved from https://www.indiatoday.in/education-today/gk-current-affairs/story/anandibai-joshi-all-about-the-first-indian-female-doctor-with-a-degree-in-western-medicine-1654396-2020-03-11
Heritage India. (2019, February 5). A Beacon of Hope - The Struggles and Success of Dr. Anandibai Joshi. Retrieved from https://heritage-india.com/a-beacon-of-hope-the-struggles-and-success-of-dr-anandibai-joshi/
QUOTES BY ANANDI GOPAL JOSHI: A-Z Quotes. (n.d.). Retrieved from https://www.azquotes.com/author/48696-Anandi_Gopal_Joshi
This article was published on 8/27/20