Amy Klobuchar was born in Plymouth, Minnesota to Rose and Jim Klobuchar. Klobuchar's mother taught second grade until she retired at 70 years old, and her father Jim was a sports writer and columnist for the StarTribune newspaper. Klobuchar's parents divorced when she was 15 years old. Her paternal grandparents were immigrants from Slovenia's White Carinola region, while Klobuchar's maternal grandparents immigrated from Switzerland to the United States.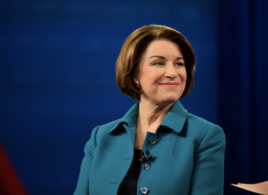 From an early age, Klobuchar showed great promise and leadership skills. Klobuchar was valedictorian of her graduating class at Wayzata High School. She later attended Yale University, receiving her degree in political science and graduating magna cum laude in 1982. Her senior thesis in college, which would later be published as the book "Uncovering the Dome," explains the 10-year-history behind the creation of the Hubert H. Humphrey Metrodome, a huge domed sports stadium in downtown Minneapolis. She then went on to attend law school at the University of Chicago in 1985, where she would graduate with her law degree.
After completing her education, she served as a legal advisor to former vice-president Walter Mondale, who encouraged her to pursue a career in politics. She then became an attorney at law, and later a partner at the Dorsey and Whitney Law Firm from 1985 to 1993. Around the same time, she married John Bessler, a native of Mankato, Minnesota. The couple would eventually have a daughter named Abigail.
After her time at Dorsey and Whitney, Klobuchar served as a partner at the law firm Gray, Plant, Mooty & Bennett in Minneapolis. In 1998, Klobuchar was elected attorney of Hennepin County, a post that she held from 1999 to 2006. During her time as an attorney, she served as the president of the Minnesota County Attorneys Association, a voluntary organization dedicated to improving the quality of justice in the state of Minnesota.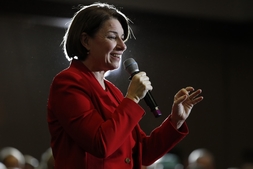 In 2006, after Senator Mark Dayton announced he wouldn't be running for reelection, she entered the race for his seat on the DFL (Democratic Farmer Labor party) ticket and assumed office as senator in 2007. She was the first woman to ever represent Minnesota in the United States Senate. Once established in the Senate, she asserted herself as a political liberal and bipartisan cooperator, with a viewpoint best described as modern liberalism. Klobuchar's political opinions include being pro-choice on abortion and supporting the rights of the LGBT community. She is also supportive of the Affordable Care Act (aka ObamaCare) and is very critical of the Iraq War.
During her time in office, she negotiated a major funding package to fix a bridge over the Mississippi River in 2007. She also championed numerous farm bills by providing a safety net and subsidies for farmers and took special interest in veterans' affairs, ensuring that they could obtain proper care. In addition, she was on the forefront of a significant revision of the Senate's ethics rules, and improved funding for STEM education at both secondary and university levels. Klobuchar was, and continues to be, extremely popular in her home state, as she easily won reelection in 2012 and 2018.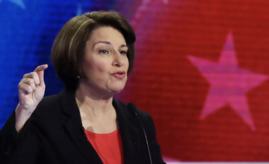 On February 10th, 2019, Klobuchar announced that she was running for President in the 2020 election, where she ran as a moderate under the Democratic Party. She was backed by many political moderates. On January 19th, 2020, The New York Times editorial board endorsed Klobuchar as well as Elizabeth Warren for president. However, on March 2nd, 2020, Klobuchar announced the suspension of her campaign and endorsed Joe Biden, believing that he would be the candidate to defeat Donald Trump in November. On May 21st, 2020, it was reported that Biden asked several women, including Klobuchar, to undergo formal vetting for consideration as his vice-presidential running mate. Ultimately, however, the position was offerred to California Senator Kamala Harris.
During her career, Klobuchar has earned many honors and distinctions. Minnesota Lawyer newspaper named her "Attorney of the Year" in 2001, and Mothers Against Drunk Driving gave her a leadership award for advocating for the successful passage of Minnesota's first felony DWI law. Furthermore, Working Mother magazine named her a 2008 "Best in Congress", for her efforts on behalf of working families, and The American Prospect magazine named her as a "woman to watch".
Why Did I Choose to Research Amy Klobuchar?
I chose to write about Amy Klobuchar because I believe that bipartisanship and cooperation is severely lacking in today's political climate. Klobuchar is, also, the senator from my home state and I've always felt that she is an incredible role model for girls. Amy Klobuchar is an incredible proponent of collaboration and an incredible woman.
Works Cited
‌About. (n.d.). Retrieved from https://www.klobuchar.senate.gov/public/about-amy
‌Amy Klobuchar. (2013, April 11). Retrieved May 23, 2020, from https://www.washingtonpost.com/postlive/amy-klobuchar/2013/04/11/50da5b5e-a2b2-11e2-9c03-6952ff305f35_story.html
‌Amy Klobuchar Fast Facts. (2020, March 24). Retrieved May 23, 2020, from https://www.cnn.com/2019/02/18/us/amy-klobuchar-fast-facts/index.html
‌Bycoffe. (2020, May 18). Tracking Congress In The Age Of Trump. Retrieved May 23, 2020, from https://projects.fivethirtyeight.com/congress-trump-score/
‌Board, T. E. (2020, January 20). Amy Klobuchar and Elizabeth Warren Are Democrats' Top Choices for President. Retrieved May 23, 2020, from https://www.nytimes.com/interactive/2020/01/19/opinion/amy-klobuchar-elizabeth-warren-nytimes-endorsement.html
‌Erickson, B. (2020, May 22). Biden asks Amy Klobuchar to undergo vetting as possible running mate. Retrieved May 23, 2020, from https://www.cbsnews.com/news/biden-amy-klobuchar-running-mate-vetting/
‌McNamee, G. L. (2020, May 21). Amy Klobuchar. Retrieved May 23, 2020, from https://www.britannica.com/biography/Amy-Klobuchar
‌Minnesota Lawyer. (2001, December 31). Minnesota Lawyer recognizes 10 as 'Attorneys of the Year'. Retrieved May 23, 2020, from https://minnlawyer.com/2001/12/31/minnesota-lawyer-recognizes-10-as-8216attorneys-of-the-year8217-2/
‌
This article was published on 11/23/20