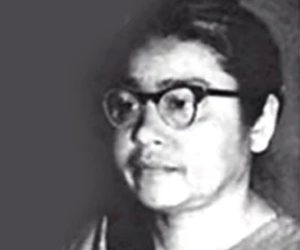 Sucheta Kripalan Mazumdar was born on June 25, 1908 in Ambala, Punjab. She was born to a Bengali Brahmin family. Her father, Surendranath Mazumdar, was a government doctor and a devoted patriot, who committed his life to serving his country. He was the one who instilled a sense of patriotism in Sucheta. Sucheta also had a sister named Shulekha. Both she and her sister were interested in joining India's independence movement.
Sucheta's father's job required several transfers and, as a result, Sucheta had to attend a lot of different schools. She completed her higher education at Indraprastha College in New Delhi. She got her Master's degree in History from St. Stephen's College, Delhi. Later, she was hired as a Constitutional History Instructor at Banaras Hindu University.
1n 1936, when she was about 28 years old, Sucheta married Jivatram Bhagwandas Kripalani (J.B), also known as Acharya Kripalani Kriplani, a well-known socialist leader. J.B was almost twenty years older than her; due to the age difference, the marriage was opposed by both their families, and even Mahatma Gandhi. Sucheta decided to join the independence movement after she graduated from Indraprastha College and became one of Mahatma Gandhi's closest disciples. Sucheta Kriplani, along with Aruna Asaf Ali, Mantangini Hazra, Usha Mehta, Nandini Devi, and other women politicians, rose to prominence during the Quit India Movement of 1942, after joining the Indian National Congress (INC). She was the first head of the Women's Department of the Congress Party. Gandhi Ji was impressed by her dedication towards politics and, in 1946, appointed her as the organizing secretary of the Kasturba Gandhi National Memorial Trust. Gandhi described her as "a person of rare courage and character who brought credit to Indian womanhood."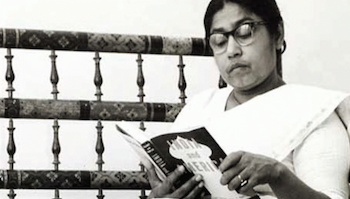 Sucheta was a member of the subcommittee that drafted the Indian constitution's charter. She was elected as a member of the constituent assembly, an assembly which constituted a body of members who were assigned to help create India's constitution in 1946. She was one of the fifteen women who were chosen for drafting the foundational text that would help build a stronger republic. She was also elected as the first woman Chief Minister of Uttar Pradesh. She sang "Vande Mataram," the national song of India in the Constituent Assembly's Independence Session on August 14, 1947, a few minutes before Jawaharlal Nehru's famous "Tryst with Destiny" speech was delivered.
In 1940, Sucheta founded the women's wing of the Congress party, called All India Mahila Congress (AIMC). She encouraged women to get involved in politics and the fight for India's freedom. Even after India's independence, Sucheta decided to remain involved in politics. Sucheta Kripalani was elected to the United Nations General Assembly as a delegate in 1949. She was Minister of Labour, Community Development, and Industry in the Uttar Pradesh government from 1960 to 1963. State employees went on a hunger strike during her term, demanding a salary raise, but Sucheta refused until the agitation's leaders were willing to concede (62 days later). By refusing their desire for a pay raise, Kripalani maintained her reputation as a tough administrator.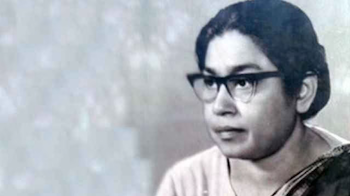 She decided to leave politics in 1971, and permanently settled down with her husband in Delhi. Since they did not have children, the couple selflessly contributed all of their wealth and resources to the Lok Kalyan Samiti, a non-profit organization dedicated to assisting economically underprivileged people in the national capital, Delhi.
Sucheta survived two heart attacks in a row in 1972, but died two years later, on December 1, 1974, at the age of 66, after suffering a third heart arrest. In her honor, the Indian government renamed one of the two hospitals linked with New Delhi's Lady Hardinge Medical College as the Sucheta Kripalani Hospital.
Why Did I Choose to Research Sucheta Kripalani?
Sucheta Kripalani was the first woman political leader of India. She motivated me and her story fascinated me; I wanted to know more about her, so I decided to research and write about her! Her story can be an inspiration for many others and I want them to know more about her.
Works Cited
Baldwa, S. (2020, November 25). Sucheta Kripalani: India's first woman chief minister, chartered her own independent course. Retrieved from The Indian Express: https://indianexpress.com/article/gender/sucheta-kripalani-indias-first-woman-chief-minister-chartered-her-own-independent-course-5111688/
Ghosh, R. (2018, March 5). Sucheta Kripalani: India's First Woman Chief Minister. Retrieved from feminism in india: https://feminisminindia.com/2018/03/05/sucheta-kripalani-first-woman-chief-minister/
SIRUR, S. (2018, December 1). Sucheta Kriplani: India's first woman chief minister and founder of All India Mahila Congress. Retrieved from The Print: https://theprint.in/politics/sucheta-kriplani-indias-first-woman-chief-minister-and-founder-of-all-india-mahila-congress/156832/
UPMANYU, K. (2018, June 14). Remembering Sucheta Kripalani: India's First Woman Chief Minister. Retrieved from The Quint: https://www.thequint.com/news/india/sucheta-kripalani-india-first-woman-chief-minister#read-more
This article was published on 3/7/2022