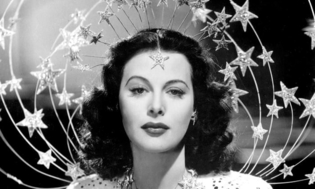 Hedy Lamarr, born Hedwig Eva Kiesler, was an Austrian American actress and the inventor of radio frequency hopping. Lamarr was born on November 9th, 1914, to Gertrud and Emil Kiesler in Vienna, Austria. The Kiesler family was an affluent Jewish family. Her father was a bank director, and her mother a pianist. From a young age, Hedy was so interested in machinery that by the age of five, she had disassembled her music box to understand how the sound waves functioned in this machine. Hedy's mother helped Hedy understand the function of sound waves, and her father often spoke to Hedy about the functions of machines. Hedy was sent to finishing school in Switzerland, where she learned to refine her skills as an upper-class woman. Hedy's education never consisted of developing her knowledge in technology, however, her understanding of machinery came from her father and first-hand experiences. As Hedy developed into a sophisticated young woman, her beauty became undeniable, and at the age of 16, she was discovered by stage director Max Reinhart.
Hedy began studying with Reinhart in Berlin. Her first acting role was in the German film Money on the Street in 1930. In this film, Hedy played a young woman trapped in a dull engagement looking for an escape. By 1932, Hedy had shot to fame because of her role as an unhappy bride with a kink in the German film Extase. In Berlin, Hedy met Fritz Mandl, a mutation manufacturer and a loyal fan. He fell in love with Hedy's brain and beauty. Mandl befriended Hedy's father and he gave his blessing for the two to marry in 1933. Fritz's work gave Hedy an insight into weapon systems, where she observed the production and function of torpedo systems and military radios. However, Hedy often felt that her and Fritz's marriage was a "monarchy" and that she could never be "an actress while I [she] was his wife." Hedy was also disturbed by Fritz's new friends within the Nazi party. As a result, in 1937, Hedy left her husband during the night and fled to London.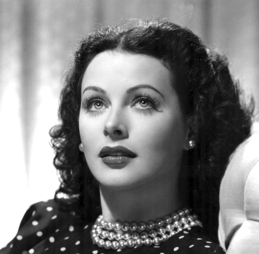 While in London, Hedy was introduced to the MGM Studios Co-Founder, Louis B. Mayer. Hedy knew little English but found her way into a fruitful Hollywood contract which allowed her to reside in Los Angeles and have first-hand opportunities in up and coming films. Hedy settled in Hollywood and was quickly introduced to Hollywood stars, including pilot Howard Hughes. Hedy dated Hughes, who brought Hedy to airplane factories. Hughes told Hedy he wanted to build a faster plane for the U.S. government. Hedy began to study the fastest birds and fish she could find in order to engineer a plane that could move at a faster speed. Hughes called her a "genius." Although Hedy and Hughes's relationship eventually ended due to conflicting schedules, they both learned a great deal from each other.
At a dinner party in 1940, Hedy met composer George Antheil. Hedy and George both felt uncomfortable living at ease in Hollywood while fellow Americans were losing their lives in World War II; thus, they kept in touch and often spoke of designing weapons to combat the Axis powers. Hedy's knowledge about weapon systems combined with George's mastery of sound waves allowed them to create the technique of Frequency Hopping. This technique consisted of both a transmitter and receiver hopping to new frequencies together. Frequency hopping prevented the interception of radio waves, leading a weapon, like a torpedo, directly to its target. Hedy and George patented their invention and hoped it would help the war effort; however the U.S. Navy decided not to use their invention. The Navy believed that the lack of testing with the weapons may cause it to interfere with radar readings. Despite this, Hedy used her fame to support the war by advertising funding the war effort through war bonds. Although frequency hopping was not used during the war, it would have a great impact on society years later.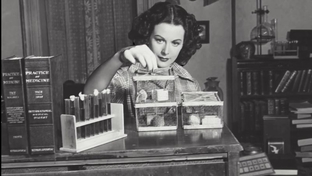 As more information is being shared in the world, the risk of security breaches has increased. Frequency hopping ensures the safety of transferred information. Signals hop to different waves with different frequencies, and the different frequencies enable the information to be untraceable. The different frequencies also protect the information of being intercepted, as it is not on one plain.
Hedy continued her career in Hollywood as an actress, most of her films were in the 1940s but her last film was Instant Karma in 1990. After Instant Karma, Hedy retired to Florida. In 1997, Hedy received the Electronic Frontier Foundation Pioneer Award for her advancements in Bluetooth and Wifi. Hedy died on January 19th, 2000 due to natural causes. In 2014, she was inducted into the National Inventors Hall of Fame.
Hedy's story is not one often told but should be honored for both her work as an actress and pioneer in the technology field.
Why Did I Choose to Research Hedy Lamarr?
My family and I enjoy watching old movies, which is how I happened to watch Casablanca. After watching Casablanca, I looked into the cast and discovered an article that said Hedy Lamarr was supposed to be cast in the movie. The article also talked about Hedy's accomplishments. After reading the article, I thought that more people should hear her story — after all, she is the reason we have Wifi and Bluetooth.
Works Cited
A Hedy Lamarr Invention is the Secret Communication System. (n.d.). Retrieved from https://www.invent.org/inductees/hedy-lamarr
Cheslak, C. (n.d.). Hedy Lamarr. Retrieved from https://www.womenshistory.org/education-resources/biographies/hedy-lamarr
Field, S. (2018, March 8). Hedy Lamarr: The Incredible Mind Behind Secure WiFi, GPS And Bluetooth. Retrieved from https://www.forbes.com/sites/shivaunefield/2018/02/28/hedy-lamarr-the-incredible-mind-behind-secure-wi-fi-gps-bluetooth/#5b42d6441b79
Hedy Lamarr Biography. (n.d.). Retrieved from https://www.notablebiographies.com/supp/Supplement-Ka-M/Lamarr-Hedy.html
Roth, G. (n.d.). Bluetooth Wireless Technology. Retrieved from http://large.stanford.edu/courses/2012/ph250/roth1/
This article was published on 9/2/20