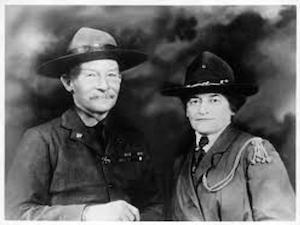 Juliette Gordon Low was born on October 31, 1860 in Savannah, Georgia, and was the second of six children. Her parents, William Gordon II and Eleanor Gordon, encouraged her and her siblings to be respectful, dutiful, and loyal, profoundly impacting the rest of her life. Her upbringing was similar to that of other children born into elite families, in the post Civil War South. Low started her education in Savannah, but was later sent to a few boarding schools along the Eastern Seaboard. She completed her formal education in 1880 at Stuart Hall School.
On December 21, 1886, she married William MacKay Low, and they lived on Lafayette Square in Savannah for a year before moving to England. Low and her husband separated in 1905, but the divorce was never finalized due to his untimely death. While in England, Low met Lord Robert Baden-Powell, a war hero and founder of the Boy Scouts.Wanting to start an organization similar to the Boy Scouts for young girls, Baden-Powell set up groups of Girl Guides, one group in Scotland and two groups in London. Inspired by Baden-Powells, Low headed back to her hometown, Savannah, and started the first troop of Girl Scouts in March of 1912.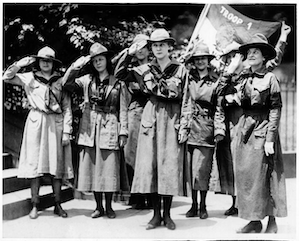 The first Girl Scout troop consisted of a few of Low's relatives and girls from old families in town. A ceremony was held to officially induct them into the Girl Guides on March 12, 1912. Each large troop was divided into smaller groups called 'patrols,' which were named after flowers and met on different days of the week. These meetings were held in Low's carriage house. The girls learned a variety of skills like map reading, first aid, cooking, and knot tying. Low's teams used the British Girl Guides's system of awarding badges when someone reached a certain level in specific skills.
By 1913, the American Girl Guides split from the British Girl Guides, changing their name to the Girl Scouts; they also published the first girl scout handbook, How Girls Can Help Their Country. The new handbook was a modification of the British version written by Baden-Powell and his sister, titled How Girls Can Help to Build Up the Empire. The organization established its national headquarters in Washington D.C., but moved to New York City in 1916.
Throughout World War I, Low traveled between America and Britain, promoting the Girl Scouts and Girl Guides, helping Belgian refugees, and raising money to support the British soldiers. Low also worked with the American Red Cross, and other U.S. organizations, to involve the Girl Scouts in the war effort; Girl Scouts rolled bandages, planted gardens, and canned and sold war bonds.
In 1918, when the war ended, Low continued working between England and America to strengthen the connection between the Girl Scouts and the Girl Guides. In 1919, the International Council of Girl Guides and Girl Scouts was founded. The council's goal was to globalize the work of the organizations. Low served as the American representative and in 1919, she was awarded the Silver Fish award by Olave Baden-Powell, the founder of the council. This award was the highest honor and Low was one of very few Americans to win this award. Throughout the 1920s, other countries created troops and joined the council, including South Africa, Australia, New Zealand, and China.
In 1920, Low stepped down from her position as President of the Girl Scouts of America to focus on international promotion of the organization. In 1923, Low was diagnosed with breast cancer; even in sickness, she worked tirelessly to support the Girl Scouts. However, the many treatments she received were ineffective and Low eventually died in her home on Lafayette Square on January 17, 1927. The following day, a candlelit funeral was held in her honor, and hundreds of Girl Scouts attended. Per her request, Low was buried in her Girl Scout uniform, which read, "You are not only the first Girl Scout, you are the best Girl Scout of them all".
Low has received several awards even after her death for her outstanding achievements. She was inducted into the Georgia Women of Achievement in 1992 and, in 2005, she was named a nominee of the Extra Mile Point of Light Volunteer Pathway, which is awarded to people who celebrate the spirit of service in America. In 2012, President Obama awarded her a Presidential Medal of Freedom and her birthplace was designated as a National Historical Landmark. Low's birthday, October 31, is celebrated as Girl Scout Founder's Day. Since 1912, over 50 million girls have become members of the Girl Scouts and, currently, the organization has over 2.5 million members worldwide.
Why Did I Choose to Research Juliette Gordon Low?
Juliette Gordon Low, like myself, was born and raised in Savannah, Georgia. In school, we occasionally talk about notable people from Savannah, but, surprisingly, Low has never been mentioned. This denial always seemed strange to me, considering she founded the Girl Scouts, an internationally recognized organization. I chose to research Low so I could learn more about an influential woman from my hometown, and to hopefully bring more light to her truly incredible accomplishments.
Works Cited
About Juliette Gordon Low. Juliette Gordon Low Birthplace. Retrieved from https://www.juliettegordonlowbirthplace.org/en/learn/about-daisy.html.
Juliette Gordon Low. Girl Scouts. Retrieved from https://www.girlscouts.org/en/discover/about-us/history/juliette-gordon-low.html.
Sims, A. (2004). Juliette Gordon Low. New Georgia Encyclopedia. Retrieved from https://www.georgiaencyclopedia.org/articles/history-archaeology/juliette-gordon-low-1860-1927/.
Spring, K. A. (2017). National Women's History Museum. Retrieved from https://www.womenshistory.org/education-resources/biographies/juliette-gordon-low.
This article was published on 11/30/2022