Modern ages birth new waves of feminism, which is especially true in present-day China. Most notable for her strides in Chinese feminism, Li Maizi's work has inspired many young women around the world.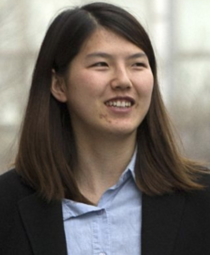 Li Maizi, also known as Li Tingting, was born in 1989 in Hongtongying, Beijing, China. Her parents were pressured into marrying young after her mother became pregnant with her. Her father lost his job, leaving her mother to provide for the family. As a result, Li's early life consisted of an absent mother who had moved away to work in a factory and an overbearing father who acted as the belligerent patriarch of the household.
Despite her difficult upbringing, Li attended Chang'an University, a prestigious school in Xi'an. There, she was introduced to and became involved in activism. In her second year, she founded a gender equality network which accumulated over 200 active volunteers by 2013. The group focused on advocating for equal rights and drawing attention to prejudiced behaviors within society. They were most known for their public "performative art," a term used specifically to evade the political intricacies with the word "protest."
In one of their performances, they addressed a misogynistic announcement by the Shanghai subway authorities which, in an attempt to address increasing sexual harassment occurring on public transportation, made an announcement telling women to "have some self-respect" in their clothing choices. Li Maizi alongside other volunteers boarded subways wearing miniskirts, metal breast protectors, and signs saying "I can be slutty, but you can't get dirty" in response.
Many of their performances denounced domestic violence, a prevalent issue across China. Even though domestic abuse is considered illegal, China's marriage law fails to delineate a legal definition or any repercussions. "Some women get abused for 10 years, or even 30 years, because once she leaves her husband, she might lose her home and children," Li said, reflecting on the lack of legal consequences for domestic violence. "That's the reason they don't leave."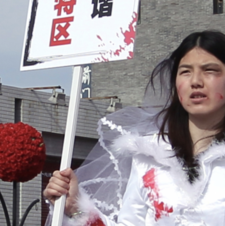 On Valentine's Day in 2012, Li, with two other volunteers, donned bloody wedding dresses and gruesome makeup to bring awareness to the issue of domestic violence. Their performance became known as the "Blood Brides" performance and drew the attention of a few government officials who proceeded to follow them until they left. Not only was their performance acknowledged by the government officials, but it also gained traction internationally. Multiple foreign and local news outlets reached out to her for interviews on the performance. She was warned by the Chinese government to stop posting on social media and stop organizing performances, but she relentlessly continued to rally for social justice. The performance inspired many young feminists in China and across the world to speak out against oppressive systems.
In 2015 for International Women's Day, Li, alongside four other young women, had planned to hand out stickers and flyers to bring awareness to sexual assault on public transportation. However, they were soon detained by the police and interrogated about their plans.
Their detention transformed the Chinese feminism scene. Many took their containment as governmental mockery of legitimate feminist activism. The Chinese government had recently increased their leash on various non-governmental organizations, or NGOs, but had not yet touched feminist NGOs. However, when they detained Li Maizi and the other four feminists based on their affiliations with feminist NGOs, they threatened the legitimacy of feminist activism, causing domestic outcry at their action.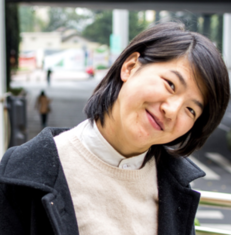 The timing of the detainment also proved inconvenient for the Chinese government. They arrested the women right before International Women's Day and the twentieth anniversary of the Fourth UN Conference on Women. Feminists around the world expressed their indignation at the detention. Following the first two weeks of the detainment, over two million people had signed petitions on multiple websites demanding the women be freed.
The five women became known as the Feminist Five, a symbol of defiance against oppressive, patriarchal systems. Eventually, they were released on bail, proving their international influence and the power of feminists around the world. Their detention inspired many women on Weibo, a Chinese social media site, to build communities to criticize misogyny and gender-based violence.
Not only did she heavily influence feminist movements in China, but she also was a huge LGBTQ+ activist. In the years following her attendance at Chang'an University, she became the manager of LGBT program at the Beijing Yirenping Center and organized campaigns addressing LGBT issues alongside the other performances she was organizing. Additionally, her marriage to Suan Xiaola was a step forward in the acceptance of same-sex couples in China. To this day, she actively participates in LGBTQ+ protests and activism.
Following 2015, Li continued to participate in activist movements around the world. In the United Kingdom, she attended the Million Women Rise March and gave speeches at British universities. In the United States, she attended the Gay Pride parade. The legacy that she leaves is one that will be memorialized by feminists and LGBTQ+ activists everywhere.
Why Did I Choose to Research Li Maizi?
I heard about Li MaiZi through the news and was intrigued by her performances. Upon reading more about her, I found myself inspired by her brave acts. I wanted to inform more people about her accomplishments and achievements for feminists around the world.
Works Cited
‌BBC. (2015, November 17). BBC News. BBC 100 Women 2015: Who is on the list? https://www.bbc.com/news/world-34745739.
‌Cao, Y. (2020, March 9). A Cafe Chat With Li Tingting. China Change. https://chinachange.org/2016/07/27/a-cafe-chat-with-li-tingting/.
‌Fincher, L. H. (2016). China's Feminist Five. Dissent Magazine. https://www.dissentmagazine.org/article/china-feminist-five.
‌Karl, R. E., Zhang, L., Fong, M., Fincher, L. H., Lovell, S., & Wang, T. (2016, July 1). The Education of Detained Chinese Feminist Li Tingting. ChinaFile. https://www.chinafile.com/library/excerpts/education-detained-chinese-feminist-li-tingting.
‌Micner, T. (2017, March 21). 'International Slut' Activist Li Maizi Is One of China's Loudest Feminist Voices. Vice https://www.vice.com/en_us/article/ywmpkv/international-slut-activist-li-maizi-is-one-of-chinas-loudest-feminist-voices.
‌Tang, D. (2015, April 19). 'Feminism is my soul,' says gay Chinese activist after 37 days in detention. The Independent. https://www.independent.co.uk/news/world/asia/li-tingting-released-feminism-is-my-soul-says-gay-chinese-activist-after-37-days-in-detention-for-10188320.html.
‌Zheng. (2015). Detention of the Feminist Five in China. Feminist Studies, 41(2), 476. doi:10.15767/feministstudies.41.2.476
‌
This article was published on 11/4/20