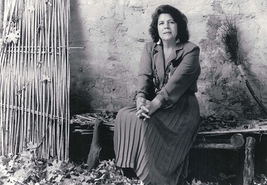 Wilma Mankiller was born on November 18th, 1945, in Tahlequah, Oklahoma to Charley and Clara Mankiller as the sixth of eleven children. She was born on tribal Cherokee lands since her father, Charley, was a descendant of full-blood Cherokees, while her mother, Clara, was of Irish and Dutch descent. The Mankiller family was given its last name from a powerful ancestor who was a highly respected warrior. In her early years, she lived in the Mankiller Flats near the Rocky Mountains. However, these homes had neither electricity nor indoor plumbing due to the lack of revenue Native communities received and the overwhelming poverty present on many reservations. At the age of 11, Mankiller and her family moved to San Francisco, California in hopes of a better future.
Her father searched for work in San Francisco, but his jobs were short-term and money was scarce. Although Mankiller had struggled with money throughout her childhood, she found economic stability when she married businessman Hugo Olaya. She was only seventeen and had just graduated high school when they got married. Mankiller soon attended Skyline Junior College and then San Francisco State University, receiving a degree in the Social Sciences. In 1964, Mankiller gave birth to her daughter Felicia, and in 1966, she had her second daughter Gina.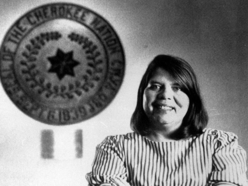 While Mankiller had always been proud of her Cherokee heritage, she was not engaged in Native activism until she witnessed the occupation of Alcatraz Island. In 1969, a group of Native American students occupied the abandoned Alcatraz island, which was once Native land. Inspired by the bravery of these Native Americans to regain their land, Mankiller became more involved in Native activism, which caused a rift between her and Olaya. He felt that she should stay home and focus on her life as a housewife, but she believed differently. Mankiller filed for divorce and moved back to Oklahoma with her daughters. Mankiller and her daughters returned to her grandfather's flats. There, she began to work for the government of the Cherokee Indian Nation as a program developer and tribal planner. As a program developer, Mankiller was tasked with advertising the Cherokee Nations needs and planning community meetings and tribal discussions.
In 1979, she suffered an injury during a car accident. Mankiller took a positive approach to her recovery; she saw it as a way to follow the Cherokee way of having a "good mind." For a Cherokee to have a "good mind," they must release the stress and grudges of their past to free their spirit. During her recovery, she was diagnosed with Myasthenia Gravis, a neuromuscular disease, and even though her health began plummeting, Mankiller continued her work to better the lives of her Cherokee brothers and sisters.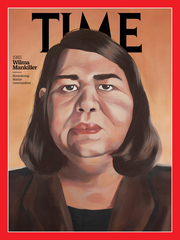 The knowledge she gained from her college education and her studies of Federal Indian Law provided her with the stepping stone to be a leader in the Cherokee Nation. In 1981, Mankiller's skills and resourcefulness assisted her in obtaining a federal grant to revive a town named Bell. The Bell Community Revitalization Project was a combination of the Chief of the Cherokees at the time, Principal Chief Swimmers, and Mankiller's efforts to give outlets to Cherokees and to aid in rebuilding the community. They offered helping hands and raised funds to revive this community. In 1983, Mankiller ran for the deputy chief of the Cherokee Nation and won, serving for two years until she was elected Principal Chief of the Cherokee Nation in 1985. Her election was a milestone in Cherokee history: in the thousands of years of Cherokee history, a female Principal Chief was never recorded. When she was elected, there was a backlash in the community since a woman had never been Principal Chief of the Cherokee. Mankillers safety was threatened and her car was even vandalized. During her time as Chief, Mankiller married her lifelong friend Charlie Soap, a Cherokee who is an active member of the Tahlequah community.
Mankiller was a progressive leader with innovative ideas, including using casino funds to benefit local medical clinics with new supplies and pay for job training. She served as Principal Chief until 1995. She decided not to run for re-election after she had been diagnosed with pancreatic cancer. In her free time, she wrote an autobiography: Mankiller: A Chief and Her People. She also published Everyday is a Good Day: Reflections by Contemporary Indigenous Women in 2004, giving a glimpse into the everyday challenges Mankiller faced as a Cherokee, a woman, and someone with health issues. At the age of 64, she passed away due to her pancreatic cancer, but her work and legacy remain immortalized.
Why Did I Choose to Research Wilma Mankiller?
I live in Syosset, New York, originally inhabited by the Lenape Native Americans. My hometown is full of Native history yet none of it is taught and it is often ignored. The park two blocks away from me has a cemetery where a Native Chief is buried. I felt the need to do a piece on Native American activism because it is something so rarely spoken about.
Works Cited
‌20s, S. (2014). Wilma mankiller. Retrieved February 15, 2021, from https://www.womenon20s.org/wilma-mankiller
‌Editors, B. (2020, October 14). Wilma mankiller. Retrieved February 15, 2021, from http://www.biography.com/activist/wilma-mankiller.
‌Tyler, R. (2018). Wilma mankiller. Retrieved February 15, 2021, from https://www.womenshistory.org/education-resources/biographies/wilma-mankiller
‌Wilson, L. (2010). Mankiller, Wilma pearl: The Encyclopedia of Oklahoma history and culture. Retrieved February 15, 2021, from http://www.okhistory.org/publications/enc/entry.php?entry=MA013.
‌
This article was published on 2/19/21