Mabel Addis Mergardt was born on May 21, 1912, in Mount Vernon, New York. Despite growing up in a society that discouraged women from pursuing formal education, Mergardt was a driven and hardworking student. The valedictorian of her high school, Mergardt went on to attend Barnard College and Columbia University, where she received a bachelor's degree in Ancient History and a master's degree in Education, respectively.
In 1935, Mergardt became a teacher at a small, rural school in Brewster, New York, where she taught eight elementary grades in one classroom. Mergardt then moved to Hyatt Avenue School in Mt. Kisco, New York. It was at that time when Mergardt met and married Alexander L. Addis. Mergardt worked at Hyatt Avenue School for thirteen years before moving to Katonah-Lewisboro Elementary, where she was a fourth-grade teacher.
At Katonah-Lewisboro Elementary, Mergardt put her expertise in history and writing to good use. In addition to writing plays for her students to perform each year, Mergardt curated an oral history collection and penned several books. Unbeknownst to her, Mergardt was developing skills that would make her invaluable to the development of an emerging field: the video game industry.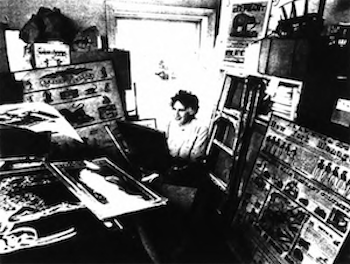 In 1962, the Board of Cooperative Educational Services (BOCES) and IBM began hosting workshops to discuss how computers could be used in the classroom. During one of these workshops, Mergardt pitched the idea of creating a computer game to teach students the basics of economics. BOCES and IBM quickly caught on, and Mergardt began working with William McKay, an IBM programmer, to bring her game to life.
Mergardt worked with McKay for five years, overseeing the storyline and progression of the game. The result of their efforts was the Sumerian Game, a text-based video game. This made Mergardt the first female video game designer, as well as the co-creator of the first educational video game.
In the Sumerian Game, players could act as rulers of Lagash, a Sumerian city-state. The Sumerian Game taught students how to manage their resources carefully. If they stored too much grain, rats would invade the city; if they stored too little, people would starve. The Sumerian Game also made strides in the video game industry for being narrative-based; previous games didn't have much of a storyline and used computers simply for advanced calculations. The Sumerian Game showed that a well-designed video game could be fun for people of all ages. The game inspired multiple other text-based video games each influential in their own right, such as the Oregon Trail in 1971 and Hammurabi in 1978.
Unfortunately, Mergardt's husband died in 1981. Mergardt remarried to Gerard Mergardt in 1991, but he died in 1995, leaving her widowed for the second time. Mergardt passed away in 2004, survived by a daughter, three grandsons, and three great-grandchildren.
Even though Mergardt's work for the video game industry remains relatively unknown to the general public, her accomplishments will not be forgotten. Mergardt's story proves that it is possible to thrive in a male-dominated industry –– that anyone, regardless of gender, can make an impact.
Why Did I Choose to Research Mabel Addis Mergardt?
I really look up to Mabel Addis Mergardt because she is an amazing example of how gender minorities can thrive in the video game industry. I chose to research Mabel Addis Mergardt to inspire other gender minorities who plan to work or are working in industries that are traditionally male-dominated.
Works Cited
Celebrating Women's History Month. (2021, March 1). Frankfurt Kurnit Klein & Selz. https://fkks.com/news/celebrating-womens-history-month.
Henley, S. (2020, March 8). Remembering Mabel Addis, the first video game writer, on International Women's Day. GamesRadar+. https://www.gamesradar.com/remembering-mabel-addis-the-first-video-game-writer-on-international-womens-day/.
Mabel Addis Mergardt. (2004, August 31). Legacy. https://obits.lohud.com/amp/obituaries/lohud/149356691.
Mabel Addis: The Lost Story of the First Video Game Writer. (2020, October 26). Gamer Women. https://www.gamerwomen.com/mabel-addis/.
Willaert, K. (2021, April 12). The Sumerian Game: The Most Important Video Game You've Never Heard Of. A Critical Hit! https://www.acriticalhit.com/sumerian-game-most-important-video-game-youve-never-heard/.
This article was published on 3/21/22