Sri Mulyani is renowned as one of the most influential economists in the world.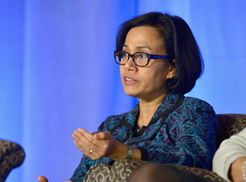 Sri Mulyani was born on August 26th, 1962, in Lampung, Indonesia. Amongst ten children, Mulyani was born the seventh child of two university professors named Professor Satmoko and Dr. Retno Sriningsih. Despite growing up in a big family, all the siblings were and continue to be very close to one another. Similar to her parents, Mulyani and her siblings were ambitious—all eventually pursuing demanding careers. She received her formal education at her hometown in SMPN 2, or Sekolah Menengah Pertama Negeri, which translates to "public middle school." For high school, she continued her education at Semarang, a large city in Central Java.
After graduating high school, Sri Mulyani pursued her Bachelor's degree in economics at one of Indonesia's most prestigious universities, the University of Indonesia. Following her parents' footsteps, Mulyani assisted teaching in the economics department at her university at the young age of 23. She then moved to the United States in 1988 to advance her education at the University of Illinois at Urbana-Champaign. By the end of her time there, she had earned a Master's and Doctorate's degree in economics.
After graduating in 1992, Sri Mulyani returned home to Indonesia. In Indonesia, her career instantly blossomed. Mulyani became a part of the expert staff of OTO-BAPPENAS, an educational facility and learning center for college students pursuing a Master's or Ph.D. She then became a working member of the General Agreement on Trade Services in the finance department. Mulyani also later served as a lecturer for her alma mater.
In 2001, The United States Agency for International Development in Atlanta, Georgia, gave Mulyani the opportunity to be a consultant as they aimed to improve Indonesia's autonomy. As a result, she left her career in Indonesia and moved to the United States. Her work in USAID centered on building a Master's program, specifically in economics, for universities in both Atlanta and Indonesia. Alongside being a consultant, she regularly visited the Andrew Young School of Policy at Georgia State University, where she gave lectures about Indonesia's economy. In 2002, Mulyani was elected to be the Executive Director of the International Monetary Fund, where she represented twelve Southeast Asian countries. This was a pivotal point in Mulyani's career, since she became the first Indonesian woman to be elected in such a premier position. However, the success in Mulyani's career was just embarking.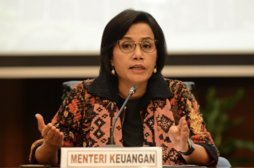 In 2005, Sri Mulyani was appointed by then-president Susilo Bambang Yudhoyono to become the Minister of Finance for Indonesia. Mulyani immediately accepted this opportunity and went back home. Mulyani committed herself to mitigating corruption, and improving the overall reputation of Indonesia's economy, as well as their macroeconomy, fiscal policies, direct investments, and the management of investor's loan and debt. In fact, the aforementioned achievements allowed Sri Mulyani to strengthen Indonesia's 2007 economic growth to its highest rate of 6.6% since the 1997 Asian Financial Crisis. Her responsibilities intensified in 2008 when she was elected to replace the Coordinating Minister for the sake of the economy. Mulyani's performance rewarded her with the title of "Finance Minister of the Year" and "Best Minister of Finance in Asia" by Euromoney magazine and Emerging Market Forum, respectively, in 2006. Furthermore, she was recognized as the second most influential woman in Indonesia by Globe Asia and ranked the 23rd most powerful woman in the world by Forbes.
With Mulyani's remarkable achievements, Susilo Bambang Yudhoyono appointed her again as the Minister of Finance for his second term as president. During her second term, she led Indonesia to a 4.5% economic growth, making Indonesia one of the fastest emerging economies in 2009, a time when many countries in the world were declining economically. Mulyani, however, only served for around a year due to another job opening.
In spite of all her success, Mulyani was accused of being involved in the Bank Century scandal shortly before her resignation in 2008. The scandal concerned a bailout crime worth over 6.7 trillion Rupiah. When accusations surfaced, Mulyani defended the act by considering the unpredictability of the globe's economy. Even now, the scandal is unsettled and questions still roam around the political sphere.
Sri Mulyani became a Managing Director for the World Bank in 2010 – the first woman and first Asian woman in history to have held this role. She was then also appointed to the position of Chief Operating Officer (COO). As Managing Director and COO, Mulyani oversaw the operations of the World Bank across the globe, providing guidance to countries about strategies aimed towards achieving the bank's goals of ending poverty and sharing prosperity. Not only did she serve in those two positions, Mulyani also promoted gender equality during her time there through her work chairing the World Bank Group's Advisory on Gender and Development. In this group, world leaders collaborate with gender issue experts to find solutions on how to achieve gender equality.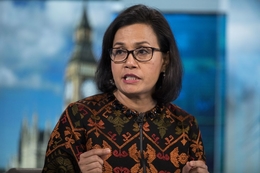 When Presiden Jokowi was elected in 2016, Sri Mulyani was requested to serve as the Minister of Finance yet again. She accepted the offer and has maintained this position for Jokowi's second term. Her service with Jokowi, like her time with Susilo Bambang Yudhoyono, was successful on many accounts. Because of Mulyani's implementation on stricter fiscal policies and tax amnesty, the central government, for the first time in history, has achieved the status of Fair Unqualified Opinion by the Audit Board of Indonesia. This improvement also positively affected the country's GDP.
Sri Mulyani prevails as Indonesia's Minister of Finance and remains one of the best finance ministers in Asia. In 2018, she won the "Best Minister Award" at the Sixth Annual Gathering of the World Government Summit. Now, Mulyani is undergoing tough endeavors to maintain Indonesia's economy during the Covid-19 pandemic.
Why Did I Choose to Research Sri Mulyani?
As an Indonesian teenager, seeing women like Sri Mulyani with such a significant position in the government is powerful. In a country where high-ranking government roles are still ruled predominantly by men, she represents the power women have. However, what I admire the most isn't her amount of success; it's how she utilizes her positions. She did not just enhance the economy; she proved to the world the impact and brilliance a woman can have. I chose Sri Mulyani to research because she inspires me to continue pursuing my ambitions. Having inspirational women like her to look up to encourages me and reminds me that there is no dream too onerous to reach for me or for any woman. Hence, this article serves as a reminder to every woman that we are to be the emerging forces the world needs us to be.
Works Cited
‌Profil Sri Mulyani Indrawati. (2016, October 06). Retrieved from https://www.viva.co.id/siapa/read/14-sri-mulyani-indrawati
‌Sri Mulyani Indrawati. (n.d.). Retrieved from https://blogs.worldbank.org/team/sri-mulyani-indrawati
‌Sri Mulyani Indrawati. (n.d.). Retrieved from https://www.kemenkeu.go.id/en/profile/board-profile/minister-of-finance/
‌Sri Mulyani. (2020, July 24). Retrieved from https://en.wikipedia.org/wiki/Sri_Mulyani
‌Syahban, G. P. (2020, July 24). Siapa Sri Mulyani Indrawati? (M. Hutasoit, Ed.). Retrieved from https://voi.id/berita/4059/siapa-sri-mulyani-indrawati
‌
This article was published on 2/8/21