Sudha Murthy, or Shrimati Murthy as she is formally addressed (née Kulkarni), is well known in India for her social work and anthologies of various short stories. She was born on August 19th, 1950 in Shiggaon, Haveri district in the northern part of Karnataka state in South India to a professor of obstetrics and gynecology and a former school teacher. She has three siblings, Shrinivas Kulkarni (Dan David Prize awardee and well-known astronomer), Sunanda Kulkarni, and Jaishree Deshpande.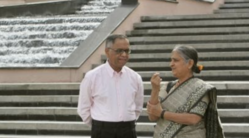 Murthy fell in love with the language Kannada after spending 10 years at a school where Kannada was the primary language of teaching and learning. Following her pre-university exams, she applied to the BVB College of Engineering & Technology—presently known as KLE Technological University—in Hubli in 1968. However, this did not sit well with her family members or the college staff, since she would be the only girl. Despite the difficulties at college—"not having a proper ladies' room" or "having to deal with young boys with raging hormones [and being catcalled]"—Murthy ranked first across all engineering branches at her college while graduating in 1972 and received a gold medal from the Institute of Engineers for her achievement. Later, she went on to complete her Master's degree in Engineering with distinction from the Indian Institute of Science. She started her career as the first female engineer hired at India's largest auto manufacturer, Tata Motors, formerly known as TATA Engineering & Locomotive Company (TELCO) in 1974, where she met her future husband, NR Narayana Murthy.
In 1978, Sudha Kulkarni married NR Narayana Murthy. In 1981, her husband started Infosys and told Sudha that she will "have to manage the family and give [him] the initial investment" for the next three years. Supporting her husband also meant that she had to stay away from her children, which in turn made her eventually quit the technical team of Infosys.
For the next 20 years of her life, Murthy helped her husband and his business partner build Infosys into the tech giant it is today. However, when she was the Head of the Department of Computer Science at Bangalore University, her daughter gave her a wake-up call in the form of a few questions: "A person like you who is well-read and well-travelled, what do you expect in life? Do you want to be glamorous? Do you want to spend your time in technology? Or do you want to spend your time with your large family? What do you want to do in life?" This led her to resign from her full-time position at the University, allowing her to become one of the first trustees of Infosys Foundation.
The Infosys Foundation was established in 1996 as a non-profit in order to fulfill the social responsibility of the parent company. With the tagline of 'Bahujana hithaya, bahujana sukhaya' – 'for the benefit of many, for the happiness of many,' this organization was founded in order to support the underprivileged in areas of education, rural development, healthcare, arts and culture, and destitute care. Over the years, this foundation has helped schools set up libraries, computer labs, meal programs, financial aid in the field of education, sponsored pediatric and eye care blocks around India (healthcare), and folk festivals for rural artisans in Bengaluru (traditional arts and crafts). In addition, it has aided in natural disaster issues.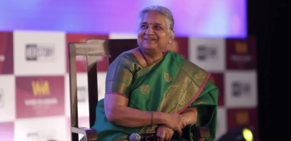 Her work culminated in a Thanksgiving ceremony for her organized by 3000 sex workers after 18 years of tirelessly working toward empowering them to lead a normal life. While she was on stage and "the 3000 of them, who were now leading normal lives, wanted to hear from [her] was absolutely speechless. The tears started to flow and [she] quoted a shloka from Mahabharata, "one of the two Indian epics. The gist of the shloka is, "God… Don't make me rich, don't make me beautiful, don't make me a queen. If at all you want to give me anything, give me a soft heart and a strong hand, so I can wipe the tears of others." Later on, at the Women on a Mission Summit in 2019, she said that "at that moment, [she] realized why [she] was born. It gave [her] a tremendous amount of peace." Continuing, she said that if God asked her what she did, despite having more money than her plate could hold, she would reply with a bowed head, "I served your children the way I thought best."
Having seen and experienced gender inequality firsthand, Murthy is the epitome of empowering women across all ages and professions since she leads such a relatable life, even while being one of the richest women in India. As the years progress, Sudha Murthy, along with Infosys Foundation, continues to give back to society while touching hearts along the way. To date, she is a woman in a simple saree working relentlessly for her people.
Why Did I Choose to Research Sudha Murthy?
I have been fortunate to have studied all around the world, traveling and meeting new people on the way. The reason I got an opportunity to see the world is my father's job. He works at Infosys, and since this company has a hand in making me the person I am today, I wanted to know more about the people behind this organization. I discovered Sudha Murthy and was inspired by her efforts to break glass ceilings for Indian women in engineering.
Works Cited
‌CNBCTV18. (2019, November 29). How Sudha Murthy helped her husband build Infosys. Retrieved June 28, 2020, from https://www.cnbctv18.com/entrepreneurship/how-sudha-murthy-helped-her-husband-build-infosys-4323771.htm
‌IIT Kanpur. (n.d.). Profile - Smt. Sudha Murthy. https://www.iitk.ac.in/doaa/convocation/data/Profile_Smt._Sudha_Murty.pdf
‌Infosys Limited. (n.d.). Infosys Foundation | Mission & Journey - Overview. Retrieved June 28, 2020, from https://www.infosys.com/infosys-foundation/about.html
‌Murthy, S. (2017, July 26). Sudha Murthy, wife of Infosys founder NR Narayana Murthy, recalls being only girl in her engineering college. Quartz India. Retrieved June 28, 2020, from https://qz.com/india/1038178/sudha-murthy-wife-of-infosys-founder-nr-narayana-murthy-recalls-being-only-girl-in-her-engineering-college/
‌Murty, S. (2015). Three Thousand Stitches. Penguin Random House.
‌Pema, T. (2019, March 14). Philanthropist Sudha Murty on finding her life's purpose in serving people. YourStory – HerStory. Retrieved June 28, 2020, from https://yourstory.com/herstory/2019/03/philanthropist-sudha-murty-women-mission-2019-48f3izxrxd
‌YourStory. (2018, November 18). Sudha Murthy, Chairperson of Infosys Foundation [Photograph]. YourStory. https://yourstory.com/2018/11/sudha-murty-aarohan-awards-social-innovation-india?utm_pageloadtype=scroll
‌YourStory. (2019, March 14). Women on a Mission: In conversation with Sudha Murty [Video]. Website. https://yourstory.com/video/wom-sudha-murty-5RVdBDTp
‌
This article was published on 1/13/21