Having served Indonesia as Minister of Maritime Affairs and Fisheries, Susi Pudjiasti is known for her inspirational impact on that industry and her unique personality.
Pudjiastuti was born on January 15th, 1965, in Pangandaran, West Java, Indonesia. Growing up, her parents worked as businesspeople in livestock farming, exposing Pudjiastuti to the maritime industry. Nevertheless, selling livestock for a living made it a struggle to consistently fulfill the family's needs.
Despite their low economic status, Pudjiasti had the opportunity to attend school. When she reached junior high school, she pursued an education at SMA Negeri 1 Yogyakarta, moving away from Pangandaran. After two years, Pudjiastuti then decided to discontinue her schooling and hence, did not receive a high school diploma. As a teenager, she considered herself a person who could not simply sit still and be quiet; she admitted to having trouble focusing due to a crowded headspace, although it was not made clear whether this was the reason for her to not finish high school. On the other hand, other sources explain she was expelled from school due to her activism in the Golongan Putih movement. Golput, shortened for Golongan Putih, is the movement of not voting for any candidate in the election or vote at all. This movement was started within the younger generation to fight against the corrupt election during the New Order (post Dutch colonization). Pudjiastuti, however, mentioned in an interview that the school environment and system did not suit her. Her parents disagreed with her unenrollment from school. Despite their disapproval, she learned to be independent and motivated herself to build her work ethic.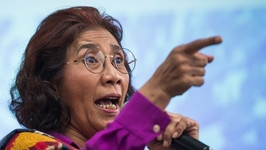 With inviolable determination, Susi Pudjiastuti returned to Pangandaran after leaving school and began searching for business opportunities. The first job she obtained was one working as a saleswoman selling bed sheets and clothes. As modest as the job may be, she was thankful and strived to perform well. After a period of time, she noticed there was potential to create a fishery business in the Pangandaran beach. Through selling accessories, she gathered enough capital (only 750,000 rupees) to start her first business auctioning fish in 1983, at just 18 years old.
When she first began collecting fish for her business through auctions, she marketed and distributed the fish to a few restaurants around Pangandaran. At first, some restaurants were hesitant about the quality of fish she was selling, which halted the growth of her business while encouraging her to ensure the quality of the fish she sold. The process was not easy, but she persisted. One year later, she controlled the auction market in Pangandaran. Following this development, Pudjiastuti decided to move to Cirebon, Jakarta in order to expand her market distribution. The demand for lobsters and shrimp was increasing, leading to her bold move of expanding to Cirebon, then to Tanjung Priok.
In 1996, her business expanded into a factory, processing fish with the name PT ASI Pudjiastuti Marine Product. The major challenge was transporting the fish she had bought to distribute. In the face of this challenge, Pudjiastuti decided to purchase a plane to transport the fish. Her husband at that time was working as a pilot and he supported her idea. Despite her smart plan, the bank refused to provide Pudjiastuti a loan at the beginning due to the substantial amount for a considerably small business. However, after waiting five years, Pudjiastuti's loan of 47 billion rupees was used to build an airport in Pangandaran and buy two Cessna Grand Caravans, creating the foundation for Susi Air and PT ASI Pudjiastuti Aviation. During the same period of time, Aceh, a province in Indonesia, suffered due to a devastating tsunami. Saddened by the effect of the natural disaster on Aceh, Pudjiastuti provided help by donating food and supplies to victims. From then on, Susi Air became a business that also contributed to humanitarian relief missions.
The great success of Susi Pudjiastuti's investment in the fishery industry did not go unseen and was acknowledged by President Joko Widodo. In 2014, she was appointed as Minister of Marine Affairs and Fisheries which lasted until 2019. Her dedication to her country helped sustain Indonesia's biodiversity on multiple occasions. One of her stupendous impacts includes halting illegal foreign fishing boats from entering Indonesian waters. Since she took office, she has impounded 10,000 foreign boats, hence saving Indonesia's biodiversity. Additionally, fishing stocks in Indonesia increased under her supervision, especially after eradicating intruders. In 2015, after hearing testimonies of workers' rights being violated, Pudjiastuti signed and implemented a regulation that protects the rights of workers in the fisheries. As a result of her impactful as minister, not only was she recognized in Indonesia, but she earned the Leaders for a Living Planet Award by the World Wildlife Fund.
Susi Pudjiastuti is a woman who is bold and outspoken. Despite her high-ranked position as a minister, she remains humble and approaches matters with her casual personality. Trials and tribulations did not ever stop Pudjiastuti from contributing to a better Indonesia, proving to other women that they are not to be silenced.
Why Did I Choose to Research Susi Pudjiastuti?
When I was younger, I always wondered why it wasn't normal for women in my country to hold positions of power; I believed that was just how it was. However, as I grew up, I learned that the lack of women in leadership positions was a nurtured norm in Indonesian society. Women like Susi Pudjiastuti showed me that women have no limits, they are simply limited by society. From her inspiring work ethic, intelligence, and independence, I learned that I am capable of doing what I love as long as I believe in myself. Aside from that, I realized I want to fight for the rights of women in my country especially. Women should not and cannot be held back—a message to society ingrained with the false concept that women are limited.
Works Cited
‌Julianti, B. (n.d.). Kisah Inspiratif Susi Pudjiastuti: Lulusan SMP yang sukses Menekuni Bisnis Maskapai Penerbangan. Retrieved from https://bisikan.com/kisah-inspiratif-susi-pudjiastuti-lulusan-smp-yang-sukses-menekuni-bisnis-maskapai-penerbangan
‌Profil Susi Pudjiastuti. (2016, October 28). Retrieved from https://www.viva.co.id/siapa/read/77-susi-pudjiastuti
‌Susi Pudjiastuti. (2018, May 29). Retrieved from https://iphincow.com/susi-pudjiastuti/
‌Susi Pudjiastuti. (2020, September 20). Retrieved from https://en.wikipedia.org/wiki/Susi_Pudjiastuti
‌
This article was published on 4/23/21