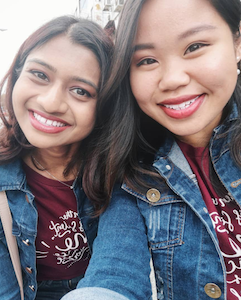 Heidy Quah was born in May of 1994 in Damansara Jaya, Malaysia. She is of Chinese-Malaysian descent and spent most of her childhood in her birthplace. Heidy is the youngest of three siblings and was a quiet child, whose life was paved by her parents. But this all changed when she took a 6 month gap before leaving to attend university. While there is little public information regarding her early life, more is known about her life after high school and her remarkably influential role in starting her internationally recognized NGO that gives refugees a chance to receive an education at only 18 years old.
Heidy Quah created Refuge for the Refugees, a non-profit organization, in 2012. Her goal was to provide services and networks that would allow refugees to advocate for their own rights. Malaysia is a small, multicultural country located in Southeast Asia, bordering Singapore. The country was not included in The 1951 Refugee Convention, nor the 1967 Protocol party, and thus does not provide asylum to refugees. Furthermore, Malaysia does not guarantee safe shelter or permanent status because they're not signatory to the UN Refugee Convention subjecting people fleeing dangerous situations in their home countries to further danger and abuse. Life as a refugee is difficult, as many cannot access the documents necessary to enroll in school and apply for jobs. Heidy's philanthropic work of helping refugees access education is immensely advantageous to their lives, as refugees are later able to generate an income to support themselves and their families. Through Refuge for the Refugees, the refugees, disadvantaged by their passage to asylum, can receive aid without paying or providing documents.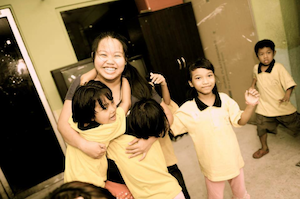 Quah's fascination with philanthropy began after finishing high school, when she volunteered as an English teacher in an underfunded Burmese refugee school in Sungai Besi, named Chin's Children Education Center. In the school, one teacher was allocated around 100 students in a congested classroom with a single fan to keep them cool. Her experience as both a recipient of a privileged education and a teacher in an underfunded school allowed her to truly understand the disparity between the two environments' economic statuses. This epiphany encouraged her to further develop a passion for helping those in need. Unfortunately, due to lack of funding and the United Nations Refugee Agency's decision to not renew the contract, the school faced the potential of closing. However, Quah and her best friend, Andrea Prisha, were able to keep it open. Through their passion for baking and arts and crafts, the pair sold cookies door-to-door to raise funds for the school. They also began to utilize social media, asking for help with finances through Facebook posts informing friends and family. The pair eventually acquired the necessary funds to run the school for an additional six months.
In September, 2012, Heidy Quah and Andrea Prisha co-founded Refuge for the Refugees (RFTR). RFTR not only teaches basic skills but also provides insight on how to start businesses, since refugees cannot easily access jobs in Malaysia. RFTR supports refugees' small businesses by providing educational resources and life skills, such as a baking school, and partnering with local brands, such as 'Espressolab,' which sells RFTR's baked goods in stores. The refugees are able to use these skills learned in the baking school to produce baked goods to jump start their professional lives. Furthermore, the organization visits refugee communities outside of the country, such as Myanmar, to donate funds, equipment, and other essentials. In total, RFTR has 35 refugee schools (25 in Myanmar and 10 in Malaysia) and 2 shelter homes to support refugees.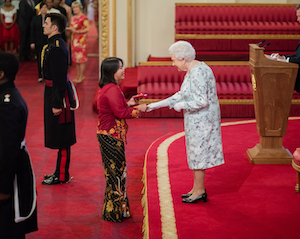 While running an NGO, Quah completed her undergraduate degree in Accounting and Finances at INTI International University & Colleges in Malaysia. She learned Burmese and Hakha Chin in order to remove the language barrier between herself and the large influx of Burmese refugees. In addition, Quah began taking self-defense classes to ensure her protection when encountering dangerous situations while working on removing refugees from the threat of trafficking rings.
Heidy received the Queen's Young Leader award in 2017 at Buckingham Palace from Queen Elizabeth II. She was recognized for her refugee work towards raising awareness of the state of emergency surrounding asylum-seekers and the benefit of providing them formal education.The awards program was continued from 2014 to 2019, with 60 awards given annually to people of ages 18-29 who have addressed challenges plaguing their community. As part of the award, Heidy was able to complete an online leadership course from the University of Cambridge, receive one-on-one mentorship, and attend meetings with high-profile leaders.
Now, Heidy Quah continues to executively direct RFTR in Malaysia and looks forward to encountering many new opportunities in her philanthropy for Southeast Asian countries. She was nominated to be on Prestige Malaysia's 100 "Women of Power 2022," which is set to release later this year.
Why Did I Choose to Research Heidy Quah?
I chose to research Heidy Quah because I am also of Chinese-Malaysian descent and reading about another Malaysian woman doing impactful work for our community is inspiring. I hope this article will motivate other young girls to view Heidy as a role model and to begin building their legacy by accomplishing meaningful acts of services for both our community and the world. Seeing more women in the media that I can identify with motivates me to not only better myself, but also the world around me.
Works Cited
‌2018, Refuge for the Refugees operations, retrieved from "Heidy Quah: Philanthropy and Charity, GEN.T LIST, retrieved from https://generationt.asia/people/heidy-quah.
‌(2021, November 9), Heidy Quah's advocacy and biography retrieved from https://en.wikipedia.org/wiki/Heidy_Quah.
‌Priscilla Goy, (2018, November 16), Quah's journey to starting an NGO, retrieved from https://ymi.today/2018/11/heidy-quah-from-selling-cookies-to-starting-an-ngo-at-18/.
‌Tania Jayatilaka, (2021, June 22), An Interview with Heidy Quah on the stories of refugees in Malaysia, retrieved from https://www.tatlerasia.com/power-purpose/philanthropy/refugees-in-malaysia-tales-of-kindness-dignity-from-activist-heidy-quah.
‌Heidy Quah's LinkedIn profile, retrieved from https://my.linkedin.com/in/heidy-quah-gaik-li.
This article was published on 2/20/23