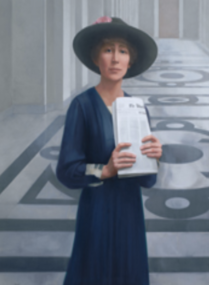 Jeannette Rankin was born to a rancher and a teacher on June 11, 1880 in Missoula, Montana. She had six siblings and grew up completing chores on her family ranch. During her time on the farm, she noticed that men and women worked equally to tend to their land, inspiring her concern with gender inequality. In 1902, Rankin graduated from Montana State University with a degree in biology. She continued her education at the New York School of Philanthropy before working as a social worker in Spokane, Washington. While in Washington, she began attending the University of Washington at Seattle, where she became involved in the local women's suffrage movement. In 1910, women in Washington earned the right to vote, due in part to Rankin's hard work and advocacy.
Rankin continued her work in suffrage and became a professional lobbyist for the National American Woman Suffrage Association, and in 1911, she returned to Montana to do the same. Her goal was achieved in 1914 when Montana granted women's suffrage. Two years later, Rankin decided to run for a House seat in Montana, using her experience as a suffragist and connections from her wealthy brother. On August 29, 1916, she earned a GOP nomination for one of the two House seats available in Montana. After establishing a successful campaign centered around social welfare, constitutional women's suffrage, and pacifism, Rankin earned a seat in the House of Representatives, becoming the first Congresswoman in the United States. Her first experience in that role came quickly when an emergency meeting was called on April 2, 1917 to vote on America's entrance into World War I. Due to her devotion to pacifism, she voted against this measure, which passed easily in both the House and the Senate.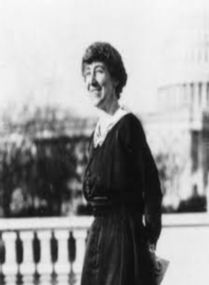 That fall, Rankin advocated for a Committee on Woman Suffrage in Congress and became a member when it was established. In January 1918, the Committee on Woman Suffrage proposed an amendment for constitutional women's suffrage, and Rankin delivered a powerful speech in favor of the bill. While the speech was laden with emphatic calls to action, she ended her remarks with a reference to World War I, asking, "Can we afford to allow these men and women to doubt for a single instant the sincerity of our protestations of democracy? How shall we answer their challenge, gentlemen; how shall we explain to them the meaning of democracy if the same Congress that voted for war to make the world safe for democracy refuses to give this small measure of democracy to the women of our country?" The House of Representatives passed the resolution, but it failed in the Senate. However, Rankin and other Representatives continued advocating for national enfranchisement of women, and the Nineteenth Amendment granted women the right to vote shortly after Rankin's first term ended.
Despite Rankin's great competency and huge achievements, her service in Congress garnered a lot of negative media attention from misogynistic observers. At the end of her first term, she decided against running for the House of Representatives again because she would have to run in a strongly Democratic district. Instead, Rankin ran for the U.S. Senate. After narrowly losing the Republican primary, she ran as a third party nominee and received one-fifth of the total votes, an impressive number for a third party candidate.
When not serving in Congress, Rankin focused on pacifism and social issues. In 1919, she travelled to Switzerland to attend the Women's International Conference for Permanent Peace and joined the Women's International League for Peace and Freedom shortly after. She established the Georgia Peace Society in 1928 and served as the main lobbyist and speaker for the National Council for the Prevention of War from 1929 to 1939. As the field secretary for the National Consumers League, she lobbied for new social welfare legislation.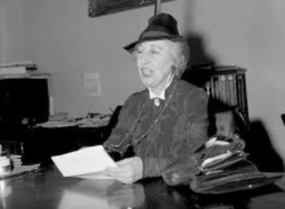 In 1940, concerned with the next approaching war, Rankin decided to run for the House of Representatives again. She ran for a western district of Montana whose incumbent representative was a Republican anti-semite. After defeating all three of her opponents in the primary election, Rankin ran against a Democrat and won with 54 percent of the votes. Once in Congress, she was appointed to the Committee on Public Lands and the Committee on Insular Affairs. When Congress was called to order to vote on America's entry into World War II, Rankin vehemently opposed, facing extreme backlash. She was the only member of the House of Representatives to vote against war. Rankin remained true to her beliefs and proved her integrity despite anger over her devotion to pacifism. She did not run for reelection in 1942.
Between her last term in Congress and her death, she attended nonviolent protests and led one of her own, the Jeannette Rankin Brigade, in 1968 to protest the Vietnam War. At 92, she was considering another run for Congress, but she died of natural causes on May 18, 1973. She donated her estate to support struggling women.
Throughout Rankin's successful career, she worked to deconstruct the stigma against women in Congress. During her second term, she served with six other women and proudly declared, "No one will pay any attention to me this time. There is nothing unusual about a woman being elected." As the only member of Congress to vote against both World War I and World War II, she earned the nickname "the dove of Congress." Her devotion to women's suffrage was groundbreaking, and her immense legacy will live on for years to come.
Why Did I Choose to Research Jeannette Rankin?
I chose to research Rankin due to her importance in the women's suffrage movement and her courageous role as a pioneer for women in politics. As someone who is very interested in civic engagement, I am grateful that Rankin led the way for women's involvement in government.
Works Cited
Contributors, B. (2020). Jeannette Rankin. Biography.com. Retrieved 2 May 2020, from https://www.biography.com/political-figure/jeannette-rankin.
Jeannette Rankin and the Women's Suffrage Amendment | US House of Representatives: History, Art & Archives. (1920). Retrieved 5 May 2020, from https://history.house.gov/Blog/2018/January/1-10-Suffrage-Committee/
Jeannette Rankin (U.S. National Park Service). (2020). Retrieved 2 May 2020, from https://www.nps.gov/people/jeannette-rankin.htm
Rankin, Jeannette - National Women's Hall of Fame. (2020). Retrieved 2 May 2020, from https://www.womenofthehall.org/inductee/jeannette-rankin/
RANKIN, Jeannette. (n.d.). Retrieved May 2, 2020, from https://history.house.gov/People/Listing/R/RANKIN,-Jeannette-(R000055)
U.S. Senate: Jeannette Rankin. (2020). Retrieved 2 May 2020, from https://www.senate.gov/artandhistory/history/minute/Jeannette_Rankin.htm
Washington State Historical Society > Suffrage . (2020). Retrieved 2 May 2020, from http://www.washingtonhistory.org/research/whc/milestones/suffrage/
This article was published on 5/11/20