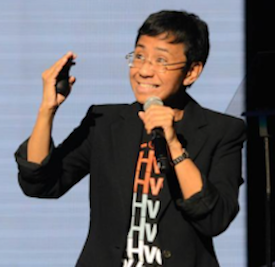 Maria Angelita Ressa was born in Manila in October 1963. Her father, Phil Sunico Aycardo, died when she was only one year old. Due to his death, Ressa's mother, Hermelina, moved to the United States, leaving behind Ressa and her sister. Subsequently, Hermelina married Peter Ames Ressa, an Italian-American man. The family then relocated to New Jersey, when Ressa was 10 years old. Ressa was adopted by her stepfather and took his last name.
Ressa attended Princeton University and graduated 'cum laude' with an A.B. degree in English, and with a certificate in theater and dance. Following her graduation, Ressa went back to the Philippines, on a Fulbright scholarship, to study political theater at the University of the Philippines Diliman. Her return coincided with the People Power Revolution, which was a series of rallies and demonstrations against the Marcos Dictatorship.
As the Philippines recovered from the autocratic regime of Marcos, Ressa started her career in journalism. During the early years of her career, she worked for ABS-CBN, a Philippine news and entertainment media company, and PTV-4, the Philippine government's flagship station. Afterwards, Ressa moved on to write for CNN. There, she reported on major political events throughout Southeast Asia, as CNN's bureau chief in Manila from 1872 to 1995 and CNN's Jakarta bureau from 1995 to 2005.
Following the 9/11 attacks in the United States. in 2001, Ressa investigated the expansion of terrorist groups in Southeast Asia, specifically Jemaah Islamiyah, the militant Islamist organization and regional al-Qaeda group. She published her findings in her book, "Seeds of Terror: An Eyewitness Account of al-Qaeda's Newest Center of Operations in Southeast Asia," in 2003. The book narrates the firsthand account of terrorist attacks throughout Southeast Asia, as well as how local Muslims were groomed into being terrorists by extremist groups.
Once she returned to ABS-CBN in 2005 as the head of news and current affairs, Ressa looked into terrorist networks again, and focused on their use of social media platforms to garner followers. In 2013, Ressa published her research in a book titled, "From Bin Laden to Facebook: 10 Days of Abduction, 10 Years of Terrorism," which explores the social networks that allow the spread of extremist ideologies.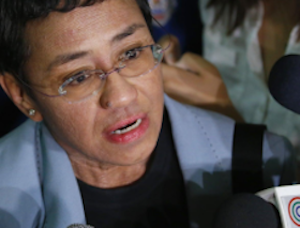 Maria Ressa continued to work for ABS-CBN for six years before launching Rappler in 2012, with fellow journalists Glenda Gloria, Chay Hofileña, and Beth Frondoso. The site originally started as a Facebook page called "Move.PH," a platform that connects online communities to digitally-fueled campaigns, insightful stories, and intelligent conversations.
Since its launch in January 2012, Rappler has become an extremely popular and influential media platform, integrating social activism into news reporting. The site continues to attract an average of 40 million views and 12 million unique visitors per month, and has always been committed to divulging government corruption. Reporters have uncovered the financial holdings of top political figures and their unscrupulous, blackmail and bribery-based alliances.
Rappler has been the frontrunner to exposing Duterte's extrajudicial killing campaign against people suspected of dealing or using drugs, more commonly known as the "War on Drugs." The site documented the spread of misinformation on Facebook, and reported on the delinquency of the government. As a result, Rappler, and more specifically Maria Ressa, have suffered attacks sent from Duterte and his supporters.
The Philippine Securities and Exchange Commission began an investigation into Rappler in 2017, with the brief removal of the site's operating license. Consequently, it faced relentless harassment, including social media trolls, reporters being banned from entering Malacañang (the presidential palace), multiple lawsuits, and allegations of tax evasion, alongside violations of foreign-ownership rules.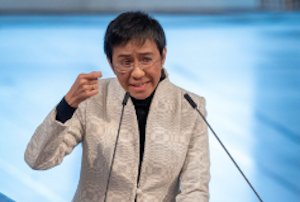 On February 13, 2019, Ressa was arrested by authorities for cyberlibel. Furthermore, Rappler was accused of publishing a fraudulent news story concerning businessman Wilfredo Keng. She was found guilty (on June 15, 2020) as per the controversial Anti-Cybercrime law, which allows the sentencing of internet users for up to 12 years in prison if such users post defamatory statements online. Many human rights groups and journalists have deemed this arrest as an attack on press freedom. Ressa stated that her conviction marked the beginning of the end of press freedom in the Philippines. Presidential Spokesperson Harry Roque asked for the media to "respect the decision," and stated that President Duterte was still committed to upholding free speech. However, Vice President Leni Robredo described the conviction as a "chilling development," and multiple international non-governmental organizations, such as Amnesty International, Human Rights Watch, and Reporters Without Borders, have criticized the ruling; Reporters Without Borders expressed that the legal proceedings were "Kafkaesque," comparing her trial to the bureaucratic qualities of author Franz Kafka's fictional world.
In a manifestation filed on May 25, 2021, Wilfredo Keng withdrew his cyber libel suit against Maria Ressa, formally dismissing the case in open court. His lawyers stated that he had decided "to redirect his focus towards helping out with the pandemic, instead of being preoccupied with the prosecution of this case."
Despite all the difficulties that she has faced, Maria Ressa continues to be an international symbol for the fight for press freedom. In 2021, she (along with Russian journalist Dmitry Muratov) was awarded the Nobel Peace Prize. Ressa received the accolade for "using freedom of expression to expose abuse of power, use of violence, and growing authoritarianism in her native country."
Aside from being a world-renowned journalist, Maria Ressa taught courses on politics and press freedom at Princeton University, her alma mater, and on broadcast journalism at University of the Philippines.
Why Did I Choose to Research Maria Angelita Ressa?
In light of the recent election, a free press is as important as ever in the Philippines. I've decided to write about Maria Ressa to acknowledge the efforts she has made to protect freedom of the press while at the same time wishing to bring awareness to what the current state of the press in the Philippines is. The world needs more journalists like Ressa who don't back down in the face of oppression and adversity, and through this article, I wish to inspire more people, especially women, to be such journalists.
Works Cited
BBC News. (2019, October 16). BBC 100 Women 2019: Who is on the list this year? https://www.bbc.com/news/world-50042279.
"Hammer, J. (2021, October 9). Maria Ressa's Dangerous Battle for the Truth. The New York Times. https://www.nytimes.com/2019/10/15/magazine/rappler-philippines-maria-ressa.html.
Maria Ressa. (n.d.). International Center for Journalists. https://www.icfj.org/about/profiles/maria-ressa.
Maria Ressa | Biography, Journalist, Nobel Prize, Princeton, & Facts. (n.d.). Encyclopedia Britannica. https://www.britannica.com/biography/Maria-Ressa.
Nobel Prizes 2021. (n.d.-b). NobelPrize.Org. https://www.nobelprize.org/prizes/peace/2021/ressa/facts/.
Scott, L. (2021, June 3). Libel case dismissed, but Philippines journalist still faces legal challenges. VOA. https://www.voanews.com/a/press-freedom_libel-case-dismissed-philippines-journalist-still-faces-legal-challenges/6206578.html.
Vick, K. (n.d.). TIME Person of the Year 2018: The Guardians. Time.Com. https://time.com/person-of-the-year-2018-the-guardians/.
Wikipedia contributors. (2022, May 12). Maria Ressa. Wikipedia. https://en.wikipedia.org/wiki/Maria_Ressa.
This article was published on 7/8/2022