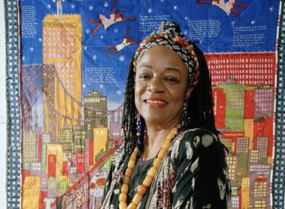 Faith Ringgold was born on October 8th, 1930 in Harlem, New York. She was raised during the Harlem Renaissance and became very interested in art at a young age. As a young girl, she suffered from asthma so she often stayed home with her mother. Although she missed out on school, her mother was a fashion designer and taught her how to sew and work with fabrics. This was her first introduction to art and design.
Ringgold was an active and passionate artist in high school, and by the time she graduated, she knew she wanted to make it her career. After graduating high school in 1950, she enrolled at the City College of New York and embarked on her art education as an art teacher. In 1950, she also married musician Robert Wallace and they had two children together.
Ringgold had many jobs by the time she received her degree in Fine Art and Education in 1955. She and Robert divorced in 1956 and Ringgold looked after her children by herself. During this time, she taught art in the New York City public school system, while simultaneously enrolling in a graduate studies program at City College. She received her Masters degree in art in 1959, which catalyzed the beginning of her art career.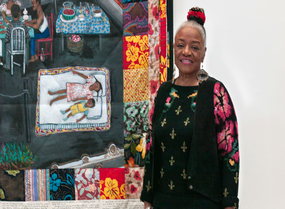 The 1960s were arguably Ringgold's most defining years. She married Burdette Ringgold on May 19, 1962 and left her teaching job so she could focus on her own artwork. She created a series of paintings called American People that ranks among her most important work. She was inspired by the Civil Rights Movement to capture the racial discrimination through politicized visual media. Paintings such as Neighbors, Die and The Flag Is Bleeding are saturated with bold colors and anguished faces, many with blood streaking the canvasses. The American People series was featured in Ringgold's first solo gallery show in 1967.
Faith Ringgold relied on art to stand up for her rights. Each piece recounts African American histories and narratives about her own family life. As Ringgold grew up durring the Harlem Renaissance she became interested in her rights and was actively involved in the Civil Rights and Feminist movements in the 1960s and 70s. In 1972 she was commissioned by the creative artist public service program to do a mural. The mural showed depictions of women in professional and civil servant roles, representing positive alternatives to incarceration. This was her first widely recognized feminist work.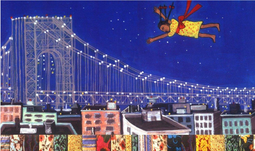 Ringgold began a new occupation as a professor emeritus of art at the University of California at San Diego. While she was a professor, she started her writing career. She published the children's book Tar Beach, a children's story about a young girl who's dearest dream was to be free and go wherever she wanted, and one day it did come true when the stars helped her to fly across the city. The book won over 20 awards including the Caldecott Honor and the Coretta Scott King award for the best-illustrated children's book of 1991. The quilt that was made for Tar Beach is permanently in the Solomon R. Guggenheim Museum in New York City. Many of Ringgold's books were inspired by the Civil Rights Movement including a book about Martin Luther King and Harriet Tubman. She has now published more than 15 other children's books. In 1995, she published her memoir called We Flew Over the Bridge.
As an artist and activist, Ringgold has received many honors such as the National Endowment for the Arts Award, a Guggenheim Fellowship for painting, an NAACP Image Award, and 23 Honorary Doctorates. Faith Ringgold's work is still in many museums today and she continues to inspire and show women and people of color that they can achieve anything.
Some of Faith Ringgold's Famous Pieces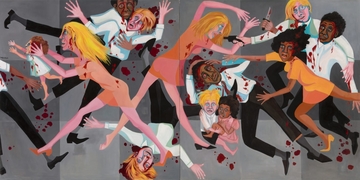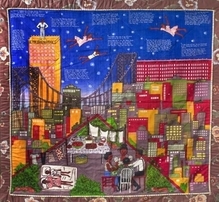 Why Did I Choose to Research Faith Ringgold?
I chose to write about Faith Ringgold because I am very interested in learning about female artists. I am very passionate about art and learning about experienced artists inspires me to improve my art skills and create meaningful pieces of artwork.
Works Cited
About Faith. (n.d.). Retrieved from https://www.faithringgold.com/about-faith/
"Who Is Faith Ringgold? Everything You Need to Know." Childhood, Life Achievements & Timeline, www.thefamouspeople.com/profiles/faith-ringgold-6640.php.
"TOP 16 QUOTES BY FAITH RINGGOLD: A-Z Quotes." Azquotes, Azquotes, www.azquotes.com/author/43593-Faith_Ringgold.
"Faith Ringgold." Biography.com, A&E Networks Television, 9 July 2019, www.biography.com/artist/faith-ringgold.
"Faith Ringgold Biography, Life & Quotes." The Art Story, www.theartstory.org/artist/ringgold-faith/life-and-legacy/.
This article was published on 5/31/20