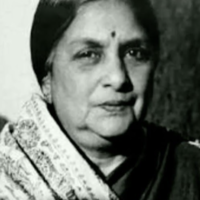 Anasuya Sarabhai was born in Ahmedabad, India, on November 11th, 1885. She was extremely fortunate as a child, as she was born into a lot of money through her family's ownership of multiple businesses. However, her parents died when she was only nine years old, leaving her, her brother, and her sister to live with their uncle. She was forced into an arranged marriage at the young age of 13, but was luckily able to get it annulled. When she returned home, she wanted to receive an education, but her uncle forbade it. With the encouragement of her brother, Sarabhai left by herself to England to study in 1912, where she ended up finding her passion—advocating for social equality.
Working with women's rights activists and socialists like Bernard Shaw and Sydney Webb inspired Sarabhai to return to India and work with local disempowered communities. There, she founded a school for poor students in the neighborhood, regardless of their social class. She then went on to open nurseries, toilets for women, a maternity home, and a hostel for girls.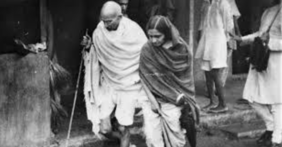 After a life-changing encounter with some mill workers—in which they described the harsh conditions they worked in and the menial pay they received—Sarabhai became determined to help the working middle class in India. She started by learning about factory conditions and was saddened by the extreme poverty, exploitation, and sense of powerlessness many mill workers lived in. The last straw came when an epidemic hit Ahmedabad in 1914, and the working classes were affected greatly. After that, Sarabhai arranged the first meeting for workers on the Sabarmati river bank. There, they created a list of demands for their employers, including better wages and working conditions. She gave the mill owners two days to accept her proposal or threatened a worker's strike. At the time, her own brother was the president of the Mill Owners Association, but that didn't stop her. When they refused to grant her request, the mill workers went on strike for 21 days until the owners agreed to negotiate. This was the first of many peaceful and successful strikes started by Sarabhai. This success eventually led to the establishment of the Ahmedabad Textile Labor Association (TLA) in 1917.
Sarabhai was declared the president of the Ahmedabad Textile Labor Association, also known as the Majoor Mahajan Sangh. As president, Sarabhai was committed to focusing on the welfare of workers and not antagonizing the owners. She wanted to establish good employer-employee relationships, in which they could communicate openly with each other in order to create solutions that were acceptable and fair to both parties. By 1978, the labor union represented 1.5 lakh (150,000) workers across Gujarat.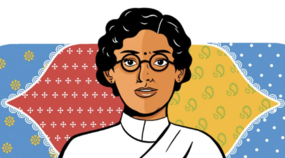 As a leader, Anasuya Sarabhai gained the respect of thousands of workers, business owners, and contemporary leaders such as Gandhi. Gandhi respected Sarabhai immensely and watched her work closely. Sarabhai even played a major role in the 'Satyagraha Pledge,' headed by Gandhi in opposition to the Rowlatt Bill. Gandhi and Sarabhai worked together on countless other occasions, and Gandhi declared Sarabhai to be the head of the Textile Labor Association. It is believed that Sarabhai was also the only woman Gandhi ever "blessed."
Tragically, Anasuuya Sarabai died in 1972, yet the footprint she left behind on the world is everlasting. She was an extremely courageous, well respected woman who dedicated her life to fighting for the rights of the underrepresented and deserves recognition for her place in fostering India's labour rights movements. She was never afraid to stand her ground and was willing to take on corporate powers as well as her own brother. The difficulties from her childhood never deterred her from achieving her goals and following her passion for social reform.
Why Did I Choose to Research Anasuya Sarabhai?
I researched Anasuya Sarabhai because she played an important role in Indian history, yet has not been given the recognition she deserves. Upon initially looking her up, it surprised me how little information there is about her in western media. I believe important women like her deserve to be recognized and that people should learn about her tireless pursuit for the advancement of marginalized people.
Works Cited
‌Abpl. "Anasuya Sarabhai: A Labour Leader from a Mill-Owner Family..." ..., www.asian-voice.com/Opinion/Columnists/Hari-Desai/Anasuya-Sarabhai-A-Labour-Leader-from-a-Mill-owner-family.
‌Jain, Anshika. "Anasuya Sarabhai: Labour of Love." Live History India : Stories That Make India, Live History India, 24 May 2020,
‌Pal, Sanchari. "What Made Anasuya Sarabhai, a Woman Born to Privilege, Become India's First Woman Trade Union Leader?" The Better India, 27 Oct. 2016, www.thebetterindia.com/73140/anasuya-sarabhai-labour-movement-ahmedabad/.
‌Patel, Harshil, et al. "Who Is Anasuya Sarabhai?" Bangalore Insider, 11 Sept. 2019, www.bangaloreinsider.com/who-is-anasuya-sarabhai/.
‌Staff, Independent. "All You Need to Know about Anasuya Sarabhi, India's First Female Union Leader." The Independent, Independent Digital News and Media, 11 Nov. 2017, www.independent.co.uk/news/world/asia/anasuya-sarabhai-who-was-she-india-google-doodle-first-woman-union-leader-life-career-a8049171.html.
‌
This article was published on 3/8/21