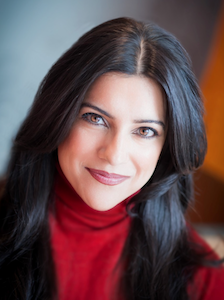 Reshma Saujani is a passionate and determined woman who broke the glass ceiling for women in technology. With the help of Saujani's program, Girls Who Code, the amount of girls in the technology field has drastically increased. With the help of Saujani's program, she has inspired many young minds today. Reshma Saujani has been vital to bridging the gender gap.
Saujani was born on November 18, 1975, in Illinois. She began her learning at an early age at Schaumburg High School and went on to earn her bachelor's degree in political science and speech communication from the University of Illinois at Urbana-Champaign. Later, she earned a Master of Public Policy from Harvard University, as well as a Juris Doctorate (law degree) from Yale University.
In 2010, Saujani became the first Indian American to run for Congress, against incumbent Representative Carolyn Maloney. While campaigning for Congress, she visited schools and spoke with voters, which opened her eyes to the lack of women and girls in computing. In 2012, Saujani founded the nonprofit organization Girls Who Code, in order to close the gender gap in technology and change the image of what a programmer looks like. Through Girls Who Code, female students can attend camps and programs to learn how to code free of cost.
Reshma Saujani has put her passion into her work, and has accomplished several awards in education. Some of the awards she has earned are as the Harold W. McGraw award in Education, the Jr. Prize in Education, and Harold W. McGraw, Jr. Prize in Education. Furthermore, she is notable for serving in Harvard University as the Board of Overseers in the department of education.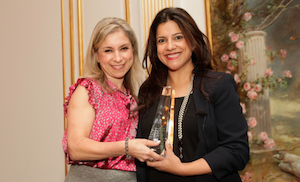 Currently, Saujani is the founder of Girls Who Code (GWC), which inspires young women to engage in the computer science field. Her work with the organization has helped to spread for a much greater diversity in technology, and has helped countless young women explore STEM fields. An article published by TED emphasized, "The organization has already reached 90,000 girls in all 50 states." Not only is her program inspiring women in one state or city, it is spread across the nation. This makes a huge difference as Girls Who Code has become well-known nationwide, and even internationally. With the use of her program, Saujani has created several rounds of summer programs; for example she founded the Summer Immersion Program (SIP), which motivates individuals to spend their free time coding. Her summer programs have motivated thousands of women to learn about website building. The best part about her program is that it is suitable for any level of experience (such as beginner, intermediate, and advanced). Technology and computer science are becoming popular in everyone's modern lifestyle, and knowing how to code is truly important. Saujani narrates, "Teach one girl how to code, she'll teach four. The replication effect is so powerful." This adds to the growing impact computer science has on one, even bringing it into a group of friends. Additionally, computer science is skyrocketing because of this ripple effect. Her work carries on, as more girls join the organization and pursue careers in STEM.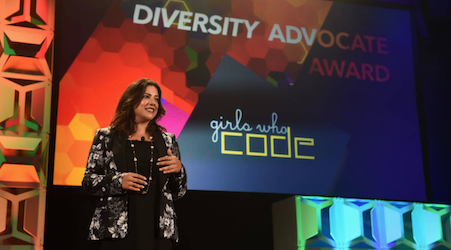 She is determined to answer questions, provide mentorship and opportunities, and spread awareness about the gender gap in technology. Her program has also intrigued young women to become interested in computer science through online platforms, such as "Glitch," which is used to code personal websites.
Today, Saujani resides in New York City with her husband, son, and dog Stanley. Recently, an article was published on March 8, 2020 for International Women's Day, where Saujani explains her life outside of her work. She is a mother and is constantly informing her children of her motives and her career. Moreover, she spends time with her family members, such as her dog and her son, Shaan. Although she is a busy woman and starts her day off early in the morning, she hopes to be productive in her daily routines. All in all, Reshma Saujani is an incredible woman, who has helped pave the way for Indian Americans in politics, and is most recognized for her representation of women and girls in STEM. In the technology industry, computer science is advancing from time to time, making Reshma Saujani's Girls Who Code to become a one hit wonder.
Why Did I Choose to Research Reshma Saujani?
I particularly chose Reshma Saujani to research because I am inspired by her motives and goals. She is a woman to whom I look up, and she stands for a crucial point of which everyone should be aware. She is extremely creative, and addresses a topic that must be heard. Although I do not have any personal connections to her, I have tuned into her virtual TED talks, joined a webinar where she was being interviewed with Girls Who Code, and have kept up with her newest pieces of information.
My personal experiences with Girls Who Code include meeting new people from around the globe, creating my own personal website, and learning more about various topics. From simply joining a one week program, I was able to gain tons of new knowledge that will be beneficial in my career. Furthermore , the impact of Saujani's accomplishments has alerted several organizations to also do the same. For instance, fellow software engineer and model Karlie Kloss has started Kode With Klossy, persuading young girls to learn more about STEMl. In a matter of three years, Kode With Klossy (KWK) has also adopted its idea based on the problems of encouraging young women. Similarly, the impact of Girls Who Code even extends to international students, who are also able to access curriculum and materials.
Works Cited
"About." (2021). Reshma Saujani. https://reshmasaujani.com/about.
‌"Reshma Saujani." (2020, February 21). The McSilver Institute for Poverty Policy and Research at New York University (NYU). https://mcsilver.nyu.edu/bio/reshma-saujani.
"Reshma Saujani." TED, https://www.ted.com/speakers/reshma_saujani.
‌Olsen, C. (2021, July 19). "Featured Founder: Reshma Saujani, Girls Who Code." My Founder Story. https://www.myfounderstory.com/featured-founder-reshma-saujani-girls-who-code.
Saujani, R. (2022, March 8). "Reshma Saujani Asks, What's So Bad About Being a Mom?" Oprah Daily. Retrieved March 10, 2022, from https://www.oprahdaily.com/entertainment/books/a39190395/international-womens-day-reshma-saujani/.
This article was published on 3/24/22