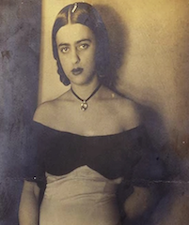 Amrita Sher-Gil was an Indian-Hungarian painter and is considered one of the most important painters of Modern India, often referred to as "India's Frida Kahlo." Her paintings are some of the most expensive by Indian painters, although her work received little to no appreciation when she was alive.
Amrita Sher-Gil was born on January 30th, 1913, in Budapest, Hungary, to Umrao Singh Sher-Gil Majithia, a Jat aristocrat and a scholar, and Marie Antoinette Gottesmann, a Hungarian-Jewish opera singer. She also had a younger sister named Indira. She spent most of her early childhood in Budapest, the capital of Hungary. She was encouraged by her uncle, Ervin Bakatay, a professional painter, to pursue her passion for painting. She began painting at the age of five, but began professional training when she was eight years old. At sixteen, Sher-Gil sailed to Europe with her mother to train as a painter at Paris, first at the Académie de la Grande Chaumière under Pierre Vaillent and Lucien Simon and later at the École des Beaux-Arts. She drew inspiration from European painters such as Paul Cézanne and Paul Gauguin while working under the influence of her teacher Lucien Simon. While in Paris, she painted with a conviction and maturity rarely seen in a teenager. She was the youngest ever and only Asian to be elected as Associate of the Grand Salon in Paris.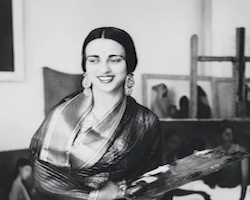 She is often said to be an artist who was way ahead of her time, due to her sexual paintings. She found interest in painting the human form, so she painted models. She sketched in pencil and charcoal, and did over a hundred male and female nudes. Between the years 1930 – 1932, she produced more than 60 paintings; she created some still-life compositions and landscapes, but mostly did oil based self-portraits and portraits. In 1933, Sher-Gil "began to be haunted by an intense longing to return to India feeling in some strange way that there lay her destiny as a painter." Sher-Gill returned to India at the end of 1934 and soon began discovering the traditions of India. She was greatly impressed and influenced by the Mughal and Pahari schools of painting and the cave paintings at Ajanta. "I can only paint in India. Europe belongs to Picasso, Matisse, Braque, India belongs only to me," she said, quoting her urge to stay in India, in order to be able to paint the way she wanted. Her stay in India marked the beginning of a new phase in her artistic development, one distinct from the European phase of the interwar years, when her style reflected the works of Hungarian painters.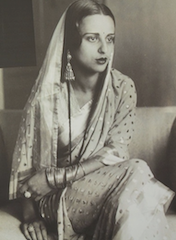 Sher-Gil married her Hungarian first cousin and childhood friend, Dr. Viktor Egan, when she was 25, despite her parents, especially her mother, being strongly against the idea of the cousins marrying. She moved with him to India and stayed at her paternal family's home in Gorakhpur, Uttar Pradesh.
Although Amrita had many exhibitions while studying in Paris, her work was not recognized in India till much later. In 1936, India started to finally take notice of Sher-Gil's work; she won two prizes at the 5th Annual Exhibition of the All India Fine Arts Society in New Delhi. The next exhibition of her work was held on November 20th, 1936 in Bombay. Some of her best paintings at display included the following: Group of Young Girls, On the Terrace, Child Wife, Hill Women, Portrait of My Father, and Villagers. People like Jawaharlal Nehru, the first prime minister of independent India and leader of the Indian National Congress, admired Amrita's work as well. One of her paintings, Portrait of a Young Man (1930), won a prize at the Ecole in 1931. Marie Lousie, a portrait of her good friend and colleague Marie Lousie Chasseny, and a painting titled Young Girls, won Gold Medals from the Grand Salon in 1933.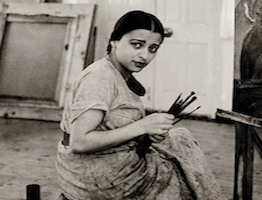 In 1941, she fell seriously ill and slipped into a coma, and later passed away on December 5th, 1941, in Lahore (present-day Pakistan) at the young age of 28. Her cause of death was never determined, but that didn't stop the speculations. Some believe she died due to a failed abortion, while others believed it was due to peritonitis, and Sher-Gil's mother even accused Amrita's husband of murdering her. Despite all the speculations, nothing was ever confirmed. Her death still remains a mystery.
Although tragically leaving this world too soon, she left behind a strong legacy. Sher-Gil's art has influenced generations of Indian artists. The Government of India has declared her works as National Art Treasures, and most of them are housed in the National Gallery of Modern Art in New Delhi. Some of her paintings hang at the Lahore Museum. The Indian cultural center in Budapest is named the Amrita Sher-Gil Cultural Center. UNESCO announced 2013, the 100th anniversary of Sher-Gil's birth, to be the international year of Amrita Sher-Gil. On January 30th, 2016, Google celebrated her 103rd birthday with a Google Doodle. In 2018, The New York Times published a belated obituary for her.
Why Did I Choose to Research Amrita Sher-Gil?
When I read Amrita Sher-Gil's story, I immediately knew I wanted to write about her. Her story was a classic example that if women chose to not follow society's rules and norms, they are labeled as "rebellious." Amrita's story spoke of courage and passion, and I knew that her story needed to be heard.
Works Cited
‌Amrita Sher-Gil biography, retrieved from: http://www.iloveindia.com/indian-heroes/amrita-shergill.html
Amrita Sher-Gil, Madras Courier: https://madrascourier.com/biography/amrita-sher-gil-fierce-independent-and-unapologetic/
‌Feminism India, an artist way ahead her time, retrieved from: https://feminisminindia.com/2017/01/30/amrita-sher-gil-artist-life/
Great success in a short life, the Budapest times, Archived from the original on 24 January 2016. Retrieved from: https://web.archive.org/web/20160124101915/http://budapesttimes.hu/2016/01/23/great-success-in-a-short-life/
‌Overlooked no more, The New York Times. Retrieved from: https://www.nytimes.com/2018/06/20/obituaries/amrita-shergil-dead.html?smid=tw-nytobits&smtyp=cur
This article was published on 9/13/21