Mary Harris Smith was born to Susana Smith and Henry Smith in 1844 in Kingsland, London. From a young age, the love that she had for mathematics was evident. Her father, a shipping clerk and a banker recognized her talents and informally taught her accounting. It was partly her father's efforts that enabled her to cultivate her interests in accounting as she assisted him with the bookkeeping work that he brought home. Her formal education began with a teacher of King's College School when she was sixteen. She continued her education by taking bookkeeping classes set up by the Society for Promoting the Employment of Women (SPEW). So began her lifelong relationship with accounting. After completing the bookkeeping lessons, she worked as an accountant for a mercantile firm in London for nearly nine years.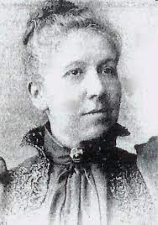 After nine years, Smith started her journey as an entrepreneur by setting up an accountancy firm in 1887 at Victoria Street, Westminster London. She ran the office until she retired in the 1920s and traded under the name M. Harris Smith, Public Accountant. During her practice, she audited for several women's organizations like the Parliamentary Committee for Women's Suffrage, the Society of the Return of Women as Poor Law Guardians, and the Society for Promoting the Employment of Women. She also audited and provided professional services to organizations supporting gender equality and female suffrage like the National Union of Women Workers of Great Britain and Ireland, as well as the Gentleman's Empowerment Club. She also worked with a volunteer movement of the 1920s that aimed at transforming the lives of the female population known as the Soroptimist Club. Later she also worked with the British Women's Temperance Association and also the Needlewoman's Cooperative Association. She was always committed to the suffragist cause and it was her reputation that enabled her huge success and a decent living.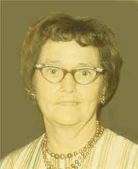 Women struggled to enter many professions from the 19th century since most industries did not welcome women employees, and as a result, the accountancy organizations of that time were no exception. In 1895, Charles Fitch Kemp, the President of the ICAEW commented that he would rather retire than consider the admission of women.
During the years 1887 and 1891, Mary applied to join the Society of Incorporated Accountants and Auditors, and her request to be admitted as a fellow to the ICAEW was turned down on the grounds of her gender. Although men in very similar positions as her could seek membership based on working as a public accountant for several years, Mary was denied again even when she wrote to the council of ICAEW to sit down for the ICAEW's final exam.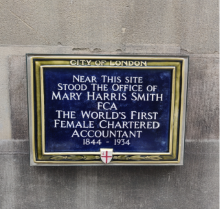 However, during the First World War, a change in society's attitudes occurred when women started taking over roles that were previously determined to be only for men. The Society of Incorporated Accountants and Auditors (SIAA) also changed its rules and allowed women's admission in 1918. So on November 12, 1919, Mary was made an Honorary Fellow of the SIAA. After this, in 1919 the Sex Disqualification (Removal) Act was passed, which deemed it illegal for any organization to bar admission to women. And so, Mary was admitted as a fellow at the age of 75, in May 1920, after renewing her application to ICAEW in the same year. After 29 years of persistence, she proved that women are worthy of membership to the ICAEW by becoming the first female Chartered Accountant. She has paved the way for more than 170 65-year-old female members of the ICAEW who have shared their stories in the campaign of 2020 conducted by the ICAEW President Fiona Wilkinson and the centenary project manager Julia Root-Gutteridge.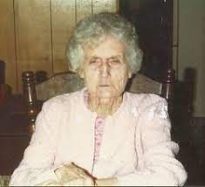 On May 5, 2020, a blue plaque was placed on the City of London Magistrates' Court, on the corner of Queen Victoria Street and Bucklersbury; a site very near to Mary's Office exactly one hundred years after she became a member of ICAEW.
A blue plaque is a permanent sign installed in a public place in the United Kingdom and elsewhere to commemorate a link between that location and a famous person, event, or former building on the site, serving as a historical marker. This is the second blue plaque awarded for Accountancy and the third to ever commemorate an individual woman.
In 1934, on August 7, at the age of 90, Mary Harris Smith, an honorable, brave, and persistent accountant, died in a medical nursing home in St Leonards-On-Sea, East Sussex, England.
Why Did I Choose to Research Mary Harris Smith?
Accountancy can easily be deemed as my family's profession if I calculate the number of accountants I have within my family. My grandma says accounting runs in my blood, even though I've never felt any special interest in this sector. This is probably because my school is very STEM focused and never offered any accounting classes. As a result, I never ventured into the field of accounting or thought about it as something I'd like to pursue in the future. However, my opinion on this changed when I started to learn some basic bookkeeping lessons from my father to help him out in his office. In a year, I went from preparing to pursue medicine to thinking of becoming an accountant. Maybe it is because of my love for accountancy or maybe to feel closer to my family, but I related to Mary Harris Smith's life in the hope of being as persistent as her in my own life.
Works Cited
ICAEW Female Firsts Retrieved from https://www.icaew.com/library/historical-resources/female-firsts.
ICAEW Celebrating 100 years of Women In Chartered Accountancy Retrieved from https://www.icaew.com/about-icaew/campaigns/celebrating-100-years-of-women-in-chartered-accountancy.
East End Women's Museum (2020, September 9) Mary Harris Smith: The First Female Chartered Accountant Retrieved from https://eastendwomensmuseum.org/blog/2020/9/9/mary-harris-smith-the-first-female-chartered-accountant.
Artemis (2021, April 14) Mary Harris Smith: The World's First Female Chartered Accountant Retrieved from https://www.wtca.co.uk/blog/mary-harris-smith-the-worlds-first-female-chartered-accountant/.
Pat Sweet (2020, May 7) Blue Plaque Commemorates First Woman Chartered Accountant Retrieved from https://www.accountancydaily.co/blue-plaque-commemorates-first-woman-chartered-accountant.
SDC CPAs, LLC.(2020, December 4) Profiles of Woman in Accounting Retrieved from https://sdccpa.com/hot-topics/profiles-of-women-in-accounting-mary-harris-smith/.
This article was published on 11/10/21