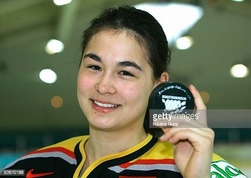 Denise Soeslio was born on May 10th, 1987, in Hamburg, Germany. Soeslio was five years old when her neighbor introduced her to hockey and her life began to change. After just a few days of practice, Soeslio's natural skill was obvious. A youth coach saw her playing at a local ice rink and asked her to join her team. From that day forward, hockey became the focal point of Soesilo's life. She spent hours practicing before and during school. At the age of 14, Soesilo made the German National Hockey team. Her success in hockey sent her to the 2006 Olympics. Despite only being a teenager, Soesilo had already accomplished what many others could only dream of doing.
Soesilo received an athletic scholarship to Yale University in 2005. As an undergraduate, she was an Environmental Studies major with a focus in industrial ecology. After receiving her bachelor degree, Soesilo was a Masters Student at Yale in Environmental Management with a focus on forest management, agriculture, and plant physiology. Her passion for promoting environmental health led her to establish Outsight with Louis Potter, an expert in Global Health and Humanitarian Aid, in November 2019. Outsight is an organization that focuses on providing Environmental and Humanitarian Assistance globally through Unmanned Aerial Vehicles and other newly applicable technologies. Unmanned Aerial Vehicles, commonly known as drones, are programming vehicles that can deliver medicine in a remote region or survey an area. Outsight collaborates with international health experts to deliver needed health services to all areas, especially to low-income communities. Their environmental work focuses on quantitative research to discover the best method of effective and safe environmental action. The long-term goal of Outsight is to give the necessary assistance to people across the world and in remote areas.
Soesilo has also developed ideas on how to use drones for environmental purposes with the World Bank and various UN institutions. She has recommended drones to be used for environmental surveillance and disaster risk reduction, as they are an environmentally friendly way to give proper assistance to medical workers.
Outsight works with Blue Globe Innovation Consultants, which connects with local governments, commercial corporations, and the general public to collaborate on technological challenges. Outsight also works with allDots, a group that works on Urban Air Mobility projects in hopes of creating a clean air strategy for corporations.
Soesilo's connection with these groups and knowledge of drones has allowed her to head flying operations at the African Drone Forum. In this forum, Soesilo created the path each drone would take and the technicalities that come with flying. Soesilo was also given a European Union Humanitarian Aid grant that would fund the use of drones for global humanitarian aid. She named on Women to Watch in 2020—on Women and Drones.com—for her leadership in the drone world.
At just 33, Soesilo is an Olympian and a female pioneer in environmental drone usage. Her founding of Outsight allows for research on the effects of technology on humans and the environment. Soesilo currently resides in Geneva, Switzerland, where she continues to further the work of Outsight.
Why Did I Choose to Research Denise Soesilo?
In my High School, I am lucky enough to be able to take technology classes such as SySTEM 2 Robotics which focuses on drones. Denise Soesilo is a role model for me since her work not only advances the development of drones but also the progress of the world's technology.
Works Cited
‌12:00 am, J. (n.d.). Denise SOESILO. Retrieved February 15, 2021, from https://yaledailynews.com/blog/2007/01/19/denise-soesilo/
‌About. (n.d.). Retrieved February 15, 2021, from https://outsight.international/about
‌Former staff. (n.d.). Retrieved February 15, 2021, from https://theforestsdialogue.org/about/staff/former-staff
‌Gueuning, L. (2020, April 09). How can ai be used in the humanitarian sector? Lessons from the frontline. Retrieved February 15, 2021, from https://outsight.international/blog/how-can-ai-be-used-in-the-humanitarian-sector-lessons-from-the-frontline
‌
This article was published on 2/15/21