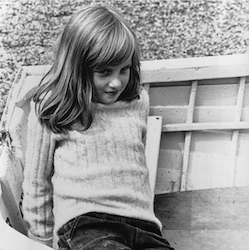 Born on July 1, 1961 in Sandringham, England, Diana Frances Spencer was the youngest daughter of wealthy British aristocrats, Edward John Spencer and Frances Ruth Burke Roche. Early on, distress struck the family when Diana's infant brother John, passed away, leaving her family grief-stricken; however she would grow up with her two older sisters, Lady Jane, Lady Sarah, and her younger brother Charles. Raised in Park House, which is owned by Queen Elizabeth II, Diana would often associate with members of the royal family, such as the Queen's sons Prince Andrew and Prince Edward. According to her nannies and siblings, Diana's childhood was secure, loving, and stable until 1969 when, at the age of 7, tragedy struck the family again; her mother Frances unexpectedly left her father for an Australian businessman, Peter Shand Kydd. This event would ensure a long and painful custody battle, during which her father would gain full care over Diana and her siblings; yet, Diana was left with a feeling of abandonment, waiting for her mother to re-enter their lives, although she never did (while they were children). After her mother left, Diana assumed responsibility for her siblings, until her father remarried socialite Raine Legge, with whom Diana did not get along. During this time, Diana expressed a passion for the arts, but was homeschooled for most of her life by her housekeeper Gertrude Allen. In 1968, she showcased these talents in private school, attending Silfield Private School with 40 other children. Then, she enrolled in Riddlesworth Hall at 13, only then to be sent off to West Heath boarding school, (along with her sisters) where Diana would meet her future husband Prince Charles. Diana was not fond of her studies, dropping out of school at 16 to enroll in Institut Alpin Videmanette, a Swiss school where she would conclude her studies, and briefly attempt to become a ballerina (but fell out of love for the profession).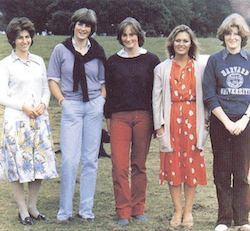 Through the ages of 18 and 19, Diana worked several jobs as a waitress, housekeeper for her sister, kindergarten teacher, and babysitter for upper class families. Throughout this time, her friendship with Prince Charles strengthened, and their engagement was announced in February of 1981. She was launched into a media frenzy, becoming known as "Shy Di." In July, she and Prince Charles would marry in St. Paul's Cathedral, a wedding broadcast to nearly 1 billion people worldwide, and she earned the title of Princess of Wales. She and Prince Charles would have two sons, Prince William Arthur Philip Louis born in 1982, and Prince Henry Charles Albert David born in 1984. Despite the glamorous fairytale she lived alongside her husband, Diana faced internal struggles behind closed doors, grasping with depression, self-esteem issues, and anxiety from constant media scrutiny, in addition to her husband's infidelity. Her anxieties were showcased in her most candid interview in 1995, giving a jarring look at the complexities of royal life, culminating in her divorce on August 28, 1996.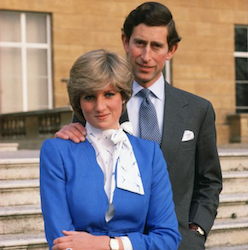 Despite these internal struggles, Princess Diana maintained her sense of humility and sympathy throughout her life, using her platform to destigmatize the AIDS/HIV epidemic,engaging with infected patients in London Middlesex Hospital, and therefore eliminating fear that physical contact would spread the disease. She was an avid opponent of landmines, and was photographed walking through minefields in Angola in 1997. This activism would influence the creation of the United Nations Mine Ban Treaty in which 164 participating countries prohibit the use of landmines in their totality. Her work extended internationally, as she visited children at the Cairo Institute for Polio and Rehabilitation in Egypt, a Rural Women's Fair in Nigeria, and hospital victims in Cameroon during royal tours. Her work to fight stigma against leprosy continued in India, Nepal and Zimbabwe, where she interacted with patients, and risked her life "to touch people with leprosy, trying to show in a simple action that they are not reviled, nor are we repulsed." Diana was involved with the British Deaf Association, learning sign language and working with ill, displaced, and impoverished children. She showed up to hospitals unannounced to visit patients and used the glamor of her image and life to raise money for the various charities in which she actively participated. During her marriage, she was the face of over 100 charities, named the President of Great Ormond Street Hospital for Children, Centrepoint, and was a patron of the arts for the English National Ballet.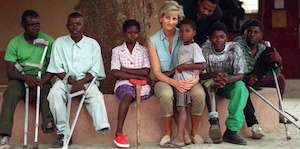 With an understanding of the privileges her and her sons were afforded, Princess Diana never lost sight of those that needed kindness. She invited her sons with her to homeless shelters, orphanages, hospitals, took them to fast food restaurants on public transportation, and had them work for their own money. She hoped that parenting would allow for her boys to become well rounded individuals, despite their powerful status. Despite Diana's divorce, the media continued to keep a watchful eye over her; in an effort to evade the press on August 31, 1997, Princess Diana, her partner Dodi Fayed (a film producer and son of billionaire Mohamed Al Fayed), bodyguard Trevor Rees-Jones, and driver Henri Paul were involved in a fatal car accident at the the Pont de l'Alma tunnel in Paris, France. While an investigation attributed the crash to the driver being intoxicated, many claim that the paparazzi were responsible for a high speed chase. Shortly after the accident, Princess Diana was pronounced dead in Pitié-Salpêtrière Hospital at the age of 36. Following her death, she was buried on September 6, 1997 in Westminster Abbey, and the burial was viewed by over 2 billion people worldwide. She received tributes from politicians, musicians, family, and civilians who came to remember the heartwarming legacy of "The People's Princess."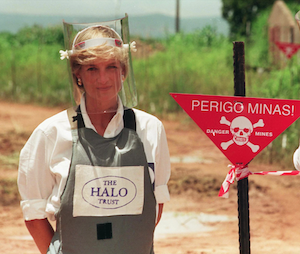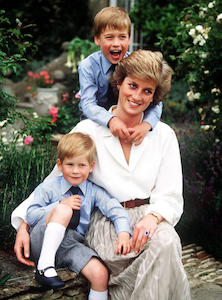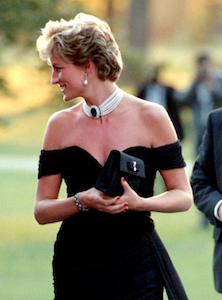 Why Did I Choose to Research Lady Diana Spencer?
I chose to research Princess Diana since, despite over two decades after her passing, the stories involving her humility, charisma, and beauty all are relevant to me, having been passed down by family members and videos of her public appearances. I admire how, in spite of living among high ranking individuals with any commodity of her choosing, she was always dedicated to pursuing a life that would bring these commodities to underprivileged individuals. In recent times, as her image and story continue to rise in popularity, I also wanted to explore the depths of a woman many people know so little about, specifically why she was considered "The People's Princess." Having done so, I found a connection to her actions. I feel that highlighting Princess Diana will not only allow her to continue serving as a role model for young girls, but keep her memory and stories about her humanitarian efforts alive, to be passed down to others.
Works Cited
‌Chang, R. (2020, October 15). Why Princess Diana risked her life for humanitarian causes in Africa. Biography.com. https://www.biography.com/news/princess-diana-africa-humanitarian-work-landmines.
Editors, B. (2021, June 3). Princess Diana. Biography.com. https://www.biography.com/royalty/princess-diana.
Goodreads. (n.d.). Diana, Princess of WALES Quotes (author of Diana). Goodreads. https://www.goodreads.com/author/quotes/2859627.Diana_Princess_of_Wales.
Haynes, S. (2021, April 30). The history of princess diana's landmines walk. Time. https://time.com/5682006/princess-diana-landmines/.
Nicolaou, E. (2021, March 26). How Princess Diana's Childhood Set Her Up For a Life as a Royal. Oprah Daily. https://www.oprahdaily.com/entertainment/a34329508/princess-diana-childhood/.
Pemberton, B. (2021, June 24). Where did Princess Diana go to school? The US Sun. https://www.the-sun.com/lifestyle/3138371/where-princess-diana-school/.
Pettinger, T. (2019, March 6). Achievements of princess Diana: Biography Online. https://www.biographyonline.net/people/diana/achievements_princess_diana.html.
These accomplishments of princess diana will warm your heart. Historyplex. (2008, November 11). https://historyplex.com/accomplishments-of-princess-diana.
Time Inc. (1999, June 6). TIME 100 persons of the century. Time. http://content.time.com/time/magazine/article/0,9171,26473,00.html.
Who was Princess Diana? Everything you need to know. Childhood, Life Achievements & Timeline. (n.d.). https://www.thefamouspeople.com/profiles/diana-princess-of-wales-2594.php.
This article was published on 3/17/2022