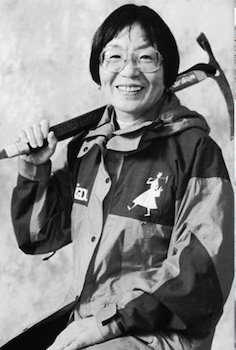 Junko Tabei was born on September 22, 1939, in Miharu, Japan, where she was raised in a large family with seven children. Although she was described as the weakest child of the family, nothing stopped her from developing her love of mountain climbing. Her passion for mountain climbing began on her first school trip to Mount Nasu in Nikko National Park, when she was just ten years old. Instantly, she fell in love with hiking, nature, and most notably, mountain climbing. Likewise, she said in an interview, "I realized that there are so many things in the world which I have never encountered….I became determined to go wherever I could go." However, Junko had to abandon her dream after her reality struck her. Mountain climbing was a sport her family could not afford on a regular basis. In addition, she was expected to obtain an education and pursue a respectable career due to the demanding Japanese society.
After giving up on her dream of mountain climbing, Junko attended university in order to become a teacher. She graduated from Showa Women's University in 1962 and obtained a degree in American and English Literature. Shortly after graduating, Junko joined mountain climbing clubs to reignite and nurture her interest. She fell in love with the sport again, saying, "[I]t was like some vital organ in my body had started to function again. This was the real me and I discovered myself by climbing mountains. I felt a great sense of freedom." Regardless of her ability to climb, men both inside and outside of the sport repeatedly criticized her solely because she was a woman. In their minds, she joined the male-dominated club only because she was looking for a husband. Despite their ignorant comments and her inability to develop a relationship with her teammates, Junko climbed every large mountain in Japan, including Mountain Tanigawa and Mountain Fuji. Mount Tanigawa was also where she met her husband, Masanobu Tabei, who, unlike other men, supported Junko throughout her climbing career. The two married in 1967 and had children despite her mother's objections to marrying a man without a college degree.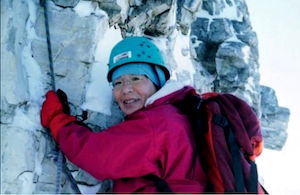 In 1969, Junko decided to start the first women's climbing club in Japan, Joshi-Tohan. The club established itself under a powerful motto, "Let's go on an overseas expedition by ourselves." Nevertheless, reality struck Junko again. The group was denounced and told they should be home raising children. As a result, they could not find any sponsors for their expeditions to the Himalayas. While this certainly was an obstacle, nothing stopped Junko. To pay for the mountain climbing activities, she took on numerous jobs. Junko went to the lengths of becoming an editor for a science journal and teaching the piano.
In 1970, the first expedition of the Joshi-Tohan group took place as they climbed Annapurna III in Nepal. Many factors made the journey difficult, such as the temperature dropping so low to a point where the film in the cameras shattered and grueling adjustments to the altitude and pace. Regardless of the obstacles, the women adapted and reached the top of the summit, making history.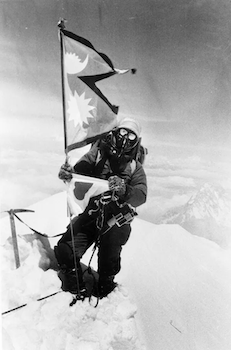 After their significant achievement, Junko led the group to attempt to climb Mount Everest, which was around 4,000 feet more than Annapurna III. Once again, it was difficult to find sponsors and the group waited four years to finally receive a place in the climbing schedule. Luckily, they eventually found two sponsors, Yomiuri Shimbun (Japanese newspaper) and Nippon Television. Despite the sponsors' generous donations, each member still had to pay $5,000 each. Tabei never took "no" for an answer and raised money through teaching piano and hand-making crucial equipment necessary for the mission.
At last, the group was finally permitted to ascend Mount Everest. However, not everything went as planned; an avalanche hit the camp and buried the climbers. Unfortunately, it took two days of recovery for Tabei to regain consciousness and rest. Still, the group faced lack of oxygen, resulting in only one climber reaching the summit. After much deliberation, the team agreed to let Junko finish the climb.
On May 16, 1975, Junko Tabei and her Sherpa guide, Ang Tsering, reached the top of Mount Everest, making her the first-ever woman to ever climb the world's tallest mountain.
After enduring one of the most mentally and physically challenging events of her life, Tabei later continued to climb many more mountains. She went on to complete the Seven Summits Challenge, making her the first woman to climb the tallest peak on each continent. Even though many were now eager to sponsor her, she raised money by herself. She made many public appearances, published seven books, and became a hiking guide.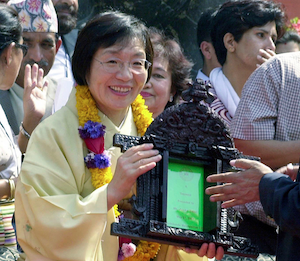 Climbing frequently helped Junko grow aware of the impact her sport had on the environment. She became concerned that garbage and human waste were impacting the terrain in Mount Everest. Thus, in 2002, she completed her postgraduate studies on degradation and preservation of the environment. Subsequently, she began advocating for sustainable mountain climbing and created the Himalayan Adventure Fund, an association focused on environmental protection. Additionally, Junko started the tradition of climbing Mount Fuji, Japan's largest peak, with students from her hometown that had been affected by earthquakes and tsunamis. She has set an example for many peers by giving back to her community and the environment.
In 2012, Tabei was diagnosed with stomach cancer. Despite her diagnosis, she continued mountain climbing until her death in 2016 at the age of 77, and she had climbed more than 150 mountains in 76 countries.
By breaking stereotypes, Tabei Junko set the example that women can pursue their dreams, despite what they are told and society's preconceived judgment. "I just simply climbed a mountain—but the environment around me changed so much, just because I was the first woman". Her legacy is everlasting, as many have continued to recognize her accomplishments, celebrating them through different means. Before her death, the asteroid 6897 Tabei was named after her and just three years later, a mountain range in Pluto was named Tabei Montes to honor her achievements. Lastly, Google celebrated her 80th birthday with an animated doodle.
Why Did I Choose to Research Junko Tabei?
Immediately after reading Junko Tabei's story, I knew I had to research her. I became fascinated with her story, and she made me very proud of my Asian heritage. I strongly believe that her story needs to be heard by many more. She has inspired me because despite the obstacles and discouragement she faced while attempting to fulfill her dream, she proved the naysayers wrong and achieved her goals, and spreading her story and message can encourage and inspire others as well.
Works Cited
‌Edholm, E. (2021, March 12). Changed The Game: Junko Tabei, the first woman to ascend Everest, quietly moved mountains for women's rights. yahoo.com . Retrieved June 19, 2022, from https://www.yahoo.com/video/changed-the-game-junko-tabei-the-first-woman-to-ascend-everest-quietly-moved-mountains-for-womens-rights-125002567.html.
‌Frenetic , B. (2017, October 20). A Final Interview With Junko Tabei. outsideonline.com . Retrieved June 19, 2022, from https://www.outsideonline.com/outdoor-adventure/climbing/junko-tabei-anniversary/.
‌Ham, N. (2021, March 25). WOMEN'S HISTORY SPOTLIGHT: JUNKO TABEI. https://www.louisvillehs.org. Retrieved June 19, 2022, from https://www.louisvillehs.org/news-detail?pk=1166694.
‌Junko Tabei. womeninexploration.org. (2021). Retrieved June 19, 2022, from https://www.womeninexploration.org/timeline/junko-tabei/.
‌Marinaro, C. (2017, October 13). BIOGRAPHY – JUNKO TABEI, CLIMBER. http://www.theheroinecollective.com. Retrieved June 19, 2022, from http://www.theheroinecollective.com/junko-tabei/.
‌Roberts , S. (2016, October 26). Junko Tabei, First Woman to Conquer Everest, Dies at 77. https://www.nytimes.com. Retrieved June 19, 2022, from https://www.nytimes.com/2016/10/27/world/asia/junko-tabei-dead.html.
‌Woodward, K. (2019). What would she do?: Real-life stories of 25 rebel women who changed the world. Carlton Books.
This article was published on 2/3/23