A hero of the Soviet Union, member of the World Peace Council, advocate for gender equality, and the first woman to ever go to space, Valentina Tereshkova's achievements never seem to end. Valentina Tereshkova is a brave and fearless woman who deserves recognition for her timeless achievements.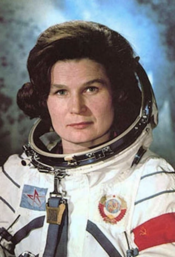 Valentina Tereshkova was born on March 6th, 1937, in Bolshoye Maslennikovo, a village located in the federal subject of Yaroslavl Oblast, Russia. Tereshkova was one of three children to Belarus immigrants Vladimir Tereshkov and Elena Fyodorovna Tereshkova. Her father, Vladimir Tereshkov, died when she was two years old during the Finnish Winter War in World War II.
Valentina Tereshkova grew up with a single mother, and as such, didn't have the means to start school until she was ten years old. She graduated when she was seventeen and soon after, began to work at a tire factory and a textile mill. She continued her education concurrent to these jobs at the Light Industry Technical School, where she graduated in 1960. Though she was employed as a textile worker, Tereshkova had a passion for skydiving. A love that was secret from her family, Tereshkova made her first jump at age 22 at the local Aeroclub in 1959.
Tereshkova's talent, skill, and background as a parachutist made her the perfect candidate for the Soviet Union's mission to find their first female cosmonaut. Tereshkova was selected by the All-Union Voluntary Society for Assistance to the Army, Air Force and Navy along with 400 other females as potential cosmonauts. Out of the 400 women, only 58 made the requirements of the initial screening. That number was later reduced to 23. On February 16, 1962, Valentina Tereshkova was one of five females chosen to fly to space.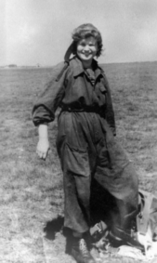 Without any formal military training, Tereshkova and the four other women needed to become privates in the Soviet Air Force. They received training to deal with isolation and centrifugal forces and tested themselves in thermo and depression chambers. They also learned how to fly MiG-15UTI fighter planes and underwent water recovery training in the ocean. After several months of rigorous training, Tereshkova and the other female cosmonauts were offered the choice to become regular Air Force Officers. With the urging of male cosmonauts, all the women accepted. Tereshkova and her fellow female cosmonauts all became junior lieutenants in December 1962.
Valentina Tereshkova was chosen to fly the Vostok 6, and on June 16th, 1963, became the first woman to travel to space. Along with being the first woman in space, she is thus far the youngest woman to have been in space (26 years old) and the only woman to do a solo flight. Her flight was longer than all the combined hours of American astronauts before that time as well (2 days, 22 hours, 50 minutes in space). Upon reentering Earth's atmosphere, she crash-landed in the Altai Krai federal subject and had dinner with the villagers.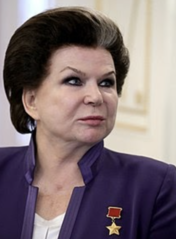 Unfortunately, her first space flight would also be her last. Though she still desired to return to space and pursue engineering, the Soviet space program couldn't afford to lose another hero after the loss of the first man in space, Yuri Gagarin. Consequently, she was forced into a career in politics. After her historic flight, the Soviet Union made Valentina Tereshkova somewhat of a representative for their country. She received mail, telegrams, and letters from people around the world. She made 42 trips abroad in just 7 years after the launch. She met Fidel Castro, the Queen of England, and only took a two-month break to give birth and tend to her daughter, Elena. Valentina Tereshkova was awarded the Order of Lenin and Hero of the Soviet Union (outstanding service to the State), she became a member of the World Peace Council, Yaroslavl Soviet, and became the Soviet representative and leader of many Soviet delegations of many women's conferences. She graduated from the Zhukovsky Air Force Engineering Academy with a doctorate in aeronautical engineering in 1977.
Valentina Tereshkova got married only a couple of months after her flight to fellow cosmonaut Andriyan Nikolayev in 1963. Nikita Krushchev, the Premier of the Soviet Union during that time, presided over the wedding, which was attended by top government officials and fellow cosmonauts and members of the space program. A year later, she gave birth to her daughter Elena, the first person to have both parents be astronauts. Tereshkova had a falling out with Nikolayev later in their marriage and they separated officially in 1982, even though she claimed the marriage ended in 1977. The separation wasn't amicable; the two refused to stand next to each other for photos and avoided each other at all cost. Tereshkova remarried to Yuli Shaposhnikov soon after the divorce was made official and remained married to him until he died in 1999.
Currently, Valentina Tereshkova serves on the Russian State Duma, the lower house of the Russian legislature. She is an honorary general in the Russian Air Force and an unofficial representative even now for Russia. A feminist, a mother, and an inspiration, Valentina Tereshkova continues to achieve incredible things.
Why Did I Choose to Research Valentina Tereshkova?
I definitely admire Valentina Tereshkova for her bravery, perseverance, and feminist ideals. I had always been taught that the first woman in space was Sally Ride. Sally Ride was actually the first American woman in space! And while she's incredible and inspirational, Valentina Tereshkova was the first woman in space. I wouldn't call her underrepresented to those of us familiar with cosmonauts or those alive in the 70s, but I do feel like more people ought to know about her. Valentina Tereshkova was indeed a feminist and always pushed for equality between genders. She achieved more than a lot of others have in their lifetimes, and I think she is worthy of people knowing who she is.
Works Cited
‌First woman in space: Valentina. (2013, June 16). Retrieved from https://www.esa.int/About_Us/ESA_history/50_years_of_humans_in_space/First_woman_in_space_Valentina
‌Sharp, T. (2018, January 22). Valentina Tereshkova: First Woman in Space. Retrieved from https://www.space.com/21571-valentina-tereshkova.html
‌The Editors of Encyclopaedia Britannica. (2020, March 02). Valentina Tereshkova. Retrieved from https://www.britannica.com/biography/Valentina-Tereshkova
‌Valentina Tereshkova. (2017, March 08). Retrieved from https://airandspace.si.edu/people/historical-figure/valentina-tereshkova
‌
This article was published on 3/24/21