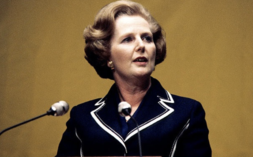 Margaret Hilda Roberts, later known as Margaret Thatcher, was born on October 13th, 1925 in Grantham, England. Her father was a local alderman and methodist preacher. As a young student, Thatcher attended Grantham Girls' High School, at which point she was introduced to politics by her father. After graduating high school, Thatcher was accepted to Oxford University where she studied chemistry. At Oxford, Thatcher became an active member in the Conservative Association, serving as their president until she earned her degree in chemistry and left to work as a professional research chemist.
In 1950, Thatcher was selected to be the conservative candidate for the labour seat of Dartford. Although she lost in both the 50' and 51' general elections, she gained the respect of her political party as a prominent speaker with much potential. At this time, she met and married her boyfriend Denis Thatcher, a wealthy businessman and former army officer during World War II. They had two children: Mark and Carol Thatcher. After their birth, she decided it was best to put politics on hold and pursue a career in law. Subsequent to completing her training, Thatcher qualified as a lawyer, specializing in taxes in 1953. However, she could not stay away from politics for long; in 1959, she ran and won a seat in the House of Commons for Finchley.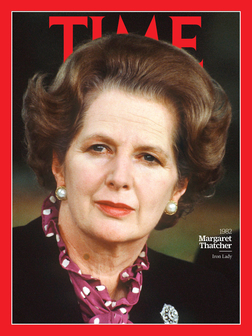 Even in her early days as a member of the House of Commons, Thatcher gained recognition and respect. In 1961, she became the youngest woman to receive the parliamentary undersecretary position at the Ministry of Pensions and National Insurance. When the conservative party lost power in the general election, Thatcher became a member of the shadow cabinet, a group of political leaders that would hold cabinet positions when their party retained power. With the election of 1970 and the return of the conservative party to power, Thatcher was appointed Secretary of State for Education and Science. During her appointment, she clashed with Prime Minister Edward Heath for ignoring her ideas. Seemingly discontented at first about her prospects in politics as a woman, she proved herself wrong by being elected the leader of the Conservative Party in 1975. She was the first woman to serve as leader of the opposition in the House of Commons. Because England was in a period of severe economic and political issues, it led to the return of the Conservative Party in power, with Margaret Thatcher as Prime Minister.
As Prime Minister during a turbulent economic time, Thatcher was faced with the daunting task of revitalizing the nation. She employed many rigorous economic policies such as increasing interest rates which also unfortunately increased unemployment. During her first term, she attacked labour organizations such as the Miner's Union, as well as privatizing social housing and public transport. These policies, while unpopular at first, helped grow the economy and decreased inflation. At the same time, Argentina was invading the Falkland Islands, a British territory off its coast. This resulted in Thatcher sending British troops to retake the island.
During her second term, a group of Irish people attempted to assassinate Thatcher, to which she responded by forming the Anglo-Irish Agreement of 1985, which ensured peace between Britain and Ireland. This agreement was paramount in easing tensions between the two countries and was the first policy Britain and Ireland agreed upon since the 1920s. The government also began selling government-owned state assets, which became a primary part of the economy that helped the British economy flourish.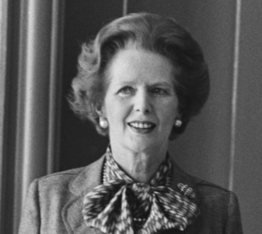 In her third term, Thatcher wanted to implement a uniform education system and reform the medical system by giving more power to the National Health Service in managing their hospitals. However, this was widely unpopular and unsuccessful, especially considering she had lost most of her popular support when she tried to implement a poll tax— a tax on every adult regardless of their income or resources. With the controversy of the poll tax, Thatcher had a tough time getting the public to agree to her policies. This led to public protests and a divided conservative party, causing her to eventually resign from the pressure.
Her foreign policy during her three terms furthered global stability during the Cold War. Thatcher supported the Anglo-American Alliance, helping mediate the standoff between the United States and the Soviety Union. She was a major contributor to the Intermediate-Range Nuclear Forces Treaty, which partially denuclearized the United States and Soviet Union. Her unrelenting support in NATO and her perseverance in striving for international peace made her an important figure in the end of the Cold War.
After leaving office, Thatcher was appointed to the House of Lords, where she wrote Margaret Thatcher: The Autobiography about her experience as a woman in politics as well as being a female world leader. She soon retreated from the political spotlight after her health started deteriorating in 2010. She died from a stroke in 2013.
Margaret Thatcher left an unforgettable mark on the world. Although her policies were controversial, she demonstrated the potential of female leadership as the first female British prime minister. She was willing to sacrifice her position and reputation in order to uphold her beliefs.
Why Did I Choose to Research Margaret Thatcher?
I researched Margaret Thatcher because she was the first female leader of the UK. People still use Thatcherism, her style of politics, today. In addition, although her name is not uncommon, most people don't know her legacy and how much of a change she made. Margaret Thatcher should be known for more than being the first female leader, she should be known for all the good and bad that happened under her leadership, the same as any male leader would be.
Works Cited
"Margaret Thatcher." Biography.com, A&E Networks Television, 28 Feb. 2020, www.biography.com/political-figure/margaret-thatcher
Young, Hugo. "Margaret Thatcher." Encyclopædia Britannica, Encyclopædia Britannica, Inc., 4 Apr. 2020, www.britannica.com/biography/Margaret-Thatcher.
"Biography." Margaret Thatcher Foundation, www.margaretthatcher.org/essential/biography.asp.
Owen, Paul. "The Life of Margaret Thatcher – Timeline." The Guardian, Guardian News and Media, 8 Apr. 2013, www.theguardian.com/politics/2013/apr/08/life-of-margaret-thatcher-timeline.
"Who Is Margaret Thatcher & What Did She Do?" Margaret Thatcher Foundation, www.margaretthatcher.org/essential/kids.asp.
This article was published on 9/16/20