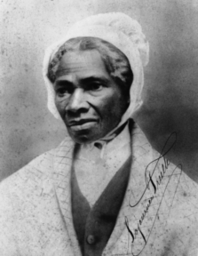 Sojourner Truth was born in 1797 in the town of Swartekill, New York. Her birth name was Isabella Baumfee, but after she converted to Christianity while freed, she changed her name to Sojourner Truth to speak truth to power and resist slavery. Her date of birth is unknown, which was very common for children who were born into slavery. She was one of twelve children born to James and Elizabeth Baumfree. Her father was a slave captured from modern-day Ghana and her mother was a slave from Guinea. When her family's master died, her family was separated. She was bought and sold four times. She ended up staying at West Park, New York, as the property of John Dumont for most of her childhood. Her childhood experiences, while enslaved, shaped her views of racism and ultimately led her to pursue activism throughout the course of her life.
Around the year 1815, Truth fell in love with another slave named Robert and they had a daughter. Robert's owner did not approve of their relationship and he was severely beaten. The two never saw each other again and this experience haunted Truth for the rest of her life. In 1817, Truth married another slave named Thomas and they had a son and two daughters. She worked very hard to afford her children freedom and basic human rights.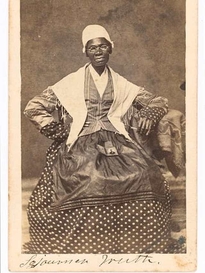 Although the state of New York began emancipating slaves in 1799, slavery in the state was not fully abolished until 1827. Truth's master, Colonel John Dumont, had promised her freedom; however, he did not follow through with his promise. Thus, Truth decided to escape. In 1826, she fled with her infant daughter. Unfortunately, she was not able to take the rest of her children. She stayed with an abolitionist family nearby named the Van Wageners. When she found out that one of her sons, Peter, was illegally sold to slavery in Alabama, she decided to take action. With the help of the Van Wageners, Truth successfully sued for her son back. She made history by becoming the first black woman to sue and win a case against a white man.
Shortly thereafter, Truth moved to New York City, but experienced many hardships during her first few years of freedom. First, she worked as a housekeeper for Elijah Pierson, then she worked for Robert Mathews, a con man and cult leader. When Elijah Pierson suddenly died, multiple cult members accused Mathews of poisoning him. This was not the case. Truth charged a slander suit against the cult members and won.
Another hardship she experienced was her strained relationship with her son, Peter. He took a job on a ship for two years and wrote many letters to Truth, but she did not receive some of them. When his ship returned in 1842, he was not on board. Truth never saw him again and what happened to him remains a mystery.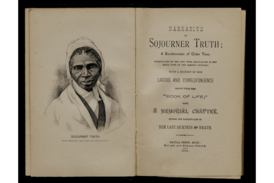 In 1844, Truth joined the Northampton Association of Education and Industry in Massachusetts, which was an organization that supported reforms for women's rights and pursued pacifism. In 1850, with the help of William Loyd Garrison, she published the book, The Narrative of Sojourner Truth: A Northern Slave. In 1851, Truth attended the Ohio Women Rights Convention where she delivered her famous "Ain't I a Woman" speech. In her speech, she spoke about the difficulties of being a black woman and demanded equal rights for all women. Her audience was "baffled" by her courage in her convictions. For the rest of her life, Truth continued to give powerful speeches for equality attended by hundreds, including the Northampton Camp Meeting, the Abolitionist Convention, the Mob Convention, and many more. Her two daughters cared for her in the last years of her life, and Truth passed away on November 26th, 1883.
"Then that little man in black there, he says women can't have as much rights as men, 'cause Christ wasn't a woman! Where did your Christ come from? Where did your Christ come from? From God and a woman! Man had nothing to do with Him. -Sojourner Truth
"If the first woman God ever made was strong enough to turn the world upside down all alone, these women together ought to be able to turn it back, and get it right side up again! And now they are asking to do it, the men better let them." -Sojourner Truth
Why Did I Choose to Research Sojourner Truth?
I chose to write about Sojourner Truth because I want to educate people about influential women who do not really get the credit they deserve. Before researching about Truth, I had never known about her or the impact she had on so many lives. While researching Truth, I realized that we women have so much power, no matter what our situation was or is right now. We all have the power to help lives one day, like Truth did.
Works Cited
‌History.com Editors. (2009, October 29). Sojourner Truth. Retrieved July 26, 2020, from https://www.history.com/topics/black-history/sojourner-truth
‌Michals, Debra. "Sojourner Truth." National Women's History Museum. National Women's History Museum, 2015. Date accessed.
‌"Sojourner Truth." Biography.com, A&E Networks Television, 10 Jan. 2020, www.biography.com/activist/sojourner-truth.
‌"Sojourner Truth." Wikipedia, Wikimedia Foundation, 14 Apr. 2020, en.wikipedia.org/wiki/Sojourner_Truth.
‌The Editors of Encyclopaedia Britannica. "Sojourner Truth." Encyclopædia Britannica, Encyclopædia Britannica, Inc., 22 Nov. 2019, www.britannica.com/biography/Sojourner-Truth.
‌
This article was published on 11/16/20