Known as "The White Mouse" because of her ability to evade capture, Nancy Wake is famous amongst World War II historians and in spy lore. Her life is incredibly interesting, recorded in a TV mini-series, countless biographies, a documentary, and a play written about her life and exploits.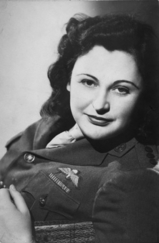 Nancy Wake was born in August, 1912, in Wellington, New Zealand. Shortly after her and her family moved to Sydney, Australia, her father abandoned her family. At the age of 16, Wake ran away from home and started working as a nurse as a result of her tumultuous childhood. After she was given $200 by her caring aunt, Wake travelled to France and London respectively, where she was hired by the Hearst Newspaper Group in 1934 as a freelance journalist.
Wake's first journalistic assignment was to travel to Germany to interview the newly elected German Chancellor Adolf Hitler. However, since it was common practice for editors to not give credit to female journalists (especially freelancers), the article is now lost to the world. While she was in Germany for this interview, she bore witness to the Gestapo's ruthless beatings and torture of Jews, which motivated her to do whatever she could to oppose the Nazis.
During her younger years, Wake fell in love and married a prominent French businessman, Henri Fiocca, in 1936. They lived peacefully together until the Nazi invasion of France in 1940. As Henri was a very wealthy and influential businessman, Nancy was relatively safe from the Nazis. However, she refused to allow her fellow citizens to suffer and therefore joined local resistance groups. She bought an ambulance and used it to transport injured Allied soldiers and Jews across French borders. Her societal status allowed her to travel around the country undetected. She worked closely with the decorated Scottish officer Ian Garrow and Belgian Major General Albert-Marie Guérisse in organizing escape routes for Allied soldiers.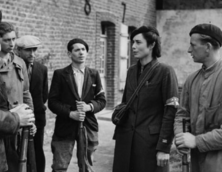 In May 1943, after three years of being undetected, Wake finally appeared on the Gestapo's radar. She became their #1 most wanted individual and was forced to flee France. Her husband Henri was scheduled to follow her shortly. However, the Gestapo reached him first and he was tortured and executed, a fact she only discovered a year later. She blamed herself for his death because she believed he would have been safe if he didn't know her.
After this series of tragic events, Wake reached England and joined the Special Operations Executive (SOE). Although she was incredibly determined to return to France and rescue Henri, her commanding officer Colonel Buckmaster tried to scare her off by mentioning that almost every SOE agent that entered Europe had been captured or killed. However, Wake claimed she couldn't care less and was going to defeat the Nazis or die trying. Once she had completed her training, Wake was sent to France via parachute, alongside 480 others, to prepare for the D-Day attack. The D-Day attack was the monumentus attack on Axis forces through the Allied invasion of northern France by beach landings in Normandy. This attack was vital to the fall of the Third Reich. She organized ammunition drops and resistance attacks. She also set up communication and supply lines. Her team consisted of only 7,000 people, yet they still managed to severely damage the German force of 22,000 in the region using guerilla warfare tactics. Wake has stated that her greatest contribution was riding her bike through numerous German checkpoints to reestablish contact with London. She did so by restoring previously destroyed codes, while dressed as a housewife. She rode over 500 kilometers in three days. These codes were essential for the British to determine the location of checkpoints and ensure the accuracy of supply and ammunition drops. After she was back in communication with the British forces, Wake focused on attacking the Germans with extreme determination.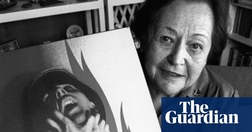 Wake was renowned for numerous other contributions during the war. She led a major raid on the Gestapo headquarters. She was a tactical genius and was highly effective in taking down enemy forces with limited resources. For instance, in June of 1944, her team was ambushed by the regional German army. Although they eventually had to retreat, Wake's team took out 1,400 Germans while only losing 100 British soldiers. After months of dedicated and rigorous warfare, Paris was liberated in August 1944.
After the liberation of Paris, Wake was awarded numerous honors, most prominently the George Medal, the Croix de Guerre, the Médaille de la Résistance and the Medal of Freedom. She returned to Australia in 1949 and unsuccessfully ran for parliament twice. In 1951, she temporarily moved to London and married John Forward, an Royal Air Force fighter bomber. The two moved back to Australia and travelled back to Europe regularly.
Nancy Wake was the first female SOE agent to have a book published about her in 1956. However, she was discontented with its historical inaccuracy, so she published her own autobiography in 1985. Her second husband, John, died in 1997. She returned to Britain and lived out her last few days at the Royal Star and Garter Home for Disabled Ex-Service Men and Women in Richmond, London. Wake died on the seventh of August in 2011. Her ashes were scattered by the winds of the Auvergne, where she played a key role in the resistance movement against German occupation.
Wake once said, "Freedom is the only thing worth living for. While I was doing that work, I used to think it didn't matter if I died, because without freedom there was no point in living". She devoted her life to this ideal, no matter the consequence, and made the world a better place for it.
Why Did I Choose to Research Nancy Wake?
The contribution of Nancy Wake to the war effort during World War 2 has been ignored by historians in recounts of resistance movements against Nazi control. Nancy Wake is truly a role model to young women all over the world. She is an inspiration to me and millions of other girls who work to change the status quo and help make the world a better place.
Works Cited
‌American-Israeli Cooperative Enterprise. (2020). Nancy Wake. Jewish Virtual Library. Retrieved July 7, 2020, from https://www.jewishvirtuallibrary.org/nancy-wake
‌Australian War Memorial. (1945). Nancy Wake in 1945 [Photograph]. https://www.awm.gov.au/collection/P332. https://www.awm.gov.au/collection/P332
‌BBC. (2013, March 10). WWII secret agent's ashes scattered. BBC News. https://www.bbc.com/news/world-europe-21735824
‌Kealey, I. (2020, April 27). Meet Nancy wake: Socialite, spy, and the most decorated heroine of WWII. CrimeReads. https://crimereads.com/meet-nancy-wake-socialite-spy-and-the-most-decorated-heroine-of-wwii/
‌Lawhon, A. (2020, April 4). Meet Nancy Wake, the most incredible woman You've never heard of. Literary Hub. Retrieved July 7, 2020, from https://lithub.com/meet-nancy-wake-the-most-incredible-woman-youve-never-heard-of/
‌Stafford, D. (2017, December 1). Nancy Wake obituary. The Guardian. https://www.theguardian.com/world/2011/aug/08/nancy-wake-obituary
‌
This article was published on 10/30/20