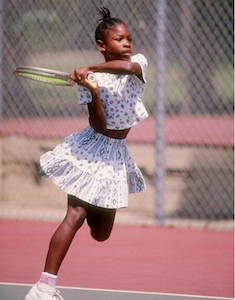 Serena Jameka Williams was born on September 26, 1981 in Saginaw, Michigan, as the youngest of five daughters to Richard Williams and Oracene Price. Williams grew up in a Los Angeles suburb known as Compton, California. William's father aimed to expose his daughters to hard work, and he had great determination to see his girls grow into success. Williams's father was a nurturing force to not only Williams, but also his daughter, Venus Williams, to become great tennis champions. Williams's father used prior knowledge and diligently studied library books, plus videos, about tennis in order to instruct Serena on the sport. Following his studies, her father would bring a three-year-old Williams, and her sister, to a rugged court near their home for daily two hour practices, shaping her love and passion for the game.
Great potential was seen in Williams, as she not only withstood, but alo savored the rigor of her practices with her father. Soon, she began attending her first tennis academy coached by Rick Macci, a renowned tennis coach and former professional player, who was known to bring up stars in the sport. At the academy, Willam's talent was polished to greater standards. By 1991, at ten years old, she had scored 46-3 on the United States Tennis Association junior tour and ranked first in the 10-and-unders division.
After moving the family to Florida for greater tennis instruction, William's father soon set a pause on his daughter's tennis career in fear of her burning out at such a young age. However, Williams contradicted her parent's wishes, and went professional at the age of fourteen. Then, she played her first professional tournament, after having difficulty entering it due to suspicion from the Women's Tennis Association, as Serena had complications with finding appropriate competition in prior events as a result of her young age.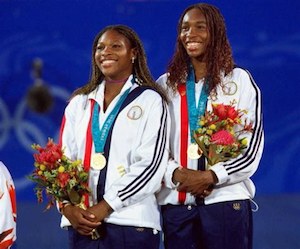 In 1998, at seventeen years old, Williams, alongside her sister Venus, began their journey to the peak of tennis after winning their first professional title in doubles. Williams catapulted to the 29th spot from the 304th spot in the singles event by defeating several top 10 players that year, such as Irina Spirlea who, at the time, ranked 7th in the world. In 1999, Williams won her first Grand Slam singles title, beating the No. 1 player at the time, Martina Hingis. By 2000, the Williams sisters won the gold medal in doubles at the Sydney Olympics.
Early 2002, injuries cut Williams's playing time short, as she had to withdraw from the Australian Open. Upon returning to the court from her injury, she grabbed her first Master title, in the process of becoming one out of three players to defeat the world's top three ranked players in one tournament, No. 3, Martina Hingis, in the quarterfinals, No. 2, her sister, Venus Williams in the semifinals, and the top-ranked player, Jennifer Capriati, in the final. Later in the year at Wimbledon, she defeated her own sister to win a Grand Slam singles title without losing a single set for the first time in her career. This win resulted in her climb to the top rank in the world, becoming the third African-American to ever hold the No. 1 spot.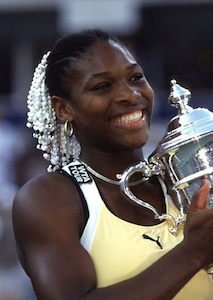 In her mid 20's – a time that is often the peak years in a player's career – Williams received extreme pressure and was flooded with high expectations. At the time, she was trying to come to terms with the death of her sister Yetunde, in a drive-by shooting in Compton, California in September 2003. In addition to grieving a family member, she was criticized for "only" winning two Grand Slam singles titles in a five year period.
2006 was an even tougher year for Williams. She suffered from depression, as told in her 2009 autobiography Queen of the Court, feeling a disinterest from the world and tennis itself, causing her to withdraw from competing for half a year. This plummeted her top ranking as she struggled to find a way back to the court. Williams removed herself from the public filing for injury. Years later in 2009, Williams revealed in her autobiography, Queen of the Court, of her mental struggles from three years back and the magnitude at which it affected her well-being, to the point she saw a therapist daily. After meeting with a young passionate fan months into her break, Williams felt inspired and returned back to the court; she claimed her third Australian Open and overall eight Grand Slam singles title, while overcoming mental, emotional and physical obstacles. Williams did not return to the top of the world rankings until five years after her sister's death.
In 2009, Williams won her tenth Grand Slam singles title at the Australian Open and returned to the No. 1 spot. She became the all-time career prize money leader in women's sports by earning $23 million through her victories, and was named best female athlete of that year.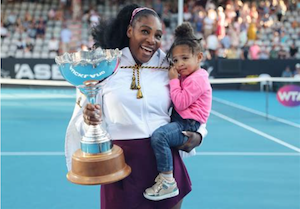 In 2015 at the Miami Open, she recorded her seven-hundredth match win, defeating Sabine Lisicki, and she became the eight woman in the Open Era to do so. She completed her renowned "Serena Slam,'' in which she won all four Grand Slams in a row at the 2015 Wimbledon Championship, and her sixth Wimbledon and 21st Grand Slam singles title overall.
In 2016, Williams announced her engagement to Reddit co-founder Alexis Ohanian and gave birth to a daughter, Alexis Olympia Ohanian Jr., the following year. Later that year, Williams married Ohanian. Throughout her pregnancy, Williams' impeccable strength shined. She won another Grand Slam title in Melbourne while eight weeks pregnant, and got to participate in four Grand Slam finals as a mother in her late 30s. She expressed her struggles dealing with postnatal depression after a c-section, and near fatal pulmonary embolism. Days after she gave birth, signs of severe coughing - a result of an obstruction of an artery - caused her c-section wound to open. She returned to surgery, where doctors found a large hematoma, blood clots outside of the vessels, in her abdomen. William's post-birth difficulties brought into perspective the high rates of maternal mortality among Black mothers. According to an article by the New York Times reporting on William's birth story, "the risk of pregnancy-related death is three to four times as high for black women as it is for white women… as disproportionately black-serving hospitals are significantly more likely to experience severe complications like birth-related embolisms and emergency hysterectomies."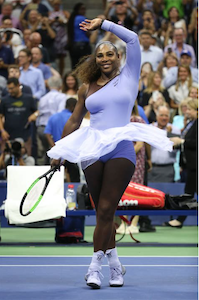 Williams has always been popular for her outgoing and colorful presence on the court, expressed through her outfits and hair. As William's career progressed, she has had collaborations with big brands, such as Puma or Nike, allowing fashion to have a greater impact on how tennis players could express themselves on the court. Racist encounters and immense criticism have inflicted Williams, particularly for the flamboyant manner in which she presented herself when playing, interpreted as "over-dramatic" or "showy." Williams has never let degrading opinions get the best of her; from her beaded hair to her cat suit to her tennis tutu, Williams has utilized athletic fashion to let her character and culture shine through.
Aside from her tennis fame, Williams expanded her name and brand into other fields, such as entrepreneurship and activism. After discovering the impact that investment has on the everyday lives of people, Williams developed Serena Ventures, a venture capital firm Williams created in 2013. Williams revealed that an overall 76% of the founders that she invests in are underrepresented, and 53% are female, 47% are black, and 12% are Latino. She believes that "check writers should be change agents", or in other words, those that are able to support others financially should do so with the intent to support the overlooked and undermined, as they are the ones to make great changes in the world. Williams has also started a size inclusive clothing line for women called S by Serena, and formed the Serena Williams Foundation to build schools in communities where education is not easily accessed, such as eastern Kenya, Uganda, Zimbabwe and Jamaica, striving to promote equity.
Williams announced her professional tennis retirement in a Vogue article on August 9, 2022. With 73 career singles titles, 23 career doubles titles and over $94 million in career winnings, Williams's tennis career would end after the US Open. In her Vogue article, Williams wrote about the struggles of having to choose between tennis and parenthood as a woman. In hopes of expanding her family, Williams discussed what her career would have been like if she weren't required to do the physical labor of expanding a family. She admitted the hardships of having to say goodbye to the single thing that has followed her throughout her entire life, but she leaves the sport with hopes for a future more focused on family, her business, and exploring a life outside of tennis.
Why Did I Choose to Research Serena Williams?
Serena Williams is a name widely circulated, which many, including myself, are accustomed to hearing. I've heard about Williams and her superior athleticism all my life. Although, with the recent surge of attention that William's retirement has been getting in the media, it has led me to reevaluate my knowledge on who she really is. I realized that I know nothing more than her occupation and the success she had in that field. In order to truly know Williams, I would have to understand her history and what got her to where she is today. I would have to understand her motives, her obstacles, her impact on others, and the reason to which her name is beloved and praised by so many around the world. Willaims has redefined the sport of tennis, where self expression and self advocacy is accepted and encouraged thanks to her.
Works Cited
‌Biography.com Editors, B. (2021, April 23). Serena Williams. Biography. Retrieved September 7, 2022, from https://www.biography.com/athlete/serena-williams.
‌Serena Williams | Biography, Titles, & Facts. (2022, September 3). Encyclopedia Britannica. Retrieved September 7, 2022, from https://www.britannica.com/biography/Serena-Williams.
‌Williams, S. (2022, August 9). Serena Williams Announces Her Retirement From Tennis. Vogue. Retrieved September 7, 2022, from https://www.vogue.com/article/serena-williams-retirement-in-her-own-words.
‌Salam, M. (2018, January 11). For Serena Williams, childbirth was a harrowing ordeal. She's not alone. The New York Times. Retrieved January 15, 2023, from https://www.nytimes.com/2018/01/11/sports/tennis/serena-williams-baby-vogue.html#:~:text=In%20the%20days%20after%20she,blood%20vessels%2C%20in%20her%20abdomen.
‌SportyTell Editors. (2020, April 11). Serena Williams Biography Facts, Childhood, Personal Life. SportyTell. Retrieved September 7, 2022, from https://sportytell.com/biography/serena-williams-biography-facts-childhood-personal-life/.
This article was published on 2/27/23