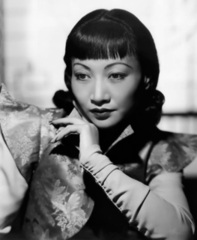 The life of Anna May Wong/Wong Liu Tsong is one that highlights the success and struggles of a career as an Asian American movie star.
Anna May Wong was born with the name Wong Liu Tsong on January 3rd, 1905, in Los Angeles, California. She was the second born of eight children to Sam Sing Wong and Gon Toy Lee. Her grandfather, Leung Chew Wong, immigrated from Taishan, China to Michigan Bluffs, California, and he died a hero when he saved a woman from dying in a well. In her early life, Wong endured racial harassment due to her Chinese ethnicity and had kids pull her hair whilst taunting Wong with racial slurs. She spoke perfect English, but her parents disliked her American accent when speaking English. Wong was sent to a Chinese school where she was told to keep her in touch with her heritage.
As she grew older, Wong developed a passion for film as she saw the production of movies occurring in her city. She taught herself how to film and went to various shooting locations in Los Angeles. At the age of 11, Anna May Wong became her stage name. Wong landed her first role in 1919 as an extra to hold up a red lantern in the movie, Red Lantern and ended up dropping out of high school to pursue acting as a career in 1921. Her first credited role was of an abused wife of a Chinese man in the "Hop" sequence of Bits of Life in 1921, where the husband's actor was in Chinese drag attire. Both Red Lantern and Bits of Life were meant to be realistic. However, the casts in both movies did not include any Chinese American actors despite the roles portraying Chinese people.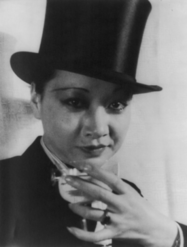 Unfortunately, Wong was cast into roles with the "Dragon-Lady" stereotype— which normalized the portrayal of Chinese and/or biracial white and Chinese women into evil seductresses who lured men with deceit and power. She was also cast into roles that dehumanized Chinese women and depicted them as exotic creatures that deserved mistreatment and abuse. Wong was also kept from roles in romantic movies due to American laws that did not allow interracial intimacy. After constantly being cast into supporting roles and unsympathetic characters, she moved to Europe in 1928.
Wong's talent was recognized as she fulfilled roles in English, German, and French silent films like in Piccadilly (1929), which told the story of a Chinese woman who quit her job working at a kitchen to become the main act in a club. Despite her success in Europe, Wong went back to the United States to work after being offered a contract with promises for lead roles by Paramount Pictures in 1930. During this time, she was cast in Shanghai Express (1932), an Oscar-winning classic about a woman surviving a danger with a captain.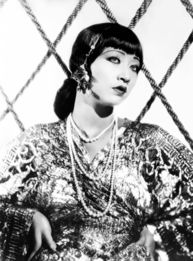 People associated Wong with "dangerous sexuality" due to her not being married and wearing costumes such as a tuxedo and a top-hat. Furthermore, Wong was cast into another role as a villain in Daughter of the Dragon (1931), which tells the story of a Chinese aristocrat in conflict with her father. Wong appeared in other notable roles but continued to face discrimination as she was rejected from roles in movies about Chinese people like The Son-Daughter in 1932 and A Good Earth in 1937. These movies were about the Chinese people, yet cast White actors and actresses dressed in yellowface.
In 1936, she went on her first and only trip to China, where she was criticized by mainlanders for fulfilling negative stereotypes about Chinese people in movies and failing to fulfill the expectations of a Chinese woman. These expectations included having a family and marrying a man. Wong did not appear in films from 1939-40, and as a result, she started to appear in fewer rated films.
In other forms of entertainment, she was a part of radio casts, stage performances, and even wrote a preface for one of the first Chinese cookbooks in the US. During World War II. She also worked for Chinese charities, relief agencies, and auctioned off her costumes for money. However, she suffered from depression and alcoholism. She eventually got her own television series titled The Gallery of Madame Liu-Tsong in 1951 and became the first Chinese American to star in her own show.
Unfortunately, Anna May Wong died of a heart attack in 1961 before she was set to appear in The Flower Drum Song, the first American film with a mainly Asian American cast. Her legacy paved the way for East Asian representation in film and diversity in perspectives everywhere.
Why Did I Choose to Research Anna May Wong?
Previous to this article, I had known about Anna May Wong, but I had never really seen any in-depth coverage of her. She was also an actress during a time in which Asian women were cast under oriental/exotic stereotypes that objectified women rather than giving them realistic portrayals. I wanted to know more about her life as a Chinese American living in an oppressive time as well as her experience in the media industry.
Works Cited
Alexander, K. L. (2019). Anna May Wong. https://www.womenshistory.org/education-resources/biographies/anna-may-wong.
American Masters PBS. (2020). Anna May Wong: The first Asian American Movie Star | Unladylike2020 | American Masters | PBS [YouTube Video]. United States: PBS.
Clark, A. W. (2012). Disturbing Stereotypes: Fu Man/Chan and Dragon Lady Blossoms. SJSU ScholarWorks. https://scholarworks.sjsu.edu/aaldp/vol3/iss1/11/.
Hopwood, J. C. Anna May Wong. IMDb. https://www.imdb.com/name/nm0938923/bio?ref_=nm_ov_bio_sm.
NY Historical Society. (2014, October 29). Anna May Wong (1905-1961). Chinese American: Exclusion/Inclusion.
This article was published on 9/7/20